IHF Beach Handball Global Tour – Stage 1: match schedule revealed
17 Apr. 2023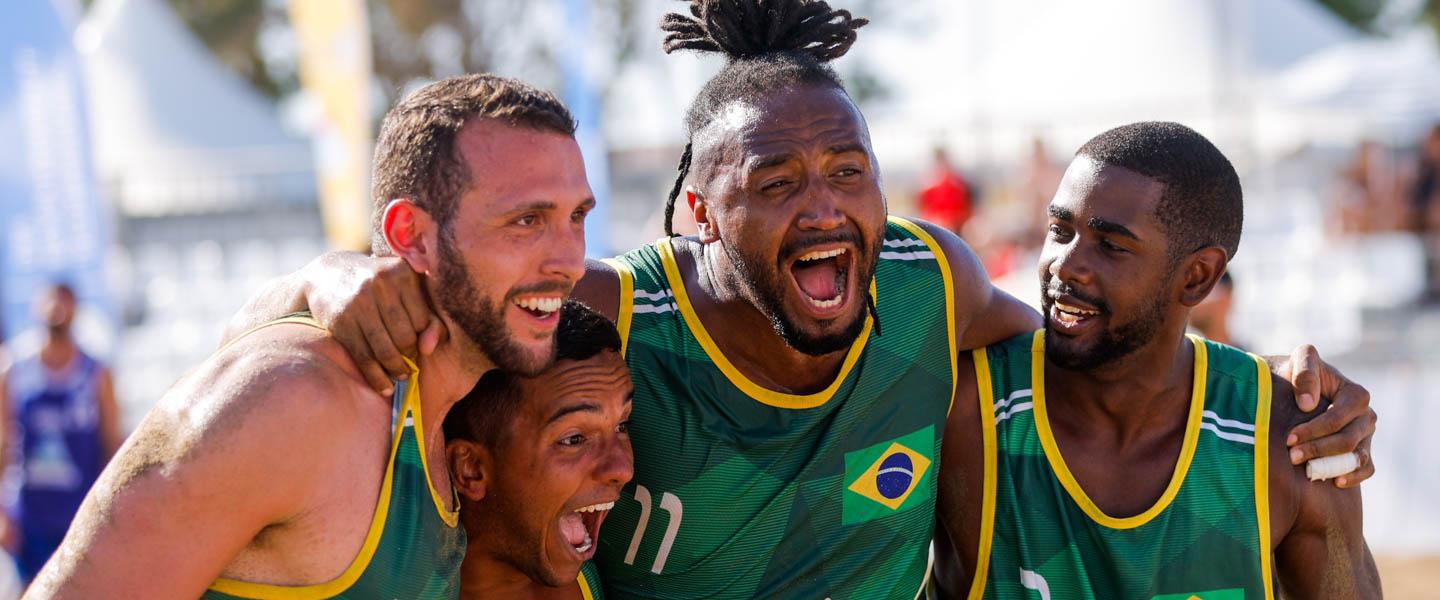 The match schedule for stage 1 of the 2023 IHF Beach Handball Global Tour has been revealed.
A total of 34 matches will be played in Maricá, Brazil, when the stage gets underway next week, from 26 to 30 April.
Featuring men's and women's national teams from Argentina, Brazil, Chile, Mexico, Portugal, Uruguay and the United States of America, games will be played Wednesday 26, Thursday 27, Saturday 29 and Sunday 30 April, with a rest day on Friday 28 April.
The first three days of action will be split into one morning/early afternoon session and one late afternoon/evening session each day, with preliminary, round-robin group games played in the first five sessions up until Saturday early afternoon.
The opening ceremony will take place on Wednesday 26 April at 18:30 local time, with the closing and awarding ceremony scheduled for Sunday 30 April at 14:00.
Men's competition
Argentina, Brazil, Chile, Portugal, Uruguay and the United States of America will be participating in the men's competition, which features 20 matches in total.
Uruguay and Portugal open stage 1 of the 2023 tour with a 10:00 clash on Wednesday, while the hosts get underway against Chile at 13:20.
Brazil and Portugal wrap up the men's round-robin preliminary stage on Saturday at 13:20, with the top four teams in the group going straight into the semi-finals later on in the day, at 17:40 and 19:20. The fifth and sixth-placed teams will play-off in the 5/6 Placement Match at 16:00.
The men's final will be played on Sunday 30 April at 13:00, with the bronze medal match at 10:00.
Women's competition 
Five teams will play a total of 14 games in the women's competition – Argentina, Brazil, Chile, Mexico and the United States of America.
Opening up the event will be Chile against the USA at 10:50 on Wednesday, with the hosts not throwing-off until 19:00 when they take on the United States. Brazil conclude the women's preliminary stage with a 12:30 clash against Chile in the early Saturday session.
The top four in the preliminary round-robin group go straight into the semi-finals, which will be played at 16:50 and 18:30 in the late Saturday session, with the bronze medal match at 11:00 and the final at 12:00 on Sunday.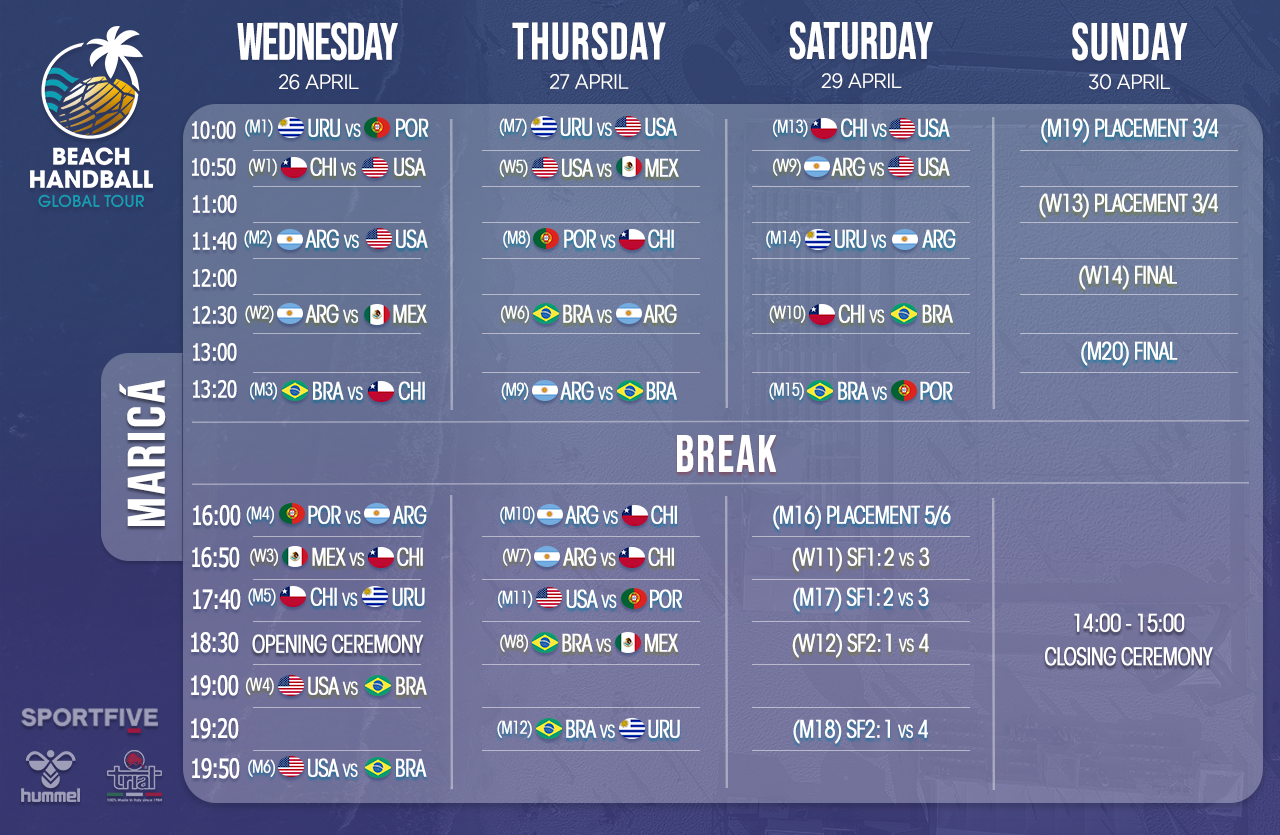 Officials confirmed
Four IHF referee couples and two IHF technical officials have been nominated for Maricá.
On the whistling front, the host nation couple of Brazil's Flavio Assis and Sidiney Antonio Dos Santos will be joined by Colombia's Juan Camilo Salamanca and Hector Ivan Orjuela, Uruguay's Pablo Martinez Isola and Luis Monico Ottado and Venezuela's Miguel Aular and Pedro Ortega.
Argentina's Juan De Arma and Luiz Filipe Caldas from Brazil are nominated as technical officials.
IHF Beach Handball Working Group Member Fernando Posada will also be in attendance in Brazil, overseeing the event alongside event organiser Wellington N A Esteves, Director of Beach Handball for the Brazilian Handball Confederation, and his team.