Crunch time for the last eight
25 Jun. 2022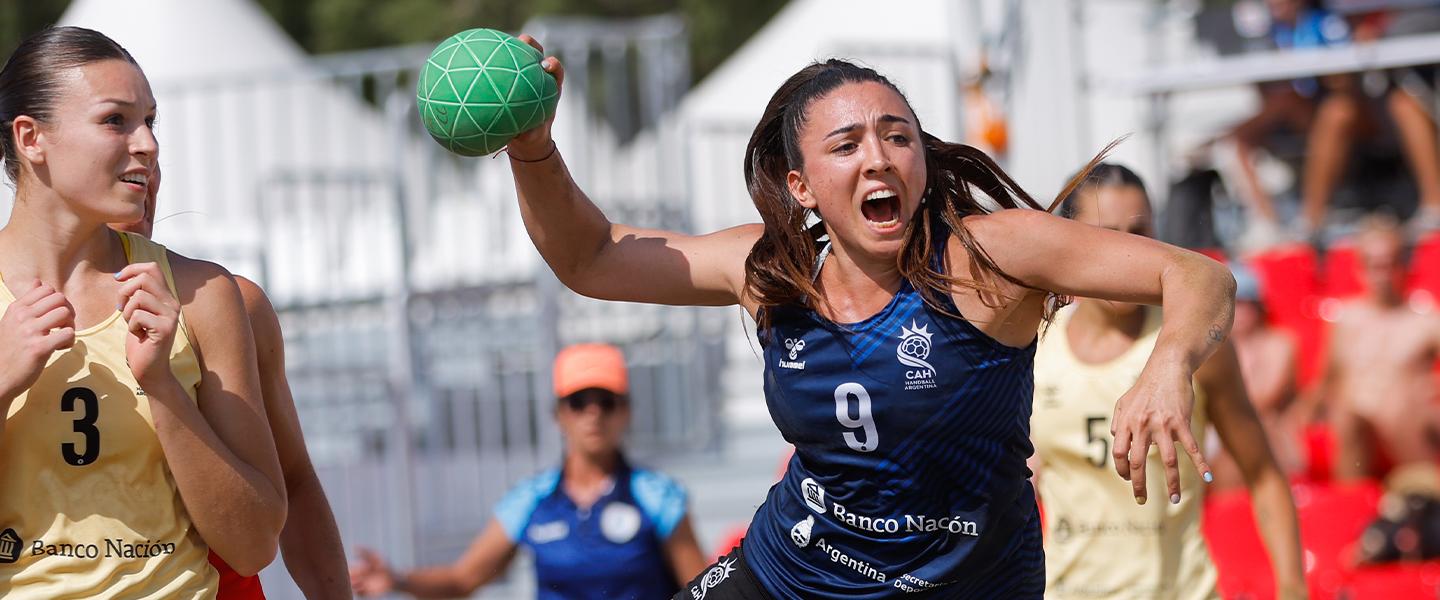 Live blog: It's decision day in Heraklion! Not only have the quarter-finals be played in the morning, at the end of the day, we will also know the finalists of the 2022 IHF Women's Beach Handball World Championship, as Germany play Netherlands at 19:10 EEST and Greece face Spain at 20:00 EEST in the semi-finals. 
Today's matches:
09:00 EEST 9.-16. Norway vs Australia (2-0) / United States of America vs Hungary (0-2) / Thailand vs Mexico (2-0)
09:50 EEST 9.-16. Uruguay vs Vietnam (2-0)
12:20 EEST QF Greece vs Argentina (2-1) / Spain vs Brazil (2-0) / Portugal vs Germany (0-2)
13:10 EEST QF Denmark vs Netherlands (2-1)
15:00 EEST 9-12. Norway vs Hungary (1-2), Thailand vs Uruguay (2-1) / 13-16. Australia vs USA (1-2)
15:50 EEST 13.-16. Mexico vs Vietnam (1-2)
16:40 EEST 5.-8. Argentina vs Brazil (0-2)
19:10 EEST SF Germany vs Netherlands (2-0) / 5.-8. Portugal vs Denmark (1-2)
20:00 EEST SF Greece vs Spain (0-2)
20:50 EEST World champions and hosts lose, Spain into second final in three champs
The 2016 champions Spain have overcome the 2018 - and current - champions Greece on their own sand. Greece simply could not find the net in the second period, losing it 4:17.
We have quotes from both sides coming up, but the second men's semi-final already started. However, we did briefly speak to coach Karantoni and goalkeeper Magda Kepesidou and they were both still positive and philosophical in defeat - they have a chance at being on the podium tomorrow, in the bronze medal against Netherlands.
Spain have the task of handing Germany their first defeat in two championships.
20:15 EEST It's all go here: slipping in between the semi-finals, an important result
The 2019 ANOC World Beach Games champions Denmark have made it to the penultimate step of being able to defend their title at the next edition - the 2023 one in Bali, Indonesia.
They have just beaten Portugal via a shoot-out to play for 5/6 place against Brazil tomorrow. The winners will get the direct ticket to Bali.
20:10 EEST Beach handball under the floodlights - does it get any better?
It's the 2016 IHF Women's Beach Handball World Championship winners vs the 2018 winners.
Spain and Greece are doing battle in their semi-final.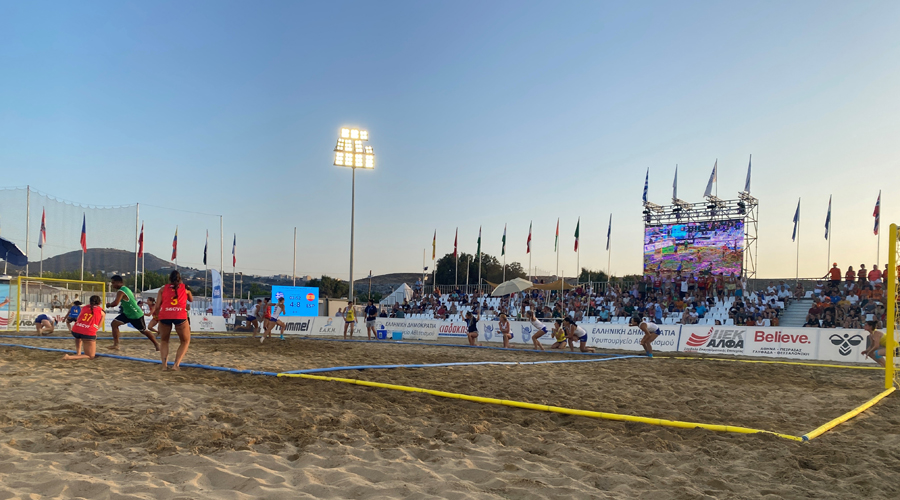 19:47 EEST Germany are through, still have not lost a set
They eased to victory over Netherlands, 2-0 (18:10, 25:16). The second set was completely one-sided and the European champions were only behind once in the whole game, inside the first 60 seconds.
19:15 EEST Teams are lining up, a little bit later due to the epic previous men's semi-final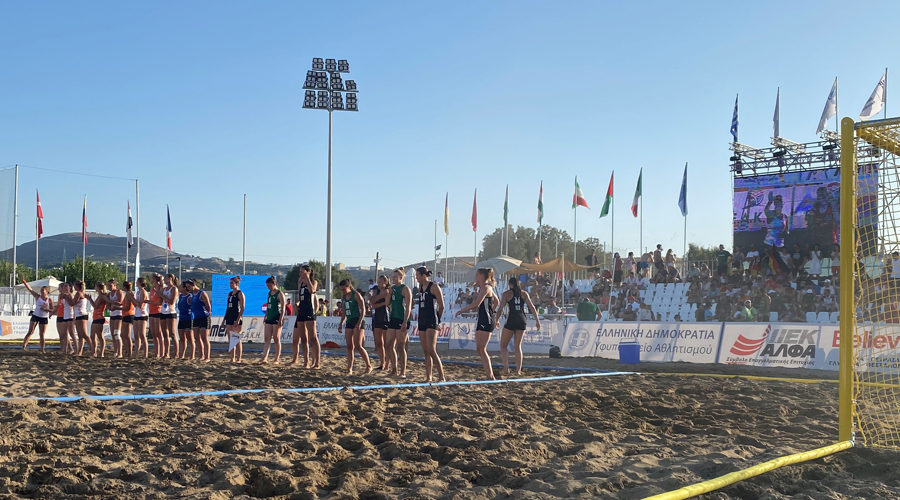 16:20 EEST Results coming in all the time
As the placement rounds are underway, you can follow all results here. Or even better, watch them live on the IHF-Competitions YouTube channel. 
14:55 EEST Spain's Torras Parera: 'We are defending until our last breath'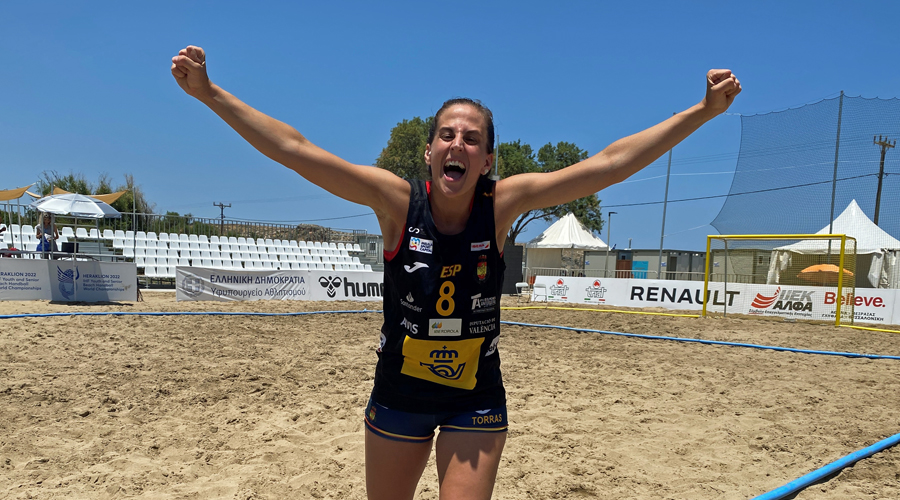 Yesterday, Spain could have gone out the championship. Today they are in the semi-final, have two opportunities to win a medal and have qualified through to the 2023 ANOC World Beach Games.
They did it by beating one of the best-ever sides to have played the game, Brazil. And they did it 2-0.
"We don't have words to describe this feeling now," said Mireia Torras Parera who plays her club handball for Kurpfalz Bären in Germany.
"We know this game was like a final for us. We gave our best and in the end it was a pretty good match.
"Brazil made things very difficult for us and it was really an amazing game. A game that the spectators I'm sure have enjoyed a lot. This pressure is a good feeling. You are just focused on not losing a ball, scoring a goal when you have in your hands, defending until our last breath. But then the joy comes. Now it's time to celebrate and enjoy, we are in between the four best teams in the world."
That ANOC World Beach Games qualification means more than just a trip to Indonesia in 2023, a chance for some players to go out on a high, perhaps.
"Bali was one of the goals we set at the beginning and achieving it is amazing. Most of our players they have played this game for a long time were thinking about retiring but after having this now [maybe they change their minds].
"The good thing about us is that we have a pretty good team," she added. "Between us we are very tight and it's one of the good things we have. One of our strengths. And this is one of the things that make us win."
And that turnaround between the near miss of going out and now finding themselves playing for medals?
"This is one of the good things about beach handball," she explains. "This pressure you have: everybody can win. You have a too bad offence and the other team can get ahead of you.
"These are the things that make this game very spectacular and the things that the spectators love."
14:40 EEST Semi-finals coming up at 19:10, placement games to decide
13:30 EEST First-ever Olympic Games beach handball points-scorer looking forward to showing their best in semi-final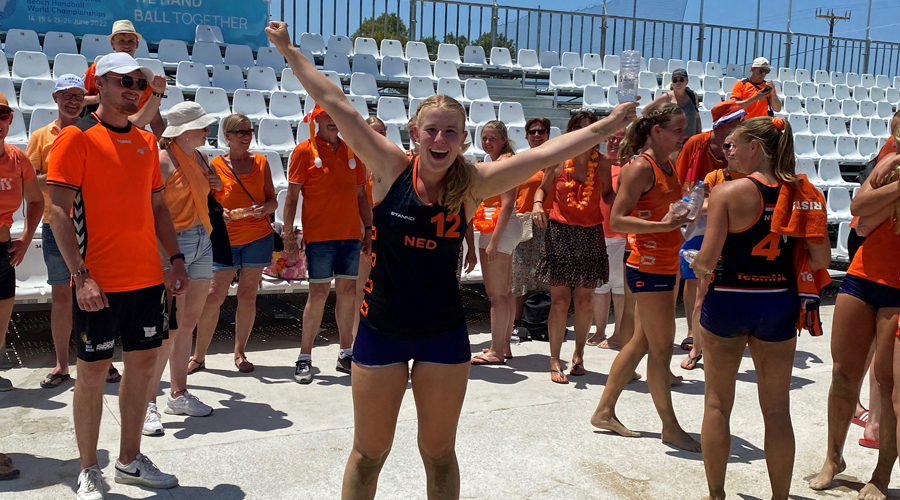 On 8 October 2018, Netherlands' beach handball goalkeeper scored the first-ever Olympic Games points in beach handball in Argentina at the Youth Olympic Games.
Today, her senior Netherlands' side defeated Denmark via a shoot-out to get into the semi-finals of the 2022 IHF Women's Youth Beach Handball World Championship.
"We have two games to go and we want to win," she said to ihf.info after the win. "Denmark is a really good team. We never played against them before so we didn't know what they were like to play, but we had a good plan and we knew what we had to do and that's the reason why we won the game.
"Now we will go to back to the hotel and that we will have some rest. We'll sleep and then we will play the semi-finals against Germany."
They know Germany well, very well, having played them yesterday in the main round and going down 0:2 one of the seven teams that the European Champions have dispatched this way in Greece 2022 so far.
"We didn't play our best match but we will play better today and maybe and hopefully we will play the final tomorrow," added Bakker before turning her attention to the Dutch youth women's squad winning silver on the same sand last week.
"They played a really good tournament and we were here cheering for them last week," she said. "We are very proud of them and we will do our best and hope we will win gold."
13:25 Hey Germany! When are you going to lose a set?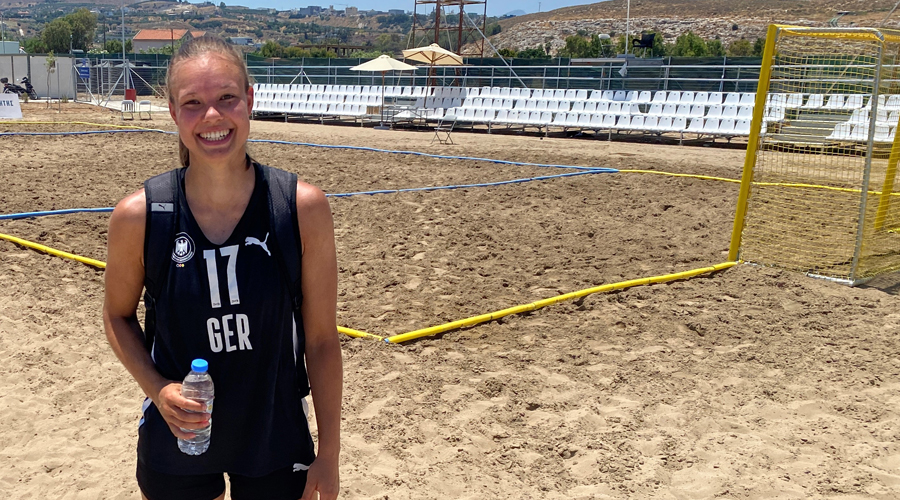 "Hopefully in this tournament, never," says a laughing Germany left winger Lena Klingler to ihf.info. "But the next game is going to be even harder than this quarter-final, we just have to give our best.
"Our assistant coach (Hendrik Sander) has never lost a game since he became trainer, a coach of our team. He's really good. He's doing all our video analysis and is preparing us in the best way possible for the games. He's a big factor that you're able to win."
Germany are European champions and have not even conceded a period yet in their seven games. They have won all of them 2-0. They did lose a few periods in Bulgaria at the continental event last year, but does that give the team extra motivation in 2022 to keep a 'clean sheet'?
"We don't focus on much about the series," says Klingler. "We just give our very best in every single game and we are very happy that we are going with the flow at this tournament."
That flow has no doubt been helped by the team bond, built within through the good times and the bad, training, gym and matches.
"Last year, we spent a lot of time together and we have a big trust in each other," added the winger. "That's also a big factor that's going so well for us over the past two years. It's great [to be] with the team. Also we have moments where we can be by ourselves and it's important, but we all know each other very well and have a big trust."
Their 2-0 quarter-final result against Portugal means that they now have two chances of another medal and have already confirmed their place at the 2023 ANOC World Beach Games in Bali, Indonesia.
"I absolutely forgot about Bali, but we're happy that we're qualified, it's amazing," said a surprised Klingler. "European Championships and World Championships have teams from all over the world; different cultures, different mentalities, but being part of a multi-sport event like the World Games in two weeks and then next year World Beach Games, that's a much bigger event and it's  quite impressive to see other sports competing at this level as well.
"For now, we are totally focused on the world championships, but of course it's not possible to completely blank out the World Games now but we're just focused here right now, on the tournament, and then next week we'll see what happens."
13:10 EEST Greece, Spain and Germany into the semi-finals
All-time medallists Brazil have been knocked out by Spain, title-holders Greece did just enough against Argentina and the unbeaten Germans continue their run of not losing a period - it is seven 2:0 wins in a row.
Quotes to come...
12:20 EEST Three quarter-finals at the same time now
Watch them all, side-by-side on the IHF - Competitions YouTube channel.
10:05 EEST Uruguay see off Vietnam
The South Americans ensured another victory to take home with them, dispatching a depleted Vietnam squad (due to injury), 2-0.
09:45 EEST Australia impress against Norway
While the final results were maybe not a surprise in the games featuring Norway and Hungary - both who are in the lower half of an IHF Women's Beach Handball World Championship for the first time - Australia's fighting spirit abounded in their 0-2 loss to the Norwegians, a team who have medalled in the last five world championships.
A heavy loss in the opening period (26:8) offered no clue about what was going to happen in the second. 
That second 10 minutes saw the European side lead 4:0 and 6:2 early on, but by the 17th minute, it was all equal at 12:12.
A save from Aussie goalkeeper Jemima Harbort then put the Oceania champions into the driving seat for the first time, but a technical fault meant it was not to be and despite their best efforts, the Oceania side could not get past the Norwegian defence who hung on to finish 18:12 winners.
"We are so far away from all the other continents and after the covid period as well, that's two years that we haven't played any handball at all," said Australia's Aline Viana to ihf.info.
"For us, it's just about coming together playing our best and there's always next year to look forward to. We're staying over here (out of Australia) for six weeks as we go to the World Games after this."
08:30 EEST Who will advance to the top four of the world?
A little over 30 hours after the start of the quarter-finals, the finalists will be known but between now and then will be a lot of highs, lows, blood, sweat and tears.It all starts with four quarter-finals this morning and after a short break, the semi-finals this evening.
Who will be there and who will be in the 5-8 placement round is not known, but you can follow here to find out.
With three of the four quarter-finals all taking place at the same time (12:20 EEST), the 2022 IHF Women's World Championship is certainly action-packed on Saturday, the penultimate day of action on the Heraklion sand.
Host nation Greece play Argentina, Spain take on Brazil and Portugal will line up against Germany on the outside court, court 3, ahead of Denmark and Netherlands clashing at 13:10.
If you want to know more about the day, here's our preview.