Quarter-finalists to be determined in Heraklion
24 Jun. 2022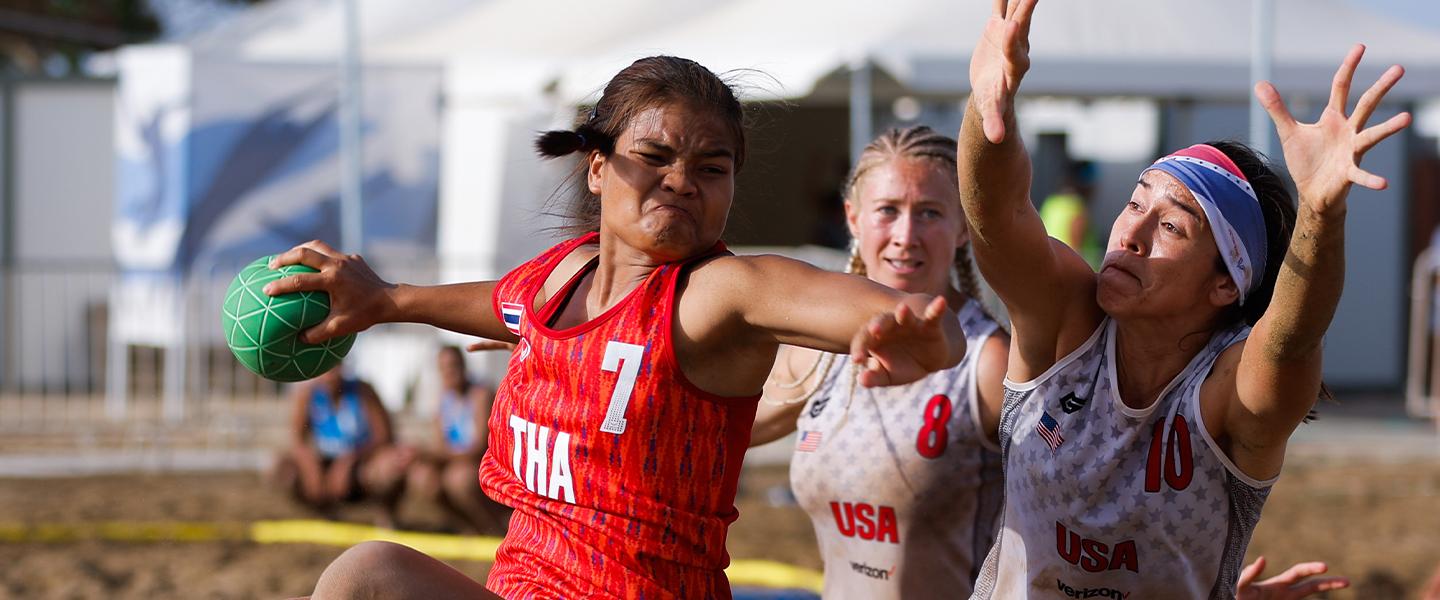 Live blog: The main round of the 2022 IHF Women's Beach Handball World Championship has finished and the quarter-finals are known.
Today's matches:
09:30 EEST CR: Australia vs Hungary (0-2)
10:20 EEST CR: Mexico vs Vietnam (0-2)
15:30 EEST MR II: Netherlands vs Germany (0-2)
16:20 EEST MR II: Argentina vs Norway (2-1)
17:10 EEST MR II: Uruguay vs Brazil (1-2)
18:00 EEST MR I: Greece vs Denmark (2-1) / Portugal vs USA (2-0) / Thailand vs Spain (1-2)
20:00 EEST Quarter-final line-ups
Greece vs Argentina
Spain vs Brazil
Portugal vs Germany
Denmark vs Netherlands
19:30 EEST The women's main round is over, here are the tables...
Main Round, Group I
Greece - 10 points
Denmark - 8
Spain - 6
Portugal - 4
Thailand - 2
USA - 0
Main Round, Group II
Germany - 10
Brazil - 8
Netherlands - 6
Argentina - 4
Norway - 2
Uruguay - 0
18:52 EEST Portugal confirm last eight as Spain squeeze through
ANOC World Beach Games champions Denmark lost against the World champions Greece as the women's main round concluded in Heraklion today.
But the real action was in the other two games. Portugal knew a win was enough and a loss was not, against the USA and the USA knew that too. In the end the Europeans won both periods by two points (16:14, 22:20) and booked their top eight spot in their debut championship
Spain eventually overcame Thailand in a shoot-out, with the Asian team having a chance of qualification this morning.
18:00 EEST The final women's main round games throw-off
Six teams, two spots remaining.
17:35 EEST Brazil made to work against Uruguay
Brazil got taken to a shoot-out but did enough and they enter the quarter-finals as the second-placed group II team.
17:28 EEST Bonomi: "We are going to live 110% in each match"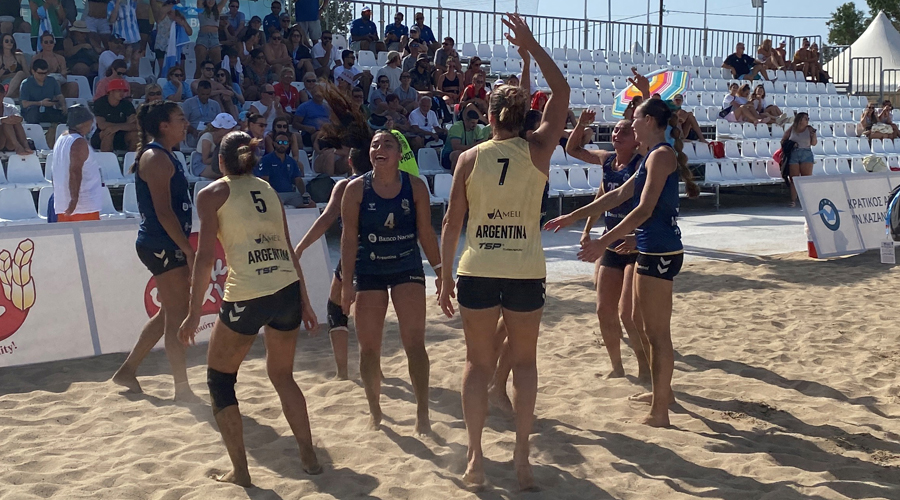 After Argentina had completed their 2-1 victory over Norway to go through to the quarter-finals at the expense of their rivals, a number of their players went over to Gisella Bonomi and hugged her intensely, speaking to her for an emotional moment.
Bonomi had missed Argentina's first shot but had her chance at redemption later, coming out to block Norway's Ine Erlandsen Grimsrud with their fourth attempt. It was 6:2 to the South Americans at that point and the game was sealed, although both sides had to take their fifth shots.
"We were preparing for this for the eight months, training to get here," said Bonomi to ihf.info after the match. "We trust that job and we trust our mates, our coaches and all the effort we made to be today here."
And that discussion at the end?
"They were telling me that I was the best," she said. "Even though I couldn't make what I was supposed to do, I could manage to change the result in our favour. I trusted my coach.

"From now on we have all finals so we are going to prepare the same way, we are going to live 110 percent in each match and see what we can do with our efforts."
17:14 EEST Scenes as Argentina win the shots, 8:4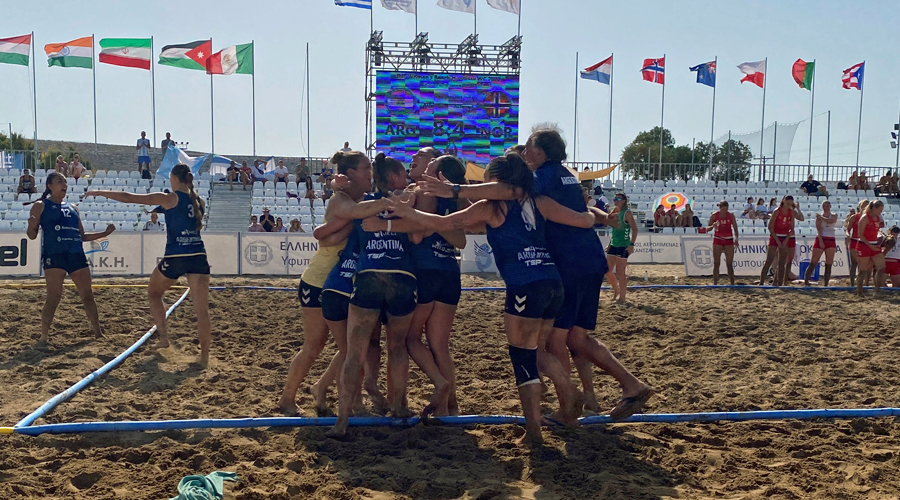 17:00 EEST Argentina and Norway are going to a shoot-out, winners through to quarter-finals, losers out 
Tense. Norway scored a penalty at the death in the second to take it to shots, this, despite goalkeeper Maria Florencia Bericio seemingly a brick wall in the closing moments.
Those closing moments saw a red card for Luciana Antonella Scordamaglia after her second suspension and the score at 20:20 with a few seconds remaining, but the foul had given Norway a chance to take the period and the game to shots and Norway's Marielle Elisabeth Mathisen Martinsen ensured it went that way.
16:15 EEST Germany win their sixth game in a row
They beat Netherlands 2-0 to ensure a top spot in Main Round Group II on 10 points. They have won 12 periods and lost 0.
11:02 EEST A break in action until 15:30 EEST
Up next is Netherlands vs Germany. The Germans beat the Dutch at the 2021 European Championships in Bulgaria last year, thanks to a 16:15, 24:15 preliminary round win.
10:52 EEST Vietnam, down two injured players, overcome Mexico
Goalkeeper Thi Sen Tran (knee) and specialist Thi Hanh Ha (ankle) have been missing from the Vietnam squad here in Greece after picking up injuries, but their team continues strongly, their eight remaining players doing enough to hand Mexico another defeat.
09:55 EEST Hungary win again
A 2-0 win over Australia is their third, straight in the consolation round.
09:00 EEST Crunch time in Heraklion
The door is closing on a last eight spot – who will secure a quarter-final place today?
Spain, Thailand, Portugal and the USA can all still qualify through in Group I, while Norway and Argentina face each other in a play-off for the last spot in Group II.
The remaining quarter-final spots from each group will be decided by these matches today.
18:00 Portugal vs USA - Group I
18:00 Thailand vs Spain - Group I
16:20 Argentina vs Norway - Group II
Read more about the last main round day here.