Host nation enter the main round in command on the Greek sand
23 Jun. 2022
Live blog: Day 3 at the 2022 IHF Women's Beach Handball World Championship has concluded.
Today's matches:
09:00 EEST MR I: Portugal vs Spain (0-2) / Thailand vs Denmark (0-2)
09:50 EEST MR II: Netherlands vs Norway (2-0) / Uruguay vs Germany (0-2) / Argentina vs Brazil (0-2)
13:10 EEST CR: Mexico vs Australia (2-0) / MR I: Greece vs United States of America (2-0)
14:00 EEST CR: Vietnam vs Hungary (0-2)
15:30 EEST MR II: Netherlands vs Brazil (1-2)
16:20 EEST MR II: Argentina vs Germany (0-2)
18:00 EEST MR I: Portugal vs Denmark (2-0) / Thailand vs United States of America (2-1)
18:50 EEST MR II: Uruguay vs Norway (0-2) / Australia vs Vietnam (1-2)
19:40 EEST MR I: Greece vs Spain (2-1)
21:20 EEST CR: Hungary vs Mexico (2-0)
22:05 EEST Hungary conclude third day with a 2-0 win
Under the floodlights, the 16th and last game today comes to an end with Hungary defeating Mexico 2-0 in the consolation round.
21:20 EEST Kepesidou sisters are pure energy
If the electricity ever runs out at the Karteros Beach Sports Center in Heraklion, we know who to turn to: Greece goalkeeper Magda Kepesidou.
Directly after their shoot-out win over Spain, she was a bundle of energy around the court exit and ihf.info caught her at the perfect moment, although by the time we turned on our recording, she had already enough to write 500 words.
And then her younger sister, Nikolina, turned up so we attempted to speak to them both, with Magda translating.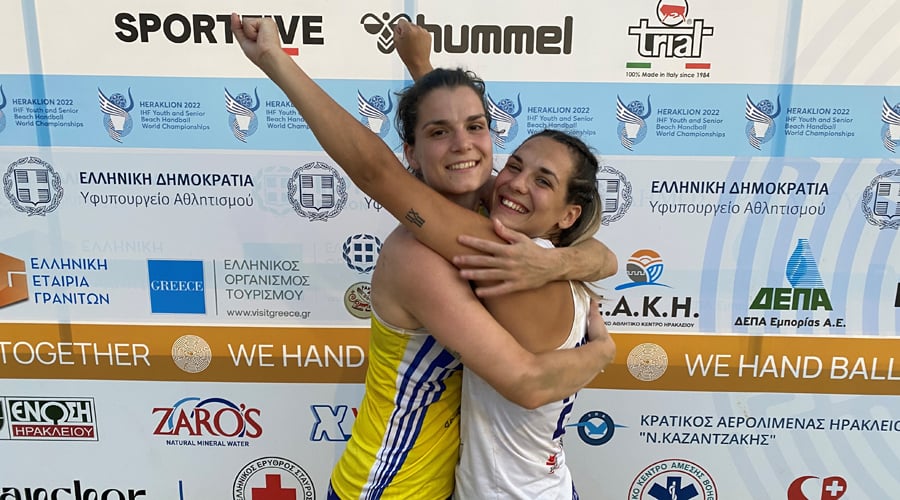 The result against Spain was only Greece's second period lost in Heraklion in their five, straight wins. The first? That was against Mexico in their opening game.
"We wanted to start (the championship) good but we were so, so nervous and that's why we went to the shoot-out against Mexico," said Magda.
"Now in this main round, everything is good, but we lost the period (against Spain) in offence. We were not as concentrated as we needed to be. (Now) we need to be concentrated 100%."
Talk turned to the dynamic between the two, with Nikolina praising the protective qualities her big sister has.
"I feel safe when she's behind me at the back," said Nikolina. "We have played many years together, I feel safe as a sister and a player together in combination. She's the best goalkeeper in the world and knows I will do my best every time."
But the big sister pushes her little one maybe a bit more than the others.
"Sometimes I think that she's my sister and I expect more from her," says Magda. "I should not because she's really young, but she's really good and when she's in front of me, I'm fearless too."
In unrelated news, Magda then revealed that she won fights against Nikolina when they were children, but is not so sure these days.
20:47 EEST Another shoot-out win for the host nation and, yes, Magda was integral to it
Back in 2018, Greece lost to Spain in their very first IHF Beach Handball World Championship via a shoot-out. Later they won gold.
They have just beaten Spain via a shoot-out in the main round here in Heraklion. Magda Kepesidou made eight saves in the game in total, two in the shoot-out which went the ninth round of shots, only ending when Ntafina Dimitri blocked a Spain shot at 14:12 up.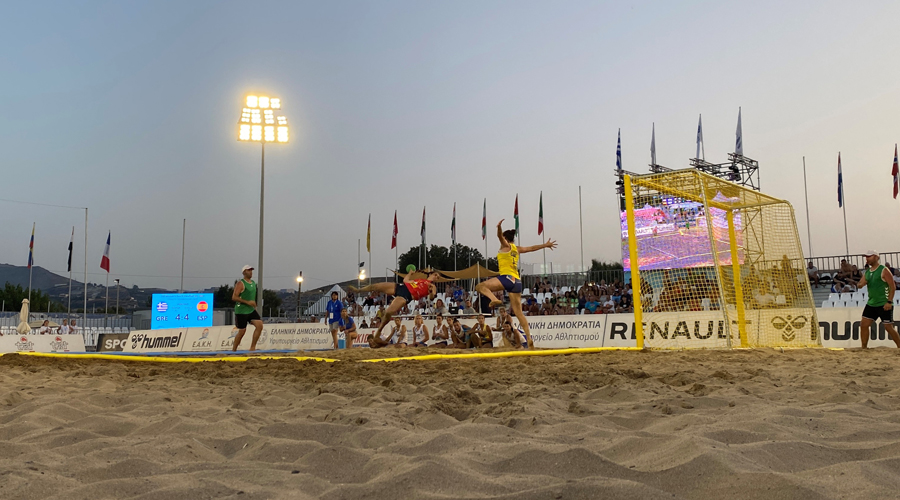 19:23 EEST A special day for Line 'Golden Lion'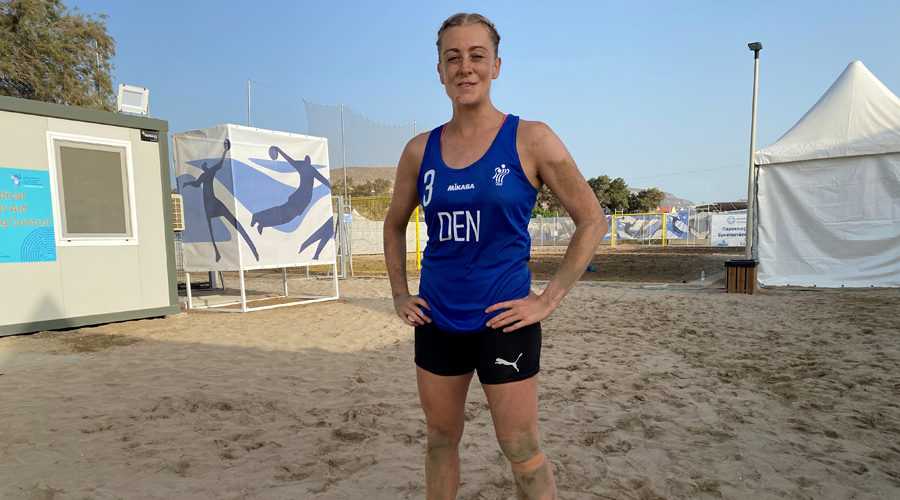 Line Gyldenløve Kristensen - she has one of the best names ever. Translated, her middle name means 'Golden Lion' and she is certainly a lion for the Danish women's beach handball team.
And thanks to the great work from the Danish Handball Federation who treat beach handball statistics with as much love as 'indoor' ones, we know a lot about her.
For example, her first game here at Greece 2022 was her 100th appearance for the side which has nearly won or been close to winning everything.
We also know that today - 23 June - is when she made her debut for the nation at the 2009 EHF European Beach Handball Championships, in Larvik, Norway.
"Yeah, it was the first time for me and I was excited," she said about her debut 13 years ago. "We were not so good. It was the first time for the Danish national team and were just happy to be there, to try and learn a lot of things from the other teams. I just remember we lost a lot of games, but it was fun and now, we are much better."
Much better? Denmark are reigning ANOC World Beach Games champions and have won all five of their games at Greece 2022 without dropping a period.
"Right now we are very happy," she said about the performance of her side in Heraklion. "We play one game and hope for the best. Tomorrow we have a very special game against Greece and we look forward to it."
That match has come at the right time, with Denmark safely in the quarter-finals and they nearly let Portugal back in right at the end of the second period, scoring with a few seconds left after a time out to ensure the 2-0 victory.
"The coach makes a plan for us," said Line about those crucial moments. "We just tried to do what he said, we're just happy that we did it."
18:48 EEST Where we are at...
Quarter-final tracker:
Main Round Group I: Greece, Denmark through
Main Round Group II: Germany, Netherlands, Brazil through
18:45 EEST Denmark have just scored a blinder
The Danes smashed home from distance, with a second remaining to take a 2-0 win over Portugal. Like Germany, they have won all five of their games 2:0. Thailand vs USA now is going to a shoot-out.
16:55 EEST European champions beat South and Central America champions
Germany see off Argentina for ANOTHER win. It's 2-0 again. It's their fifth in a row - they haven't dropped a period yet here in Heraklion.
16:18 EEST Brazil are warming up, just like the Greek weather
They were 12 seconds from going out, now they are in the quarter-finals. Brazil's women - the historically best team in global women's beach handball - have overcome Netherlands 9:8 via that good friend of ours, the shoot-out.
15:30 EEST Hungary make the most of their disappointment, Netherlands and Brazil set for a classic
After being squeezed out in their final preliminary group game last night, Hungary have just opened their consolation round with a 2-0 victory over Vietnam.
In the main round, Brazil are on court ready to confirm their quarter-final round place with a match against Netherlands, who are already in the last eight.
13:39 EEST Greece women confirm last eight
The hosts and title-holders are through to the knock-out stage. They have reached the quarter-finals thanks to a 2-0 victory over the USA.
Fellow North America and The Caribbean side Mexico, just recorded their first win at Greece 2022, defeating Australia 2-0 in the consolation round.
10:30 EEST We now have a pause in the women's competition until 13:10
Five eventful games already - 11 more to come today.
10:25 EEST Brazil back on top in South America rivalry, Netherlands and Germany in quarter-finals
In April, Argentina finally recorded a senior women's win in beach handball over their neighbours Brazil.
In Heraklion today, that was reversed as the all-time leading world championship medallists powered to a 2-0 win after Brazil's Patricia Scheppa stole the ball at the end of the first period for a 21:20 victory.
They then appeared to be easing towards a second period, 16:14 victory, after leading by as much as eight points with a minute remaining.
While that comeback was not enough for Argentina it was impressive and, depending on the schedule and results, we may not have seen the last of these two teams clashing in Greece.
European champions Germany continue their winning ways, with a 2-0 defeat of Uruguay, the same score which Netherlands defeated Norway by.
With those results and four teams qualifying from each main round group, both Netherlands and Germany are in the quarter-finals as they sit on six points each, uncatchable by both Norway and Uruguay in fifth and sixth spot, with two games remaining and no points to their names.
09:38 EEST Business-like wins for Spain and Denmark
Two 2-0 wins, job done. Move on. Portugal and Vietnam will have work to day this afternoon when they play again.
09:15 EEST Spain and Denmark lead early games
They are 1-0 up. Watch live on the IHF - Competitions YouTube channel.
07:30 EEST Ready for the main round?
As the preliminary round concluded yesterday, 12 teams will continue their race for the title with the first main round day today. 
A long day is ahead of us, but what a day it will be! The women's main round throws off in the early morning with a cracker – a repeat of the European Championship quarter-final from last year: Spain vs Portugal.
The final game of the day is a repeat of Greece's Beach Handball World Championship debut – a test against Spain, who the Greece women faced in their Kazan 2018 opener as then world champions and they took them to a shoot-out, eventually losing. 
Now Greece are in that position.
You can read all about the first main round day in our preview here.