Greece 2022 action starts for women's senior teams
21 Jun. 2022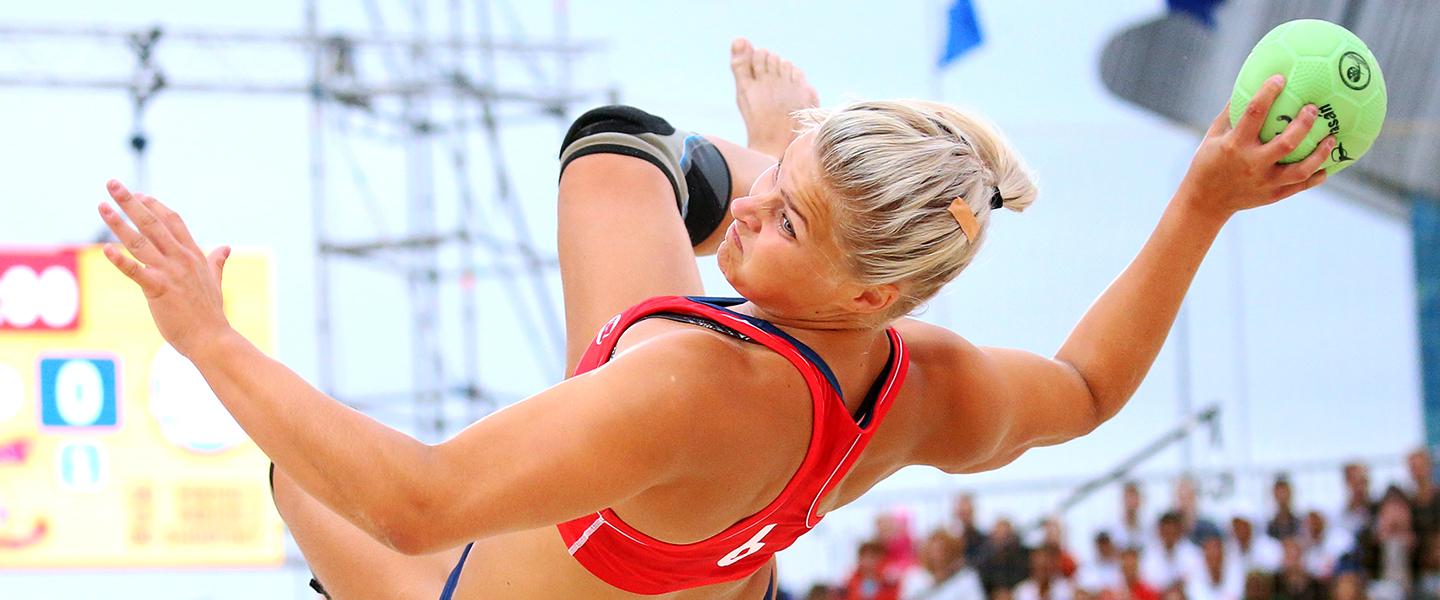 Live blog: The women's teams are ready and the 2022 IHF Women's Beach Handball World Championship finally throws off!
Today's matches:
10:40 EEST Norway vs Hungary (2-1) / Germany vs Brazil (2-0) / Argentina vs Uruguay (2-0)
11:30 EEST Greece vs Mexico (2-1) / Portugal vs Thailand (2-1)
12:20 EEST Netherlands vs Australia (2-0) / Spain vs United States of America (2-0)
13:10 EEST Denmark vs Vietnam (2-0)
16:40 EEST Hungary vs Germany (0-2) / Mexico vs Portugal (0-2)
17:30 EEST Brazil vs Norway (2-1) / Australia vs Argentina (0-2)
18:20 EEST Uruguay vs Netherlands (0-2) / Vietnam vs Spain (0-2)
21:00 EEST United States of America vs Denmark (0-2)
21:50 EEST Thailand vs Greece (0-2)
22:35 EEST Greece do the business
They were behind in the first period but came back to win that one and the next. It's a 2-0 win for the hosts and make it two wins from two to enter the main round. 
21:55 EEST The world champions are on court for the final game of the day
They made hard work against Mexico earlier, both in their second-ever IHF Women's Beach Handball World Championship and now Greece are struggling against Thailand, who are appearing in their fifth, consecutive world championship.
They are down by four after five minutes (12:16).
21:05 EEST Denmark make it two from two
The reigning world beach games champions have qualified through to the main round with their second win in two matches.
20:30 EEST International Beach Handball Day launched
We promise we will update later, a lot is going on in the opening ceremony.
The International Beach Handball Day logo has been launched there for the first time after Giampiero Masi, Chairman of the IHF Beach Handball Working Group yesterday revealed the creation of the day itself.
Yesterday, Monday 20 June 2022, marked exactly 30 years since the first organised, rules-based beach handball match was played on Ponza island in Italy.
The match, played in 1992, has gone down in history as the line in the sand of how far the sport can trace back its roots.
To mark the occasion, every 20 June will be celebrated as International Beach Handball Day.
"I have the pleasure and the honour of announcing that today is the first IHF International Beach Handball Day and on 20 June every year we will officially celebrate it," said Masi in a media conference in Heraklion.
The idea of acknowledging the special moment in the sport was originally conceived by IHF Beach Handball Working Group member, Sasa Kuburovic, with the purpose of shining a light on the sport and celebrating all of those involved its foundation, currently involved and in its future.
With the youth and senior IHF Beach Handball World Championships currently taking place in Heraklion and a large part of the global beach handball family all together in Greece, it marked an ideal moment where they could join together and mark the occasion.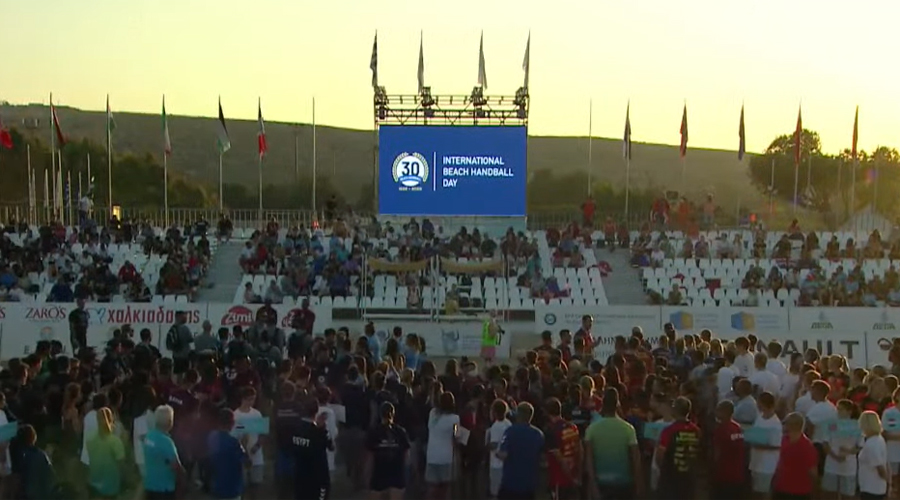 19:28 EEST The teams are waiting patiently to come out for the official opening ceremony
You can watch live on the IHF - Competitions YouTube channel...it might be worth it as there might be a reveal of something special to look forward to every year.
We're talking legends.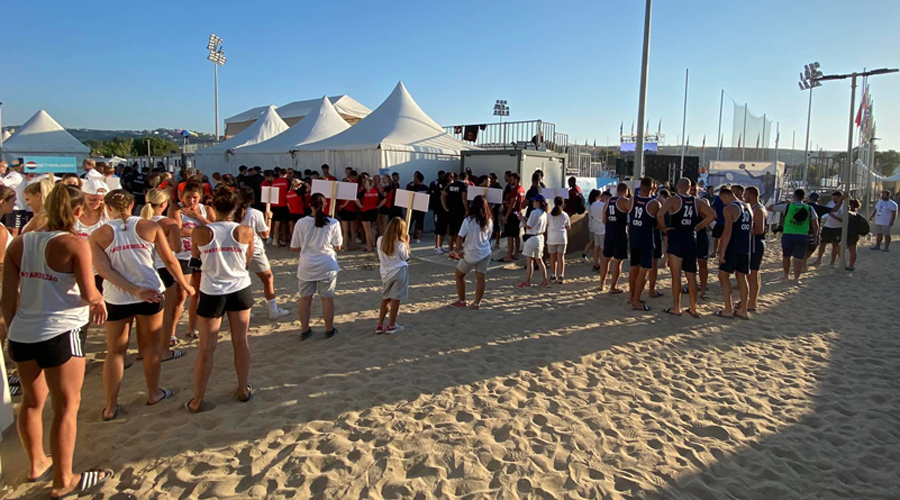 18:48 EEST Spain and Netherlands end opening day on 100%
Spain and Netherlands have not let a period today. Impressive.
They're through to the main round now.
18:25 EEST Brazil record their first win
The South and Central America runners-up Brazil overcame their early disappointment against Germany this morning to take a 2-1 win over Norway this afternoon.
A first period 18:14 victory was overturned by the Norwegians in the second (18:20) and so it went to a shoot-out, won by the Brazilians, 10:6.
"In the first game, we were without concentration and we lost, but we studied to play this game against Norway," said Brazil's pivot, Renata Santiago to ihf.info.
"All the teams in this group are dangerous but we have to win and go with our objective."
And, after they lost for the first time to Argentina earlier this year, we pushed a little to ask her about how important it was that they overcome that defeat and show the world in Heraklion how good they are?
"We lost to Argentina who were better than us, we don't know what happened," she explained. "We study every team we play, but with Argentina it is, how can I say, our problem."
Another positive today was the return of the inspirational Nathalie Sena, who missed the last world event - the 2019 ANOC World Beach Games in Qatar. She is now back in the squad for the first time in over three years.
"It's wonderful, she's very important for us," said Santiago. "She sets the level and bar for us and now she's here we're very happy."
 
17:14 EEST European champions record their second win of the day
They started off with a comprehensive showing against Brazil and now they've added to it by dispatching Hungary 2-0 as well. Germany are through to the main round with a game remaining.
Also joining them are Portugal, who have won their first two IHF Women's Beach Handball World Championship games in history - this is their debut championship.
13:45 EEST Denmark beat Asian champions
A much-changed Denmark side to the one who won the 2019 ANOC World Beach Games is here in Greece, but they have started in a good way, defeating Asian champions Vietnam, who are appearing in their second-ever world championship.
The Europeans won 2-0.
12:55 EEST 2016 champions open with win, Netherlands and Portugal victorious on debut
Nine games down in boiling conditions here in Heraklion. Both Netherlands and Portugal have won their first games at the first attempt at this level.
11:50 EEST 2018 winner Mournou: "You must work to stay at the top"
Greece have defeated Mexico in the opening game of their home championship, one in which they are the defending champions.
Eleni Mournou won gold with Greece in 2018, but little did they know back then the world would change and they would have to wait 48 months to defend their famous title.
"It's a long time. A long time," she told ihf.info. "It was nice to start because we waiting this long time. We wanted to play, to be happy and to play beach handball. It was difficult. We were nervous. But it was the first game. I was very nervous also. I was very nervous after four years, but it's okay, we will be better in other games."
In 2018 Greece won the majority of their games via a shoot-out, including the quarter-final, semi-final and final.
"We even started with a shoot-out too," said Mournou about their opening day loss in 2018 against then title-holders Spain. "But after that we didn't lose."
"It is difficult," she added when asked if other teams raise their game against them. "But we're playing for us, for our team, for Greece. Sometimes it's difficult to be World champions, because sometimes you think you won the world championship and you play like this. It's more difficult to stay in the top. This is the thing: you must work to stay at the top."
11:29 EEST World champions and hosts about to throw-off
Four years ago they were full of tears and set up a nation to start dreaming about following in their sandy footsteps, now, in June 2022, the Greece women's team line up against Mexico to open their home campaign.
In the ranks of the Mexican side is Edna Viridiana Uresti Valencia, who ended the 2018 IHF Women's Beach Handball World Championship top scorer, on 123 points. It was Mexico's debut.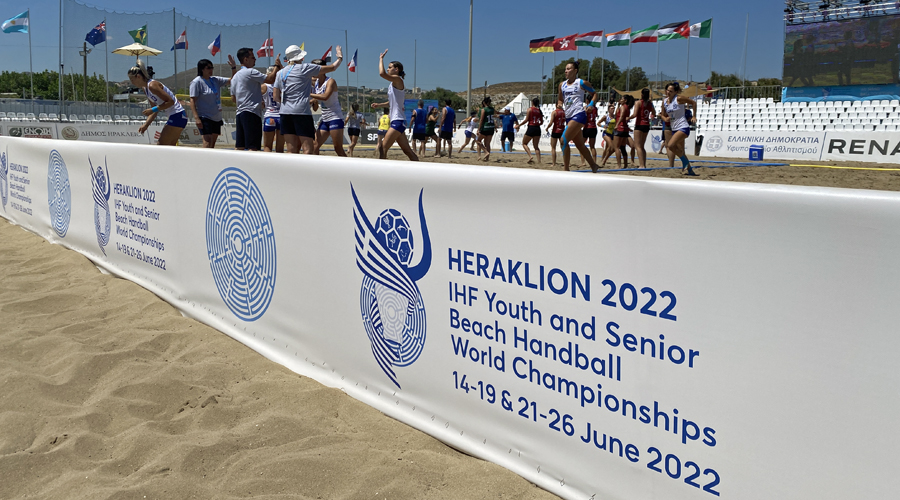 09:25 EEST Home nation and title-holders Greece start their campaign on Heraklion sand
Finally! Greece 2022 is about to start as three games throw off the 2022 IHF Women's Beach Handball World Championship at 10:40 EEST – if you want to know more, read our preview.
 
Today is the first of six days featuring 72 games, 16 teams and five continents and by the end of it we will have a world champion who will also book their ticket for the 2023 ANOC World Beach Games in Indonesia next year.
Check how to follow the Beach Handball World Championship here and let us know your thoughts using our hashtags #Greece2022 and #beachhandball.