Germany hope for 'burning arena' to help defeat Norway
25 Jan. 2019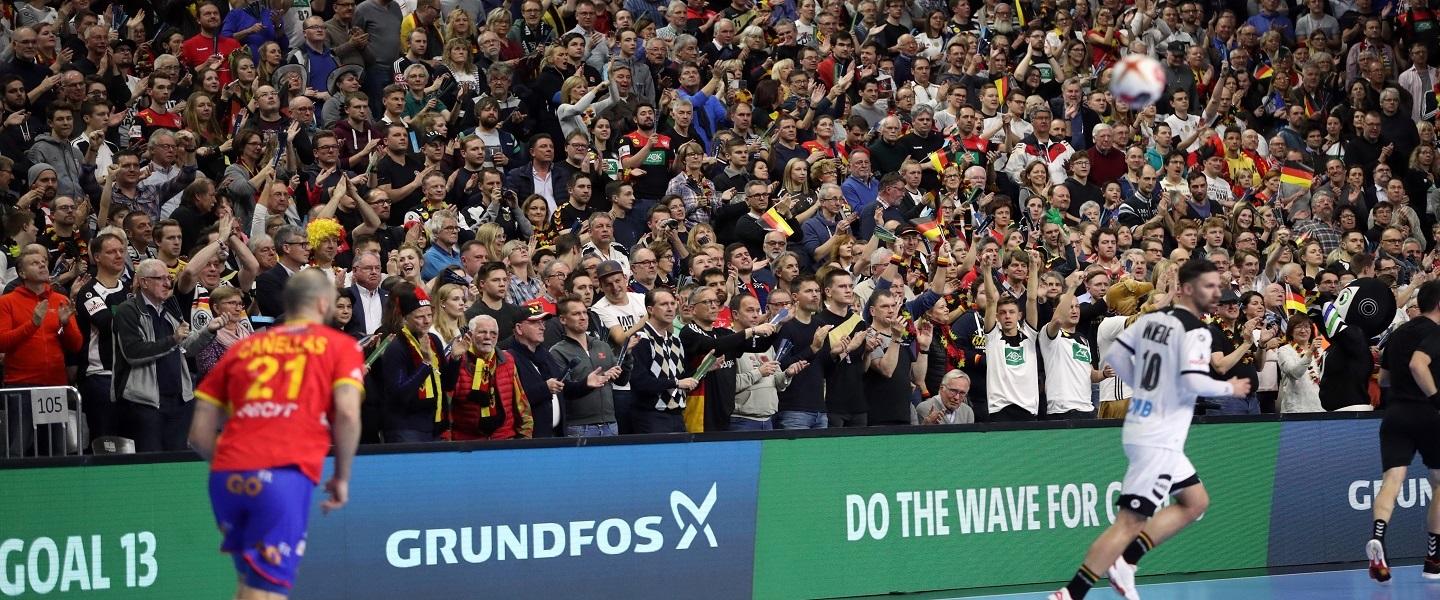 For Norway, it is the second consecutive semi-final at the IHF Men's World Championship. For Germany, it is the first since they last hosted the event, in 2007 – and went on to claim their third and most recent title.
The second semi-final clash at Germany/Denmark 2019 is a rematch of the EHF EURO 2016 semi-final, which Germany won by one goal after an extra-time battle. Overall, Germany and Norway have faced each other nine times in official matches, with five wins for Germany, two for Norway and two draws.
Norway finished as runners-up at the previous World Championship in France, taking what was their first international medal ever. In 2017, Germany bowed out in the eighth-final stage, which was quite a shock considering they were the European champions at that time and had won the bronze medal at the Rio 2016 Olympic Games only months before.
Both sides have ranked among the top at the most recent international championships – and both have had moments to forget. For Germany, it was the unexpectedly early exit at France 2017. For Norway, it was their elimination in the main round at the EHF EURO 2018 and prior to that, missing a place at the 2016 Olympic Games. But in 2019, everything has clicked into place for squads, who have both navigated challenging moments and celebrated great victories on the path to the medal round.
Germany arrive in the semi-final stage after six wins and two draws, while Norway won seven of their matches and lost only to World Championship co-hosts Denmark in the preliminary round.
"We enjoy that we can play this match and we will try our best. We played in Denmark already against the host and we lost, so we want to do it better now against the other host," said Norway coach Christian Berge in the press conference for semi-finalists on Thursday afternoon in Hamburg. "It was hard to lose the 2016 final against Germany, but we have learned from that and tomorrow we will do it better."
Norway wing Kristian Bjornsen believes their path through Germany/Denmark 2019 has helped his side prepare for the tough semi-final encounter with Germany.
"For us, it was a good way, how we have come through this tournament. We started with some easy games and then we met Denmark and lost," said Bjornsen. "It is always difficult to play against the host, with all the fans on the home side, but we are looking forward to this match tomorrow."
The stage is set for a top-quality clash. Though the schools of handball are different, the teams have similar strengths. All four goalkeepers – Andreas Wolff and Silvio Heinevetter for Germany; Torbjorn Bergerud and Espen Christensen for Norway – rank among the top 14 in the competition, with Christensen currently first on an average save rate of 42%.
Their star wings are among the top scorers: Norway left wing Magnus Jondal is fourth overall, on a tally of 46 goals, and Germany left wing Uwe Gensheimer enters the court for the semi-final ranked seventh, with 42. Finally, the two squads are led by exciting young talents on the back court. Norway's Sander Sagosen is not only near the top of the scorer ranking, but is second on assists, with 35. Germany's Fabian Wiede has made 28 assists for his side.
Naturally, in a semi-finalist team, the talent extends beyond these few individuals – but these are likely to be some of the stand-out players in the second semi-final, throwing off at 20:30 local time in Barclaycard Arena, Hamburg.
"We are very happy to be in Hamburg. It was a big goal," said Germany's Fabian Böhm at the press conference. "I am looking forward to the match tomorrow against Norway and we hope that the arena will burn."