Gallego: "Handball is universal"
20 Jan. 2019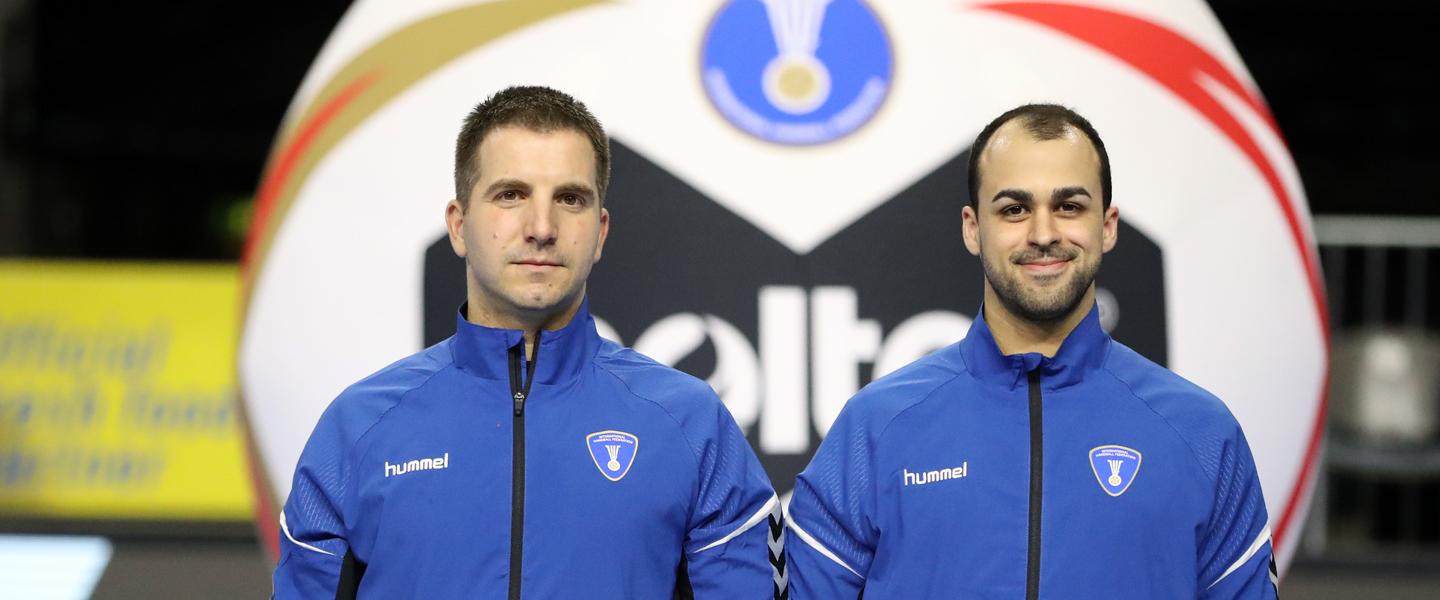 IHF Men's World Championship features mixed referee couples for the first time
The final two President's Cup games in Cologne earlier today featured referees from Montenegro and Switzerland but, instead of the couples working with their usual partners, the pairs were mixed, with one referee from Montenegro and one from Switzerland forming each pair.
Mixed referee couples are nothing new in world handball, with beach handball regularly featuring them and this is not the first time it has happened at a senior IHF world championship.
Back at the 2013 IHF Women's World Championship in Serbia, seven games across the first and second days of the President's Cup not only saw mixed-nationality referee couples, but mixed genders and continents too with Swedish, Romanian, Korean, Ivorian and Norwegian male and female couples whistling games.
"Previously, in some junior and youth world championships we have made some tests, but this is the first time at an IHF senior men's world championship," said Chairperson of the Playing Rules and Referees Commission (PRC) Ramon Gallego about the use of mixed-nationality referee couples.
"Together with IHF President Dr Hassan Moustafa we decided to revisit the idea of mixed couples, and it is something we have discussed a lot in the past 12 months. 
"The idea is that from the very beginning young, talented referees will be taught and educated in the modern refereeing style," he continued. "In principle all referees have the same (rules) criteria, and the same match situations to solve, so why it is necessary they come from the same country?"
This summer, the IHF, with the German Handball Federation (DHB), is set to organise summer training camps, including a men's and women's international tournament, in Lübeck, Germany, for young, talented referees who have been detected in different countries before they have become continental ones. 
"We will use the camps to start teaching and educating these couples," said Gallego. "Some days we will use the same couples and some days will be mixed couples and, hopefully, we will find some good referees for the future.
"We will see on a day-by-day basis how we will develop this project," added Gallego. "Handball is universal so why not work together for the future of handball? The referees involved here in Cologne had an excellent, positive reaction when we asked them."
In the first match between FYR Macedonia and Chile, Milos Raznatovic from Montenegro whistled with Arthur Brunner from Switzerland, while the second match saw Qatar win the President's Cup against Russia, in a match whistled by Morad Salah from Switzerland and Ivan Pavicevic from Montenegro.
"It was a great experience," said Montenegrin referee Milos Raznatovic after whistling 15/16 placement match. "This was something new, a new era in handball refereeing. Arthur was a great partner and all the officials communicated without problems, in English and the language of handball - we had short a meeting before the match where we arranged all our tasks, and everything took place without any problems."
Swiss referee Salah also enjoyed the different experience. "From the warm-up to the end of the game it was nice," he said. "With a different partner you see a different perspective and way of thinking which helps you to improve. Like the first match, we had no problem with communication as we always speak English to the players and, as a couple, we were speaking a lot throughout the match."