Group B: Spain escape shock as Japan goalkeeper Kai plays game of his life
14 Jan. 2019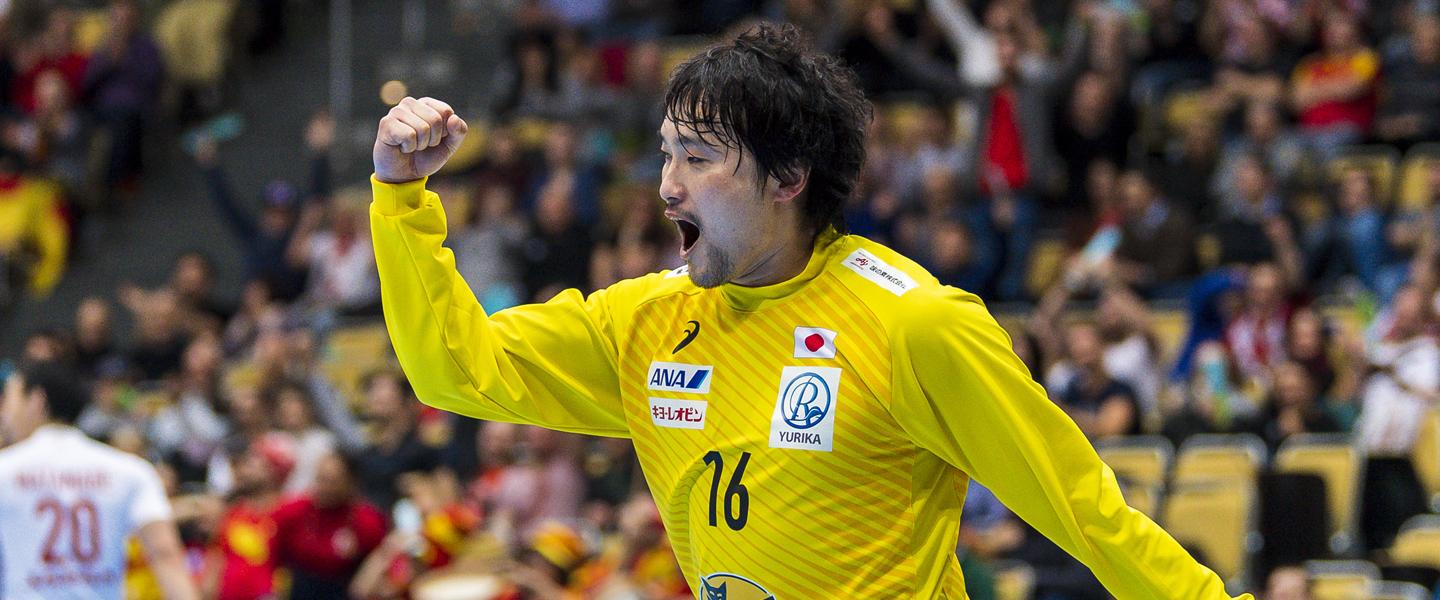 Following the defeat of Qatar by Angola earlier on at Germany/Denmark 2019, a far bigger championship shock nearly unfolded at the Olympiahalle in Munich earlier tonight.
Spain vs Japan 26:22 (10:11)
The Group B encounter between EHF EURO champions Spain and wildcard entry Japan saw the Asian side lead 11:10 at the break, only to fall short at the end, eventually losing 26:22.
Ironically it was Japan's Icelandic-born coach Dagur Sigurdsson, who was responsible for a shock himself against Spain when his German side beat them in the 2016 EHF EURO final, but it was not to be today.
This game highlighted why we love handball, with excellent defence, excellent attack, a story of the underdogs against the giants, different continents clashing, contrasting styles, fair play, skills, ingenuity and, above all, lots of drama – all in bite-size chunks which are sure to be shared socially by handball fans around the world.
After playing Croatia just yesterday, Sigurdsson had said "…hopefully tomorrow we will be readier for the beginning of the game and give Spain more trouble than we did with Croatia," and they did – forcing Jordi Ribera to take a time out with just under seven minutes on the clock, after he watched his side fail to score from five attacks.

Ribera had started with a strong seven, but they could not conjure up a goal until just after the eight-minute mark when Raul Entrerrios sunk home to make it 3:1, against the side who placed sixth at the Asian championship a year ago - and by the 14th minute they had drawn level.
But Japan did not capitulate, as an extraordinary effort from goalkeeper Akihito Kai saw him make 10 saves in the first half, ending with a 53% save ratio – including stopping five of Spain's first six shots which were on target, and in front of a 8,000 fans, many of whom were Croatians who had stayed on after the previous match, the Japanese held on to end the half strongly that goal up 11:10 – thanks to save number 10 on the buzzer.
So many moments in the opening 30 minutes were highlights, not least the 'broken wrist' shot from Hiroki Motoki in the 26th minute which made it 9:7 to his side, and when the pause was indicated, Spain marched off immediately to prepare for the second half.
Unfortunately for Japan, Spain used the break to adjust, and seven minutes into the second period Sigurdsson took a time out with his side now 16:12 down following a 6:1 run.
But again, Japan came back to bring it within two goals (20:18) with 10 minutes remaining, but this was to prove as close as they could get as Rodrigo Corrales Rodal in the Spanish goal pulled off a double save from Shinnosuke Tokuda.
Spain ensured they moved to a comfortable lead of three for the final moments and in an immense show of fair play, did not attack for most of their build-up out of respect for the battle which had ensued. 

When Kai was announced as the best player of the match following the result, all 8,000 fans and the entire Spanish delegation applauded the performance which fans watching at home and in the arena will remember for quite some time.

"This was our best game in the tournament," said Sigurdsson after the match. "About five years ago this team played against Spain and lost by 28 goals with some of the same players. This gives us huge confidence to play against the big nations and to see that we can fight against them."

"I want to congratulate Dagur and the team of Japan for the game they made today and for the role that he was has played in the last years to grow up this nation," said Ribera.

"We were not expecting their defence to be so difficult to attack and it was really difficult to find good solutions in our offence. Now it's time to rest and think about our last two games in the preliminary round and this is really important to us."
hummel Best Player of the Match: Akihito KAI (JPN)