Last quarter-final berth up for grabs in Group B
01 Aug. 2021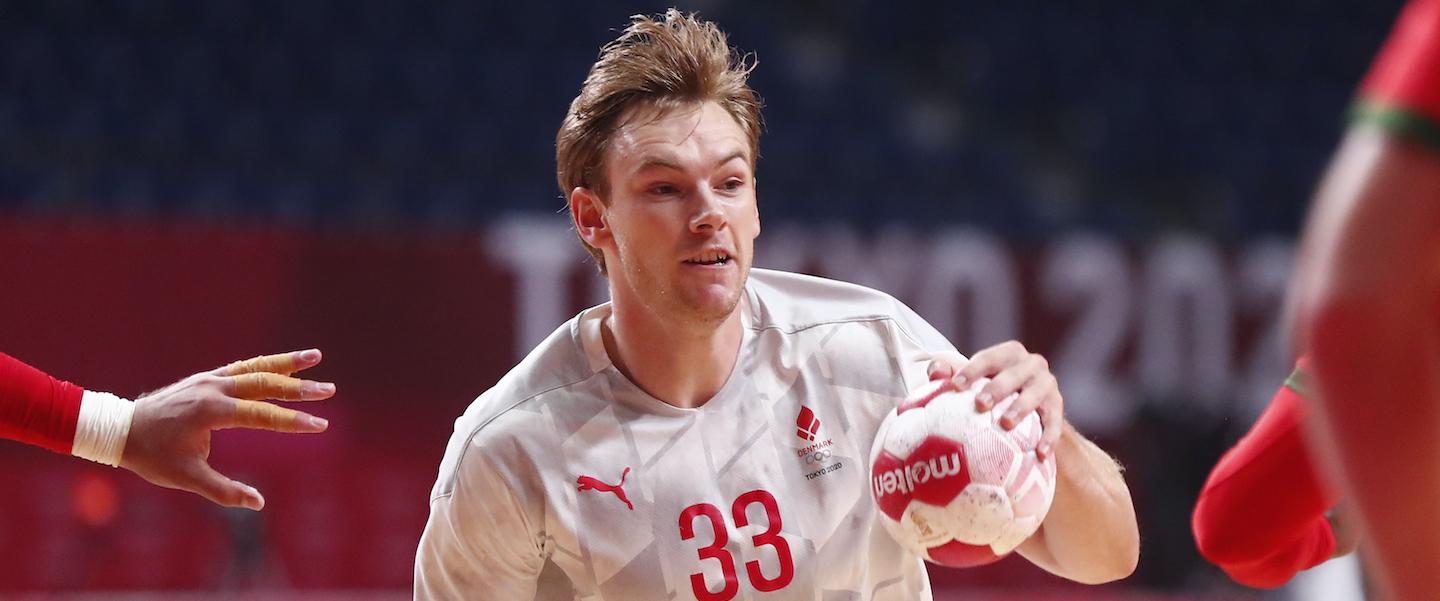 Running updates of Tokyo 2020 men's Group B – follow the action of the Olympic handball tournament live and stay always up-to-date. In the first match of the day, hosts Japan claimed a one-goal victory against Portugal, securing Bahrain their quarter-final ticket. Egypt continued their fine form with a win against Bahrain in the second match. In today's main event, Sweden avenged their loss to Denmark in the 2021 World Championship final with a very impressive 33:30 win.

We are in the last round of the group phase of the Olympic Games Tokyo 2020 men's handball tournament. In Group B, Denmark, Sweden and Egypt have already clinched their quarter-final berths before the start of the day, while Bahrain took the last ticket in the morning. 
Today's matches:
09:00 JST: Portugal vs Japan (30:31)
11:00 JST: Egypt vs Bahrain (30:20)
21:30 JST: Denmark vs Sweden (30:33)

23:20 JST Preliminary round ends, on to the quarter-finals

Japan secure their first win at Tokyo 2020 in their last preliminary match, 31:30 versus Portugal. But the result is not enough to progress and both teams are now knocked out while Bahrain are through to the quarter-finals due to superior goal difference even though the Asian side lost 20:30 today against Egypt — who wrap up their preliminary campaign with their fourth win in five games.
Sweden upset the world and defending Olympic champions. The Scandinavian derby ends with a 33:30 victory for Sweden. Despite their loss, Denmark finish at the top of Group B.

22:55 JST Denmark vs Sweden 30:33
Convincing win for the Swedes, who take revenge on Denmark for the 2021 World Championship gold medal game and finish the group phase in full strength.
Jonathan Carlsbogard and Lukas Sandell excelled with six goals each. Them and Andreas Palicka helped Sweden spoil Denmark's perfect run at Tokyo 2020.

22:40 JST Sweden hold a three-goal edge over Denmark
The momentum doesn't change. Sweden are in command, leading 28:25 in the 47th minute. Jonathan Carlsbogard is still their best man in attack — five goals and four assists.
Palicka continues to perform well in the goal. Ten saves for the Sweden keeper. As for Denmark, Mathias Gidsel proves his reliability — five goals and three assists for the 22-year-old right back.

22:05 JST HALF-TIME Denmark vs Sweden 13:17

Only two goals from six attempts for Mikkel Hansen. Two 7-metre throws missed for the Danish star — both saved by Andreas Palicka. It's definitely a sign of what is happening tonight between Denmark and Sweden.
The Swedes feel robust after a solid 30 minutes in which they forced Denmark to a low 54% efficiency. Right back Lukas Sandell is Sweden's highest scorer with four goals. Let's see if they can take revenge for the 2021 IHF World Championship final and finish the preliminary round in the top place.

21:50 JST Sweden lead Denmark by four goals
Into the 21st minute, it's Sweden who are pulling the strings of the Scandinavian derby versus the defending world champions. The Swedes are up 13:9, hurting Denmark with powerful 9-metre throws — two each for Jonathan Carlsbogard and Felix Claar, one from Lukas Sandell.
Andreas Palicka is having one of those brilliant nights. Five saves for him at a 35% rate — including a pair of spectacular ones!

21:25 JST Denmark and Sweden meet to decide top of the group
Denmark and Sweden face each other in a rematch of the 2021 World Championship final, where defending Olympic champions Denmark won 26:24 to claim their second straight title.
The Danish keep a perfect record at Tokyo 2020 with four straight wins. Sweden lost in the last round versus Egypt but if they win today by more than five goals they will have a chance to rank first in Group B.
15:30 JST Taking a break, but still plenty of action in Group A

We wrap up the action in Group B for a moment but stay tuned as there is still one to be played here, in the Yoyogi National Stadium, as the group's final, Denmark vs Sweden, is due to start at 21:30 JST.
It is a crucial game, with the top three in the final group standings to be decided, as anything but a minimum five-goal win for Sweden would hand Denmark the first place. A five-goal Swedish win with 21 goals or less scored by Denmark would hand Egypt the first place, while a five-goal win by Sweden and at least 33 goals scored by the Swedish side would hand them the first place.
 
14:30 JST Presenting the Group B quarter-finalists
12:55 JST Quotes on Bahrain's quarter-final qualification

Aron Kristjansson, Bahrain coach
On finding out Bahrain were through to the quarter-finals before the last match and how that impacted the game vs Egypt: "That was a problem for the game – of course not a problem for us because we are very proud of that result and that's a very big thing for us to qualify for the quarter-finals. Bahrain, the best position in the World Championship is number 20, so this is a huge, huge thing for us. What happened in the warm-up just before the game when we won [the quarter-final berth], of course, they cannot maybe control their emotions and the pressure we had been building up, the tension building up for the game just fell down. It's like there was no air in their balloon. This is a big thing. We go for the top eight and this is maybe for some other teams like winning a title, so it is a huge thing but now we have to control our feelings. We have to recover and try to give France a good match, or the next opponent a good match."
On the moment he found out they were through: "With five minutes left of the game I walked away from the television. I didn't want to see it because of this game – I wanted to keep my focus on this game. And my assistant coach and some players who were not playing the game, the manager, came running to the warm-up hall. They were just running cheering with joy. Of course it was a big thing and they just wanted to run inside to tell the players, so I was just trying to keep them calm, controlled, because I knew we would have a very difficult game against Egypt."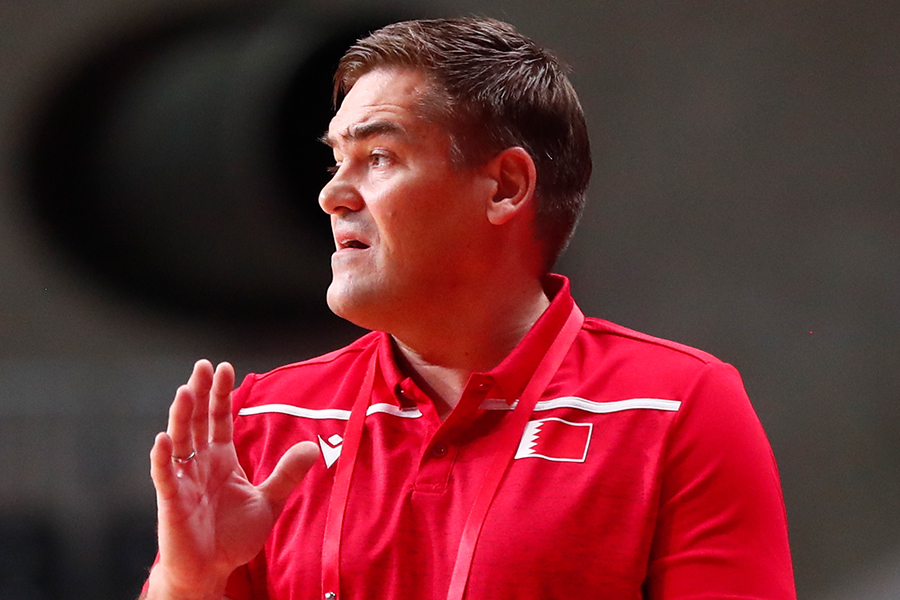 12:30 JST Great defensive effort for Egypt at Tokyo 2020

Egypt have conceded 20 goals in a game at the Olympic Games only once in 41 games, setting the record for the lowest number of goals conceded at Atlanta 1996, when they beat Algeria in the group phase, 19:16. They have also conceded 20 goals twice, also at Atlanta 1996, against Brazil and Spain. Therefore, this was the second-best defensive performance from the African side in the last 25 years in the competition, one that would have surely pleased coach Roberto Garcia Parrondo.
In fact, prior to the game against Bahrain, only four teams have conceded less than Egypt – Norway (103 goals), Germany (106 goals), Denmark (106 goals) and Sweden (112 goals), a sign of how much Egypt have progressed on the biggest of stages.
We are going to take a break now in Group B, with the last game scheduled for 21:30 JST, the Scandinavian showdown between 2021 World Championship finalists Sweden and Denmark.
We're moving on to Group A now, where the game between Spain and Argentina, the first Group A match of the last round of the group phase, will throw off at 14:15 JST.
 
12:19 JST FINAL WHISTLE Egypt vs Bahrain 30:20

The second game of the card in Group B is over now and Egypt secured their best-ever Olympic group phase result, with four wins out of five games, after the 30:20 win against Bahrain. The Pharaohs cannot place lower than third in the final standings and can even top the group, if Sweden beat Denmark by five goals and Denmark do not score more than 21 goals. They could also finish third if Sweden win by five goals and score 33 goals or more. Any other result and Egypt will be second.
It was another good performance by the Egyptian side, who qualified for the quarter-finals at the Olympic Games for only the third time in history, after Atlanta 1996 and Sydney 2000, ending a long-time drought. It will be the ninth edition of the Olympic Games in a row with a non-European nation among the best eight teams in the competition, with so far one African side, one Asian side and at least five European teams progressing to the quarter-finals. The last place will be decided between Europe and South America. It is also the second tournament with at least two other non-European sides in the quarter-finals after Rio 2016, when Brazil and Qatar progressed to the knockout phase.
Meanwhile, Bahrain have qualified for the quarter-finals of the Olympic Games for the first time, at their first edition, setting up a difficult game against France.
 
12:11 JST Egpyt prove remarkable consistency

Any thought regarding a Bahraini comeback has been put to rest by a short resurgence from the Egyptian side. While the Pharaohs' top scorers at this tournament, Ahmed Mohamed and Yahia Omar, both with 20 goals scored, have only one goal under their name each, Ahmed Elahmar, who had 15 goals prior to the game against Bahrain, has already scored five times to close the gap to his teammates in the top scorer standings. Right wing Mohamed Sanad added another three to inch closer himself, having scored 20 goals at Tokyo 2020.
It is a remarkable display of consistency for Egypt, who are putting more players in the top 10 of the goal scorer standings than any other team up until this point. And they are doing it so in style, with a 6:1 run helping stop any thought of Bahrain clawing their way back into the game. With 11 minutes to go, Egypt boast a nine-goal lead, 25:16, and will most likely celebrate their fourth win at Tokyo 2020.
 
11:58 JST Bahrain bounce back in attack

Bahrain did improve their shooting efficiency a bit, now have players who scored at least two goals in this game, but it is one-way traffic, despite Roberto Garcia Parrondo giving a chance to all his players to take the court. It has been a superb tournament for Egypt up until this point and the Spanish coach will definitely want the streak to continue in the next days, yet the challenge will be hard.
Bahrain have already scored more goals in the first 10 minutes of the second half as they did throughout the whole 30 minutes of the first half of the game, with Egypt taking the game more lightly. But that does not mean that the Pharaohs have been slacking in attack, as their lead has been cut to only four goals, 19:15, with 20 minutes to go.
 
11:33 JST HALF-TIME Egypt vs Bahrain 15:7

It's not about overcelebrating their qualification and becoming only the third Asian side to reach the quarter-finals at the Olympic Games, after the Republic of Korea and Qatar, but Bahrain simply cannot keep the pace set by Egypt in this game. Their attack had an efficiency of only 28%, none of their players scored more than one goal and, by far, Egypt have been the better side here. It's probably one of the most pedestrian attacking performances here at Tokyo 2020 up until this point in the competition. They are cruising to their fourth win in the group phase, leading 15:7 at the break, with a great overall defensive performance.
In fact, this was Egypt's game with the lowest amount of goals conceded in the history in the first half at the Olympic Games, seven, beating the previous record, eight, set in the group phase at Sydney 2000 against the Republic of Korea. It is basically game over here, with Egypt set to earn their fourth win in five games, while Bahrain will probably be happy with progressing to the quarter-finals, despite having only one win in five games.
 
11:25 JST Egypt give another goalkeeping masterclass

It is the second goalkeeping masterclass from Egypt, after Karim Hendawy had a superb game against Sweden two days ago. This time, Mohamed Eltayar saved 56% of Bahrain's shots, continuously frustrating the Bahraini attack with amazing saves. With Bahrain down 5:8, coach Aron Kristjansson calls a time-out and tries to instill new life into his team. By no means Egypt have had a great game, but they are just keeping their opponents in check.
 
With nine minutes to go in the first half, Egypt are leading 10:6 and are close to secure their best-ever group phase record, having never won four games in this phase of the competition at the Olympic Games. The European favourites from Group A should surely take note. 
 
11:13 JST No unnecessary risks for Egypt who can tie personal record

How will Roberto Garcia Parrondo navigate this game? Will he give his starters a bit of rest to recharge for Tuesday's quarter-final match against Spain, Germany, Norway or Brazil? Well, many of the starters are there, but the intensity has just been lacking a bit. But Bahrain, who are already through, becoming the second Asian nation in a row to qualify to the quarter-finals as debutants, after Qatar at Rio 2016, are bringing also a good approach to the game.
It's 3:3 after 10 minutes, with plenty of misses from both sides. Bahrain have scored only two goals from nine shots in the first part of the game, with Egyptian goalkeeper Mohamed Eltayar, who replaced Karim Hendawy as the starter for this game, saving four shots for an efficiency of 67%. If they win today, Egypt would tie their record from Sydney 2000, when they also won four matches and finished seventh. In their past three participations at the Olympic Games, Athens 2004, Beijing 2008 and Rio 2016, Egypt won only one game out of the 16 played.
 
10:55 JST Egypt can still win the group

Bahrain just got the nicest of presents just before their last game in the group, against Egypt. Now, this only matters for the Pharaohs, which can still seal the first place in the group, but need a bit of help from Sweden, who will be taking on Denmark in the last game of the day, at 21:30 JST. If Egypt win, then Sweden need to win by exactly five goals and Denmark score 21 goals or less for the African side to top the group. Otherwise, Egypt will finish second.
Egypt have already looked like a strong team, with powerful backs and help from the wings and line players, plus a superb coach on the bench in Roberto Garcia Parrondo. The second game of the day in Group B will be starting in a few minutes!
10:36 JST France vs Bahrain, first quarter-final pairing set

What a dramatic finish to the game and it's not often you'll see both teams crying on the court after a game. Japan might have won the game, 31:30, but they did not progress to the knock-out phase of the competition, due to their loss against Bahrain from two days ago, 32:30. They have been leading throughout the whole game, but Portugal attempted a comeback, which looked sealed only moments before the end.
But this also means that Bahrain are through, at their first-ever edition of the Olympic Games. It is a testament of how the Bahraini handball has grown over the past years and an immense achievement for them, despite only winning one game. The chance for a medal is slim at best, but one-goal losses against Sweden (31:32) and Portugal (25:26) could mean a bit of trouble for Group A winners France, who will face the Asian side next.
 
10:31 JST FINAL WHISTLE Portugal vs Japan 30:31

The last question regarding the teams progressing to the quarter-finals from Group B has been answered! After an emotional game between Japan and Portugal, Bahrain have secured safe passage to the knock-out phase of the Tokyo 2020 Olympic Games, after Japan scored four times in the last three minutes to seal a 31:30 win. Had it been a three-goal win, Japan would have been through.
Yes, handball can be cruel, as the Portuguese players' eyes are filled with tears, especially after such a draining emotional tournament. Looking to Japan's bench, they also feel dejected. It might be tough for both these sides, it might be the most bitter win for Japan in their history, but such are the rules and such is handball.
Why are Bahrain through? If they win or draw, they will have more points than Portugal and Japan, who both have two points now. If Bahrain lose against Egypt, it will be a three-way tie between the teams, each having two points, as Bahrain beat Japan, Portugal beat Bahrain and Japan beat Portugal. But the team who has the superior goal difference in this three-way tie is Bahrain (57:56), with Japan coming second (61:62) and Portugal last (56:57).
 

Japan might have won their sixth game at the Olympic Games, but it was a devastating loss for Portugal, which looked clumsy and lacked that certain nous they had in the past two years. They were leading 29:27 with three minutes to go, but conceded four goals to have their dream shattered.
Bahrain will play France in the quarter-finals on Tuesday, while Portugal's and Japan's journeys at Tokyo 2020 is now over.
 
10:10 JST Unanswered 4:0 run lifts Portugal to the lead

For the first time in this game after the first minute, Portugal are back in the lead, 21:20, with 19 minutes left on the clock. At this score, they are through to the quarter-finals, no matter what happens in the next two games of the group. "We are still getting open shots, we need to be patient and focused," said Sigurdsson to his Japanese players during the previous time-out. But Japan, with a player down due to suspension, fail to put pressure on Portugal.
It would be a huge achievement for the European side, who are just at their first edition of the Olympic Games. But this game is also a testament of their game plan, with all outfield players, Gilberto Duarte and Miguel Martins aside, scoring at least one goal against the Asian side. If Portugal win, this 4:0 run, which spanned between the 37th minute and the 46th minute and took the score to 22:20, will surely be the backbone. Yet Japan have not surrendered. With 12 minutes to go, Portugal are leading by the slightest of margins, 24:23, after Antonio Areia missed a penalty.
 
10:00 JST Getting out of the hole Portugal dug themselves in

Japan are on pace to score 28 goals, which would enable them to progress to the quarter-finals if they win by three goals and Bahrain lose against Egypt. The maths are still in play now, but Japan look in control, with Portugal unable to get any stops until the 35th minute. Sure, these are the defences which conceded the largest number of goals in the first four games – Portugal had 125 goals against them, while Japan had 140 – but the look on Paulo Pereira's face says everything: there is a mix of discontent, anxiety and hopelessness.
The European side have been leaking goals at will, as Hiroki Motoki, Japan's top scorer in this tournament, has just scored his 25th goal, after starting with 21 before the game. Remember, Portugal can draw this game if Bahrain do not win in the next game against Egypt. It is crucial for them to not concede a loss, in which case they will be going home, losing the tiebreaker against their opponents. It is a hole they dug themselves in and from where they are trying desperately to get out. And it has not quite been working until the 40th minute, when line player Luis Frade ties the game, 20:20. It has been a huge effort for Portugal, one which prompts a time-out from Japan's coach, Dagur Sigurdsson.
 
09:36 JST HALF-TIME Portugal vs Japan 14:16

Japan need to win by at least three goals to proceed to the next phase of the competition, but each time they had a chance to open the needed gap in this game, they have either turned the ball over, or missed a clear-cut chance. Therefore, Portugal have been always there to close the gap, but the thing is, if they lose today, they are out, no matter what Bahrain do against Egypt. It looks like this is on display for Pereira's team, who are not at their best today.
And indeed, Japan just take a three-goal lead for the first time, 14:11, with four minutes to go in the first half. Portugal are in trouble now and it would be a difficult fall from grace for Pereira's side if they take nothing out of this game. Japan's goalkeeper, Yuta Iwashita has saved six shots for a 30% saving efficiency in the first half, a better outing than in the rest of the tournament. The Japanese goalkeepers have made the lowest number of saves, 35, in the first four games, boasting the lowest saving efficiency at Tokyo 2020, 20%.
Everything seems to click for Japan at exactly the right moment. They have, by far, conceded the largest number of goals in the competition, 140, 15 more than Portugal and 34 goals more than Denmark, but they look different against the European side. Portugal have been keeping close tabs and Rui Silva scoring with three seconds to go in the first half was crucial for the 'Heroes of the Sea'. But they are still down, 14:16, at the break, and they really need this win. Can they turn it around?
 
09:21 JST Portugal bring the big guns on the court

It is time for Pereira to deploy his favourite tactic, the seven-on-six superiority in attack, after substituting the goalkeeper for an outfield player. But this is risky and could be trouble for Portugal if not executed properly. And Japan are not a team to back down, irrespective of the challenge. They stayed close against Sweden and Bahrain, losing each of the two games by only two goals. Portugal know that they cannot leave anything to chance here and are trying to be careful.
On the other hand, Japan's first six goals have been scored by different players, while Portugal's first six goals were signed by Daymaro Salina, Jose Ferraz and Alexis Borges, with two each. Not the most glamorous players for Pereira's side, but anything will make do in this game. Portugal's back line has been totally changed now, as Andre Gomes and Miguel Martins, the players who have been the best in these positions in the last season, enter the fray.
Yet Portugal make too many defensive mistakes, which Japan are exploiting to perfection, with right back Rennosuke Tokuda scoring three goals, while left wing Remi Anri Doi added two more, with the hosts still holding the lead, 9:8, with 10 minutes to go in the first half.
 
09:12 JST Role as favourites does not suit Portugal

Portugal like to get themselves into trouble, don't they? Paulo Pereira's side has hit the post two times in the first 10 minutes and conceded a two-minute suspension, after a foul from Alexis Borges. Down by one man, the Portuguese cannot stop the Japanese attack and miss their next one, as their efficiency dips to 30%. It is too little and Japan are now leading, 5:3, after 10 minutes.
It is too early to say, but this game could be trouble for a charismatic Portuguese side. In the last two years, at the EHF EURO and at the IHF Men's World Championship, they have always been the underdog, the team with little chances that certainly impressed. Right now, they are the favourites in this game and have to take care of the ball and convert chances. Let too much not kept in check and things may backfire quickly.
 
09:00 JST Last chance saloon for hosts Japan

The first game and one of the most important is the one that sees hosts Japan pitted against Portugal, in a do-or-die clash for the Asian side. Below are the maths and the qualification scenarios, so to sum it up, Japan need to win by at least four goals or three goals and score a certain amount of goals if they are to proceed. However, they have not until now and Portugal will, by no means, pack it in here, with their own quarter-final berth at stake.
 
Welcome to the last day of the group phase in the men's handball tournament at the Tokyo 2020 Olympic Games!

08:50 JST Ready, set, go!

Despite winning their first four games and boosting the best goal difference in the competition, +38, Denmark can fall to the third place with a loss against Sweden. Provided that Egypt win against Bahrain, a Swedish win by six or more goals would see them pass the world champions, who boast a 15-game winning streak in competitive games at tournaments (IHF Men's World Championship and Olympic Games).
But all eyes will definitely be on the first games on the card, wich pits Portugal against Japan, followed by Egypt and Bahrain. With a win, Portugal will be through to the quarter-finals and face France in the next phase, yet there is still a scenario with a three-team tie, which would surely see Portugal drop out of contention.
Hosts Japan lost their first four games, but can still qualify, yet they will need a win here and Egypt to beat Bahrain in the next game. 
We'll find out everything once the ninth day at the Tokyo 2020 Olympic men's handball tournament throws off.
What they need to qualify:
Denmark: already through to the quarter-finals
Egypt: already through to the quarter-finals
Sweden: already through to the quarter-finals
Portugal: win against Japan / draw against Japan AND Bahrain draw against Egypt 
Bahrain: win against Egypt AND Portugal do not win against Japan / draw against Egypt AND Portugal lose against Japan / lose against Egypt AND Japan win by no more than three goals against Portugal / lose against Egypt AND Japan win by exactly three goals against Portugal, but score no more than 26 goals
Japan: win against Portugal by at least four goals AND Bahrain lose against Egypt / win against Portugal by exactly three goals AND score at least 28 goals
All the relevant statistics, the standings and the schedule for the Olympic Games Tokyo 2020 men's handball tournament can be found here.