Tokyo 2020 Men's Handball Tournament draw reactions
01 Apr. 2021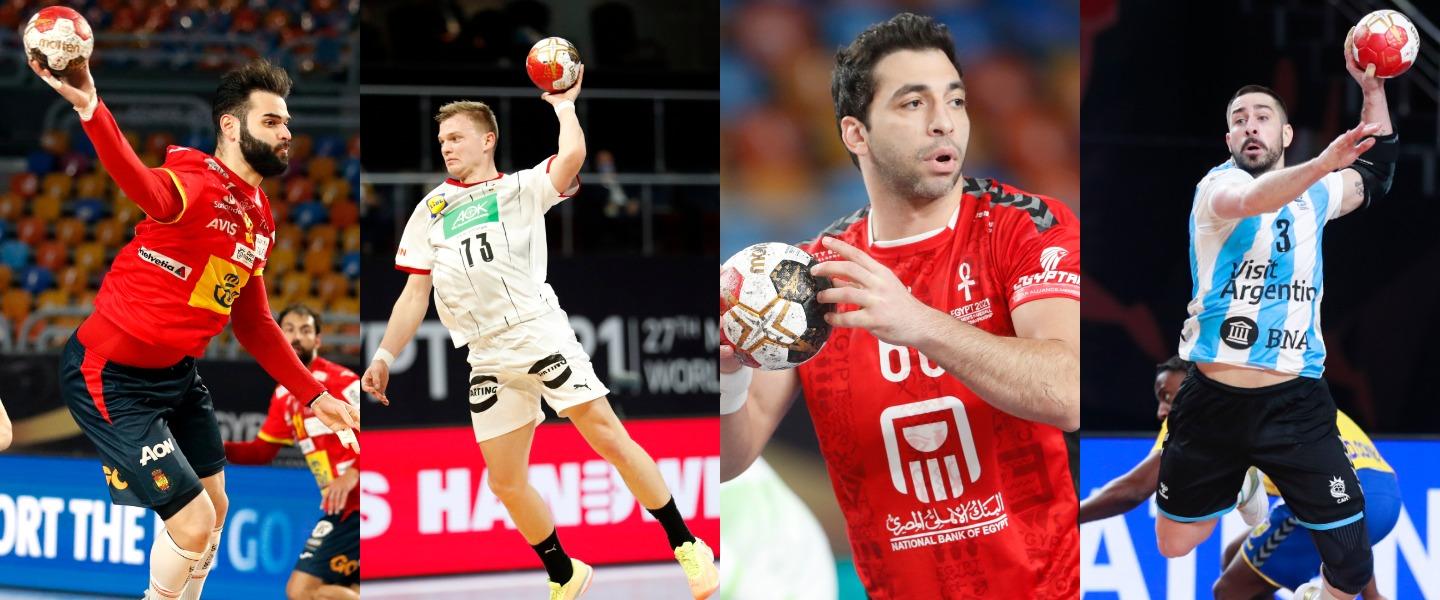 The draws for the Men's and Women's Handball Tournaments of the Olympic Games Tokyo 2020 were completed this morning at the Head Office of the International Handball Federation (IHF) in Basel, Switzerland.The two groups are:
Group A: Argentina, Spain, Germany, France, Norway, Brazil
Group B: Bahrain, Egypt, Portugal, Sweden, Denmark, Japan
The men's competition in Tokyo will start on 24 July with host nation Japan taking on the reigning World Champions Denmark. in the meantime, participating players and coaches are abuzz about today's draw.
E aí, o que acharam do sorteio?
Grupo da morte?#Tokio2020 🔥🔥 https://t.co/HXLzxJY7BV

— Haniel Langaro (@haniellangaro) April 1, 2021
The Pharos are ready to write history🇪🇬🇪🇬💪🏻@ihf_info #TokyoOlympics https://t.co/hcwtEP2vbz

— Ali Zein (@AliZein) April 1, 2021
🤞🏼👀 @juegosolimpicos #Tokyo2020 #Hispanos https://t.co/tnsvqyiTG2

— Alex Dujshebaev (@AlexDujshebaev) April 1, 2021
We accept the challenge it's time for a middle @ihf_info #Tokyo2020 https://t.co/wkWyYy1mxk

— mohamed mamdouh (@MohamedMamdouh) April 1, 2021
we accept the challenge ,
Sure we can 🇪🇬💪🏻 #TokyoOlympics #IHF#Egypthandball https://t.co/LDu3MVu1jT

— ahmed elahmar (@AhmedElahmar) April 1, 2021
El último, tenía sentido que no fuese el mas difícil de todos? Que locura de torneo, que desafío, pero en que lindo momento nos llega... Grupo de los JJOO 👇👇 https://t.co/ngGezAC7Bv

— Sebastián Simonet (@seba_simon) April 1, 2021
April 1, 2021
April 1, 2021
Jordi Ribera, Spain men's national team coach: "It is a very tough group, we will have to play against rivals who are at a very good level. Norway are one of the best teams in the world, France are also always in the top, Germany are a tough opponent and Brazil and Argentina have tons of potential, both showing that they are very good teams in the last year. Hopefully, we will not have injuries, because we are feeling good and it is crucial not to lose any players."
💥 Duro grupo para los #Hispanos🇪🇸 en los @juegosolimpicos @Tokyo2020es

📆 La selección debutará en Tokio el 24 de julio ante Alemania @DHB_Teams🇩🇪

🖋️ Jordi Ribera: "El grupo es muy exigente, todos los rivales son de gran nivel"

#⃣ #Tokyo2020 #UnitedByEmotion

— RFEBalonmano (@RFEBalonmano) April 1, 2021
Alfred Gislason, Germany men's national team coach: "Our group is strong and there is not much to say about Norway, France and Spain, we have already played against them a lot of times and we know them. Brazil,  we won against them at Egyp 2021 and are very dangerous opponents. We are looking forward for the task at hand."
Vier sehr etablierte Mannschaften erwarten uns als Gegner! 🙌 Wir freuen uns drauf! 🔥 #WIRIHRALLE #aufgehtsDHB #handball @ihf_info @TeamD pic.twitter.com/UnaGNfnUO2

— DHB_Nationalteams (@DHB_Teams) April 1, 2021
Paulo Pereira, Portugal men's national team coach: "In such a tournament, it does not matter the group, there are very strong teams here.  We will play, in the same way, as if we were in Group A, because each team is different and we want to be competitive. Japan proved to be a good team at Egypt 2021, while Sweden, Egypt and Denmark were between the top eight teams in the world at the last IHF Men's World Championship, with Denmark winning the trophy. Our goal is to be able to pass the first stage, staying in the first four places of the group. If we progress to the knock-out phase, our goal will be the medals."
🔜 𝕆 ℕ𝕆𝕊𝕊𝕆 𝔻𝔼𝕊𝕋𝕀ℕ𝕆 🌊🗼

🇩🇰🇸🇪🇵🇹🇯🇵🇪🇬🇧🇭@ihf_info @Tokyo2020 #letsgovamos #heroisdomar #superportugal #seleçãonacionalandebol #portugal #vamoscomtudo #andebol #tokyo2020https://t.co/oHcy60D9ZP via @AndebolPortugal

— Federação de Andebol (@AndebolPortugal) April 1, 2021
Dagur Sigurdsson, Japan men's national team coach: "Obviously, it is going to be a very tough group for us, both groups are extremely difficult. These are the top 12 nations more or less in the world. It's going to be very attractive for the Japanese fans to have games against teams like those especially like Denmark as world champions coming with the big stars like [Niklas] Landin and [Mikkel] Hansen. These are the players that fans know and I am really happy that they will have the opportunity to see them live here in Tokyo."
#Tokyo2020 #ハンドボール
予選グループ組み合わせが決定🔥
各グループ上位4位が準々決勝進出💪
開会式翌日7/24から閉会式8/8まで毎日、男女交互で試合があります‼️#彗星JAPAN#おりひめJAPAN https://t.co/zli73cgwe4

— 日本ハンドボール協会 (JHA - Japan Handball Association) (@JHA_handball) April 1, 2021
Manolo Cadenas, Argentina men's national coach: "It's possible that the European sides have a higher level because the best national teams in the world are from Europe, but only the best make the Olympics. In our group we will meet the strongest sides except for Denmark [instead, we had Norway]. Beforehand, Brazil and Argentina are in a different level compared to those powerhouses. We need to try and beat Brazil, who are similar to us, and then give a surprise. It's very difficult, but it will be an honour and a great challenge to play the best of the world in Tokyo."
Gonzalo Carou, Argentina men's captain: "We knew it was going to be very complicated because only the best make the Olympics so we will have to be at our highest level. Here in Spain they are saying this is the 'Group of Death', but we don't have to pay attention to that: we want to compete and beat the top teams. I wish we make a good campaign and perform at the level we are now used to."
Esta mañana se completó en Suiza el sorteo de grupos para los Juegos Olímpicos Tokio 2020, a disputarse entre el 24 de julio y el 7 de agosto. "Es muy difícil pero es un honor y un gran reto", expresó el entrenador albiceleste Manolo Cadenas 🇦🇷 #Tokyo2020https://t.co/DaOhSHVga4

— Sel. Argentina Handball 🇦🇷 (@CAHandball) April 1, 2021
Guillaume Gille, France men's national team coach: "Both groups are very tough. But now, knowing the name of our opponents, we can start preparing for them. We expect tough games against Spain and Norway, teams we faced at Egypt 2021 in January. Germany are also a good team, while Brazil are another team we know well, playing three times against them, including at the last Olympic Games in Rio."
@ihf_info @Tokyo2020 #tokyo2021 @FRAHandball 👊🏻🇫🇷
le programme des JO est tombé! l'aventure olympique peut commencer... pic.twitter.com/bbtRrnkiCx

— Guillaume GILLE (@GilleGuillaume) April 1, 2021
Christian Berge, Norway men's national team coach: "This is a very good opportunity for us. Our first objective is to progress to the quarter-finals. There will be many interesting games, we have to avenge previous defeats against Spain and France. So I feel optimistic before the Olympic Games."
Nå vet vi hvilke land Håndballjentene og Håndballgutta skal møte i gruppespillet i OL i Tokyo! 🤩 Les mer her:https://t.co/S3zyu4cUTJ

📸: Charly Triballeau / AFP / NTB pic.twitter.com/TjuvtLxvDE

— Norges Håndballforbund (@NORhandball) April 1, 2021
Roberto García Parrondo, Egypt men's national team coach: "Finally we know the teams we will face in Tokyo – that is the most important [thing]. Only 12 teams can qualify for the Olympic Games and all of them have shown great performances during the last few years in all the tournaments they played in. 
 
"Even before the draw it was impossible to decide which teams it would be better to play against, but I'm satisfied with the draw [anyway] because everybody can now say that Egypt will participate in the Olympic Games.
 
"Our group has the first and second teams from the last world championship – Denmark and Sweden – plus we will also play against Portugal, who qualified instead of Croatia. Bahrain have been in all the big tournaments during the last years and the remaining team, Japan, are the hosts and will have the home support.
 
"I expect five very tough matches in the preliminary group and we will all do our best to demonstrate that Egypt can compete against all the teams in the world."
Glenn Solberg, Sweden men's national team coach: "It is very difficult to speculate before the games about what would make a good or bad draw. Denmark are the world champions, Egypt had a very good IHF Men's World Championship and had good games against both us and Denmark. We know that Portugal won against us by a ten-goal margin at the EHF EURO we hosted in 2020, so they are also a tough team to play against. Our first goal is to go to the quarterfinals and I think we have good chances for that, if we succeed we will be tough whoever we meet."
Herrarnas lottning är klar! Vi ställs mot Danmark, Portugal, Japan, Egypten och Bahrain i gruppspelet i Tokyo i sommar! I den andra gruppen gör Norge, Frankrike, Tyskland, Brasilien, Spanien och Argentina upp. pic.twitter.com/HkAmTwWTTx

— Handbollslandslaget (@hlandslaget) April 1, 2021
Marcus Oliveira, Brazil men's national team coach: "The group is very difficult, but in the Olympics there is no way for us to choose our opponents. There are 12 countries and we don't have much to escape. The other group is also very balanced. I believe that we may have surprises in ours. Brazil will play game by game, looking for victory in all of them. We cannot do much planning and strategy, [we can only] face each opponent in search of victory.
"Spain has a very technical and tactical game and use a lot of physical strength. France has countless titles and play very strong handball. Germany also plays very hard and has a tradition that helps on the court. Norway has a Nordic style, with secure defence and an excellent transition. Argentina will be a classic."
Aron Kristjansson, Bahrain men's national team coach: "For us, it didn't matter which group we were drawn into because it was always going to be a tough draw for us. These are the 12 best teams in the world so the two groups were always going to be tough and also because, maybe, we are the biggest underdog in the tournament as we surprised with winning the qualification in Asia.
 
"Our group is an exciting draw [for us]. We have the best team in the world: the Olympic and world champions Denmark, a really good team. We have Sweden, the runner up in the last world championship. Portugal, who have been playing very good and exciting handball in the past two years and who have developed very well. 
 
"We have Egypt, the African champions, who invested a lot [in the team] for the world championship so they will be well-prepared, then you have Japan the host nation, who have home advantage and have developed very well until now.
 
"For us, this is a tough group but we are looking forward to this challenge, because, of course, we will try everything to get some wins."
Nikolaj Jacobsen, Denmark men's national team coach: "It is a good draw for us, we have good chances to progress to the quarter-finals. However, the things will get tougher, because the opponents there, if we progress, will be very difficult. We met several of our opponents at Egypt 2021 and that gives us better opportunities to prepare for this summer's matches. The clashes against Sweden and Egypt will be very tough, while Portugal is probably one of the most exciting national teams in the world right now. It will be incredibly exciting, and we look forward to traveling to Japan."
Håndboldherrerne, der er forsvarende olympiske mestre, får i det indledende gruppespil ved OL i Tokyo fornøjelsen af at møde Sverige, Portugal, Japan, Egypten og Bahrain. Læs mere her 👇#hndbld #Tokyo2020 https://t.co/fglQcgfGR1

— Dansk Håndbold Forbund (@dhf_haandbold) April 1, 2021