Qatar 2019 – Day 6: Men's Review (Finals)
16 Oct. 2019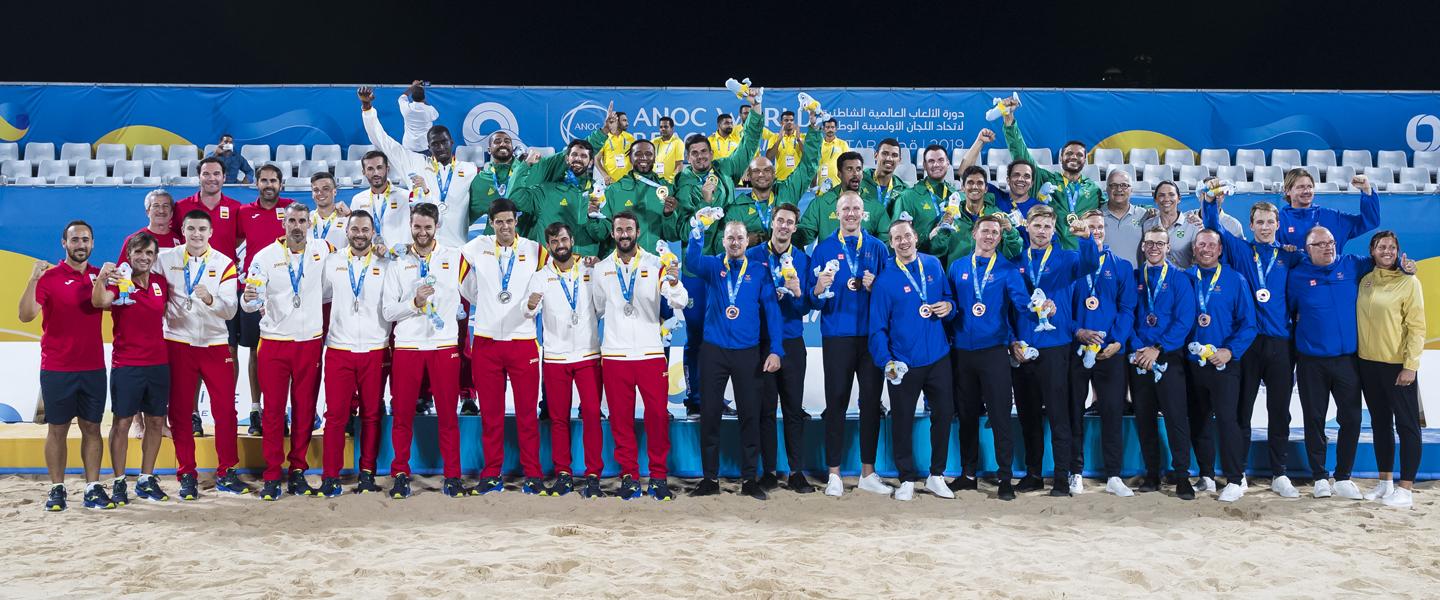 The men's beach handball competition at the ANOC World Beach Games – Qatar 2019 is over, and Brazil are champions. 
Three placement matches at the Al-Gharafa Beach Handball Arena and the bronze and gold medal matches took place at the Katara Beach venue on the final day of the Games.
Final: Spain vs Brazil 1-2 (17:14, 18:19, SO 10:11)
As expected by many, this heavyweight clash went down to a shoot-out in an extremely tense match which saw Spain eventually take the first period comfortably, but then Brazil came back from the dead to score a golden goal in the second.
And in the shoot-out it was Bruno de Oliveira who sunk home the solitary point to grab yet another global gold for Brazil.
"This is beach handball," said Brazil's Gil Pires after the match. "Every time Brazil faces Spain it's like that. Details matter and can determine a champion. Spain did an excellent job, but we also worked hard. We deserved to win.
"Usually Bruno takes the last shot, a goal by one. Antonio Guerra, the coach, knows I am prepared to take any penalty shot but he said, 'Bruno will take it'. We are champions, that's what matters. We are training hard three times a day, every day. We focus to do our job and win. It is hard to beat Brazil."

For Spain's defender Elhji Jabby Toure, he was philosophical in defeat. "It's always hard to lose but a shoot-out is a shoot-out," he said. "It is about luck. If you don't have it, you'll lose.
"Brazil has a lot of luck every time we face them. We worked so hard for this final. Maybe the next time we meet them, either in the next Beach Games or the World Championship, we will beat them."

3/4 Placement Match/Bronze: Sweden vs Qatar 2-1 (10:16, 21:16, SO 9:6)

Qatar, watched by His Excellency Sheikh Joan bin Hamad Al Thani again, suffered a second day of heartbreak, losing via a shoot-out again to miss out on a chance of a medal.

Two very different periods gave way to a tense third period with defender Sid Kenaoui's shot saved by Martin Kack who had come out of the area to narrow his shot and pulled off a reflex wonder save.

This helped to set up the Europeans with a chance to win, and Erik Wessberg, took his time, but sunk the ball past Rasheed Yusuff in the Qatar goal, to ensure that the host nation's goalkeeper had a birthday to forget.

The win sparked wild celebrations from Sweden's Henrik Anders Dahlberg, who ran around the sidelines in pure joy and who would later be named in the tournament All-star Team.

Australia take a period off of EURO champions, Tunisia finish ninth

In the 5-10 placement matches, Tunisia won via a shoot-out against Uruguay with both teams winning a period each clearly, while Australia took the first period off of European champions Denmark, but lost in a mammouth shoot-out . Croatia finished fifth with Ivan Juric leading the way to an 11:10 shoot-out win.

Results: Men's Competition – Wednesday 16 October 2019
9/10 Placement Match
Uruguay vs Tunisia 1-2 (22:19, 16:19, SO 2:5)
7/8 Placement Match
Denmark vs Australia 2-1 (16:19, 28:21, SO 16:14)
5/6 Placement Match
Hungary vs Croatia 1-2 (20:29, 26:22, SO 10:11)
3/4 Placement Match/Bronze
Sweden vs Qatar 2-1 (10:16, 21:16, SO 9:6)

Final
Spain vs Brazil 1-2 (17:14, 18:19, SO 10:11)