Qatar 2019 – Day 5: Men's Review
15 Oct. 2019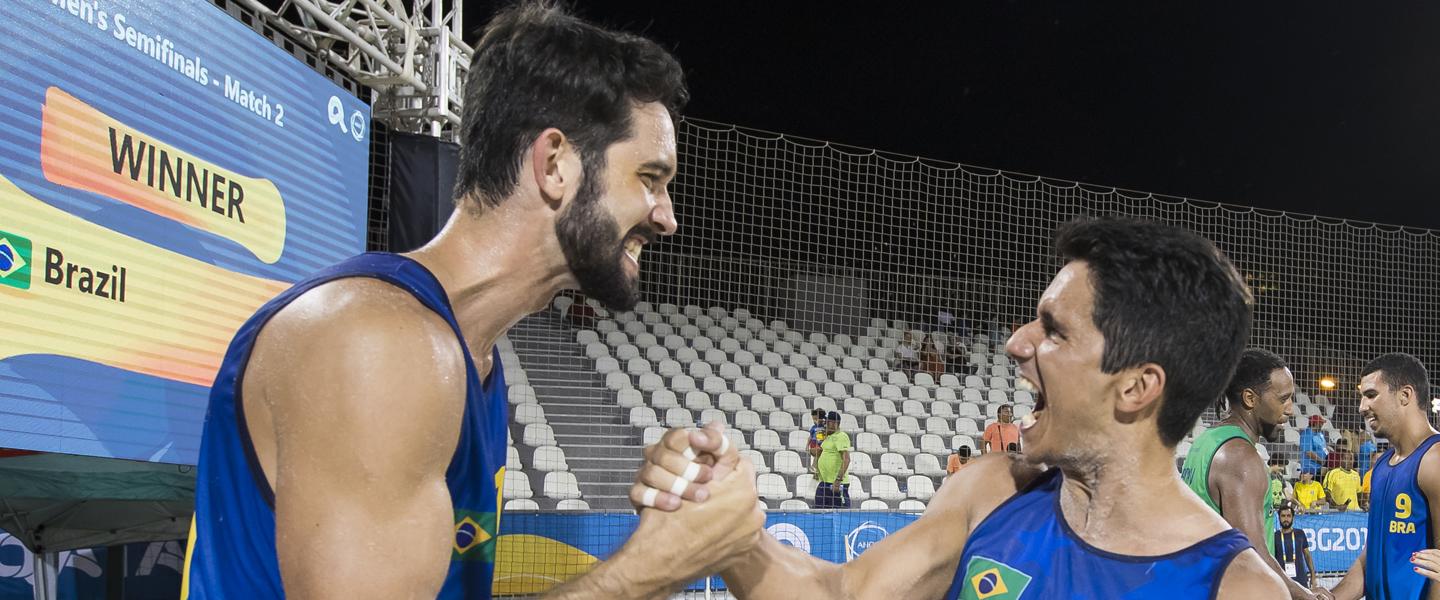 Brazil and Spain won their semi-finals earlier today – both by shoot-out – to set up a date tomorrow night against each other in the final of the men's beach handball competition at the ANOC World Beach Games – Qatar 2019.
Hosts Qatar were the victims of a superb Brazilian performance in an exhilarating and emotion-filled shoot-out, while Spain held their own nerves in their shoot-out win against Sweden.
Semi-Final: Spain vs Sweden 2-1 (22:20, 16:17, SO 9:8)
Spain beat Sweden for the second time in a major competition in a few months, having defeated the Swedes in the 9/10 placement match at the EHF Men's European Championship in July.
The Spanish side have warmed up nicely during Qatar 2019 after an indifferent preliminary round and they meant business from the start in this clash, with the tallest player in the whole competition, Elhji Toure Jabby (2,06m), winning the ball at the beginning.
Sweden goalkeeper Johan August Elmberg continued his good run of form, making two saves early on but Spain eventually opened up a handsome lead, up by six points (10:4) with just over five minutes of the first period remaining and they kept that difference later on (16:10). 
But Sweden are not easy to overcome, and led by pivot Henrik Anders Dahlberg, who had earlier been suspended, they came back into the game just two points down (18:16), but fellow pivot Juan Antonio Vazquez Diz scored for Spain to put his side up by four (20:16).
In fact, the ongoing battle between Dahlberg and his ever-present defender Diz was an interesting sideshow to the main event with the pair given a talking to by the referees to no doubt remind them about fair play.
Jesper Knutsson then brought Sweden with one strike (20:18) as the first period entered the last 60 seconds, but Alberto Castro Duarte scored a single with 28 seconds remaining, leaving it all to do for Sweden but Martin Kack scored to bring the game within one again (21:20) with just 18 seconds left on the clock.
Spain coach Jaime Osborne called a time out with 10 seconds left and after a neat combination of passes following the pause, Gonzalo Perez de Vargas saw his shot saved by Elmberg. Sweden immediately called their own time out with five seconds remaining and behind 22:20, but they fluffed the restart and the period was lost.
The second period was tight throughout, with Toure's spread for blocking a key tool in the Spanish defence, but with 25 seconds left Sweden had seen a four-point lead (16:12) brought back to within one strike, but Erik Wessberg scored a two-pointer and give the ball back to Spain with just a few seconds remaining, but their strike came too late to allow another chance and the game went to a shoot-out.
In the extra period, Sweden goalkeeper Elmberg got a foot on the first attempt from Spain, from Perez de Vargas, but it took right until the fifth round of shots for any difference to appear as Dahlberg saw his shot saved by Ramon Fuentes Zamora.
This meant that Spain had the chance to progress in their own hands and they did, thanks to Antonio Jesus Espada Carrillo, who scored the two winning points to put his side too far in front to be caught.
Semi-Final: Brazil vs Qatar 2-1 (15:14, 10:14, SO 7:4)
In front of a jam-packed beach handball arena at Al Gharafa, including a number of beach handball teams as well as members of the Qatar national indoor team, who have an Asian Olympic Qualification Tournament to play in next week, the host nation fell heart-breakingly short of beating world champions, and familiar foes, Brazil.
The start of the game saw both teams miss the ball, jumping too early, with Brazil awarded possession. The first half went on to being an extremely tight affair with Qatar's right Hani Kakhi impressing as usual, but the Brazilian defence stood strong against the stand-out right wing.

Also, it was business as normal for the inspirational Qatar specialist Mohamed Hassan, whose brain appears to be going overtime every time such is his constant search for the pass which defies the laws of science. 
But Brazil have their own ball wizard in Bruno de Oliveira, a completely different style of player physically, but mentally, the same as Hassan and it was a joy to watch them looking up the ingredients for their spells and casting their magic over the Doha sand.
And, as if the game could not get any better, the fair play on show in such a tense game – especially for the home side – was evident throughout. At one stage, Qatar specialist Kamal Aldin Mallash offered his towel to Matheus Victor Nascimento de Medeiros to dry the sweat off of the ball, and the Brazilian subsequently smashed home from the restart to make it 9:8 to his side.
Even before some penalty shots for foul play, both Brazilian defenders and goalkeepers, laughed and shared jokes with the Qatar attackers and vice versa. This was a game being played in the true spirit of the sport.
However, the action was frantic nonetheless and Brazil have one of the key players at Qatar 2019 in goalkeeper Cristiano Seben Rossa and he kept his side in front except for a spell from Qatar's own shot-stopper Ali Garba, who saved a Gil Pires penalty with his side 10:9 in front. Unfortunately, Hassan tried a bit too hard for a behind-the-back pass in the next Qatar attack which could have seen them go 12:9 up and the ball went loose in the area and he got a talking to from coach Khaled Aly.
Form this point on Brazil went on a 6:2 scoring run (15:12) to take control and force Qatar into a time out. They had hope after the pause, coming within one (15:14) with 30 seconds left and then Brazil's Nailson Amaral missing the next shot. But with a chance to win it with 12 seconds left, Qatar were a split second too slow and shot just after the 10 minutes were up as the ball hit the back of the net, but it did not count.
Despite that disappointment, Qatar managed to regroup for the second period with Garba and his fellow goalkeeper Rasheed Yusuff doing their very best to keep out the South American attack, helping their own go up 6:2 with just over three minutes played.
A red card for Mahmoud Hassaballa after his defending got a bit too physical was not punished by Amaral, who saw the ball slip from his hand and Garba make an easy save with four minutes remaining. Kakhi promptly went up the other end to increase the Asian champions' lead to 10:4 with just three minutes left and a shoot-out was inevitable. Or was it?
Brazil came back again to just 10:8 down with Rossa performing heroics in goal and when Hassan assisted Mutasem Mohamed with a crazy pass he celebrated wildly whit his side 12:8 up and they eventually took the second period to send it to a shoot-out.
With the Qatari coaching staff encouraging their supporters to sing even louder, the extra period started badly for the home side as Kakhi saw his shot saved by Rossa after Pires had opened the scoring (2:0) and when Hassan hit the crossbar it was clear that Brazil would prevail, with Hassan receiving an encouraging round of applause from everyone inside the arena in acknowledgment of his mesmerising spell on court.
And with his side 6:4 up and one shot remaining for each team, de Oliveira looked to the sky for inspiration, crossed his chest and sunk home a one-pointer to seal the victory and a final spot while Qatar sunk to the sand, heartbroken.
Oman end without a win, Hungary defeat European champions
The first round of matches in the Placement Round 5-8 saw Denmark lose their second-successive match, beaten by Hungary 7:4 on a shoot-out, while Croatia were made to work by Australia, but won 2-0.
The USA ensured Oman ended Qatar 2019 without a win as Drew Donlin scored a golden goal to seal the second period victory and the match. Donlin had won the ball from the restart and followed up a saved shot from Ebiye Udo-Udoma.
Results: Men's Competition – Tuesday 15 October
Semi-Finals
Spain vs Sweden 2-1 (22:20, 16:17, SO 9:8)
Brazil vs Qatar 2-1 (15:14, 10:14, SO 7:4)
Placement Round 5-8
Denmark vs Hungary 1-2 (22:18, 16:18, SO 4:7)
Croatia vs Australia 2-0 (21:20, 35:26)
Placement Match 11/12
United States of America vs Oman 2-0 (24:20, 25:24)