Nigeria tie best-ever finish at the IHF Men's Emerging Nations Championship with win over Andorra
30 Apr. 2023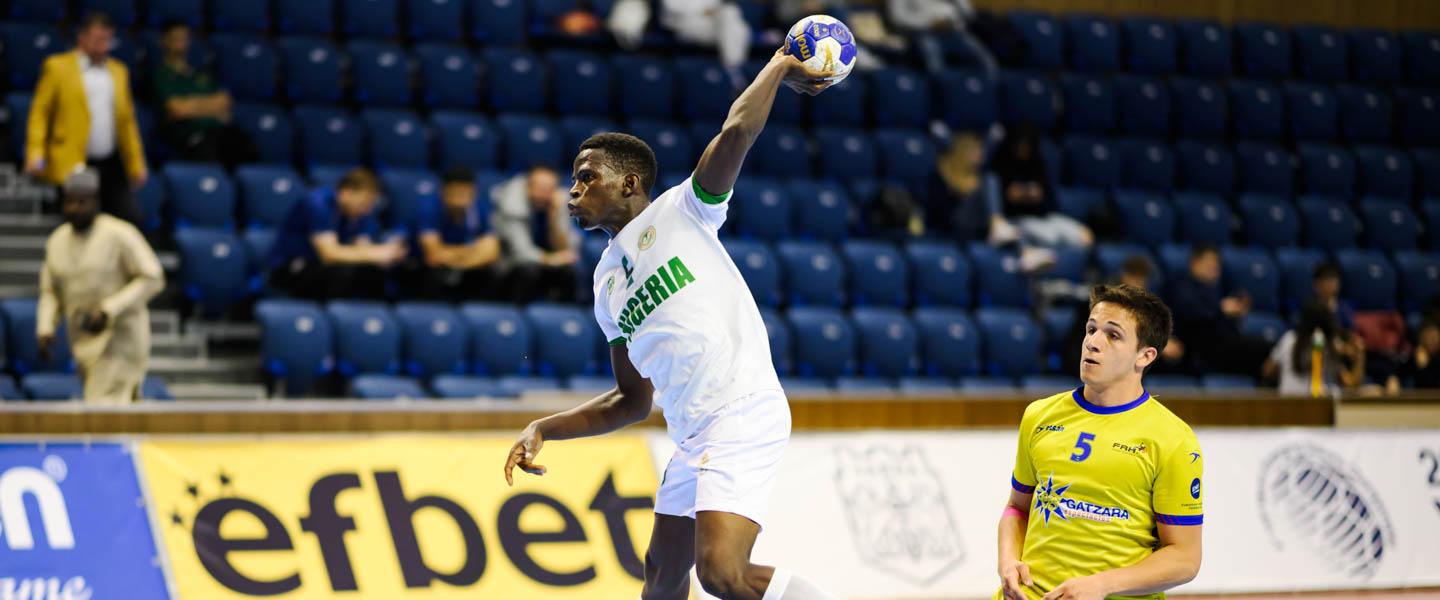 A strong start turned into a lopsided game in the Placement Match 7/8 between Nigeria and Andorra, as the African side sealed their second win in four matches at Bulgaria 2023 (36:14) to tie their best-ever performance in the competition, finishing seventh.
Placement Match 7/8
Andorra vs Nigeria 14:36 (6:17)
Boasting only 10 players at the start of the game, Andorra already had their energy tank almost empty from the previous three matches. Their lack of depth was thoroughly exposed in the Placement Match 7/8 by Nigeria.
It was only the 13th minute when Andorra had already turned the ball over seven times, with Nigeria duly taking advantage of those mistakes by deploying devastating fast breaks to enjoy a 9:2 start.
Nigeria's plan was to isolate Andorra's top scorer, Unai Ruiz, in the build-up of the attacks, and that worked out wonders at the start of the game, as Ruiz, the second top goal scorer coming into the game, had a quiet outing, with a goal from six shots scored in the first 30 minutes.
On that basis, Nigeria kept pounding and scoring six times on the fast breaks, as 19-year-old right back Faruk Yusuf was the team's mastermind. This time around, he was not Nigeria's top scorer in the first 30 minutes, putting only three goals past Andorra, but he also delivered four assists and had four steals.
The gap only kept growing as the game progressed. Nigeria took a strong 17:6 lead at the break, trying to deliver a big win to finish on a high at Bulgaria 2023, tying their previous seventh-place finish from Georgia 2019.
It was a question about the final score, not about the winner, as Nigeria could simply not bottle this game after such a dominating performance in the first half, where their only goalkeeper, Oladunjoye Babatunde Adamolugbe, had six saves for a 50% saving efficiency.
Andorra needed 14 minutes and 41 seconds to score their first goal in the second half, and Nigeria marched on, spurred by Hakeem Salami and Oluwaseun Amusan, who combined for 16 goals.
Nigeria powered to a 36:14 win, with Yusuf adding six more goals to take his overall tally in the competition to 28 goals and tie Cyprus' Alexandros Charalambous. It is their second-largest win in history at the IHF Men's Emerging Nations Championship, just five goals shy of their record set at Georgia 2019 against Malta (40:13).
With two wins in four matches at Bulgaria 2023, Nigeria end up on the seventh spot in the final standings, tying their result from the previous edition of the IHF Men's Emerging Nations Championship at Georgia 2019.
Andorra finished eighth, their best-ever result, having won their first game of the competition against Malta, but losing three in a row, as they simply did not have the proper means to challenge their opponents.
Player of the Match: Hakeem Damilare Salami (Nigeria)