Passion for handball: Moldova goalkeeper Mitrofan mixes life as a driver with the sport
26 Apr. 2023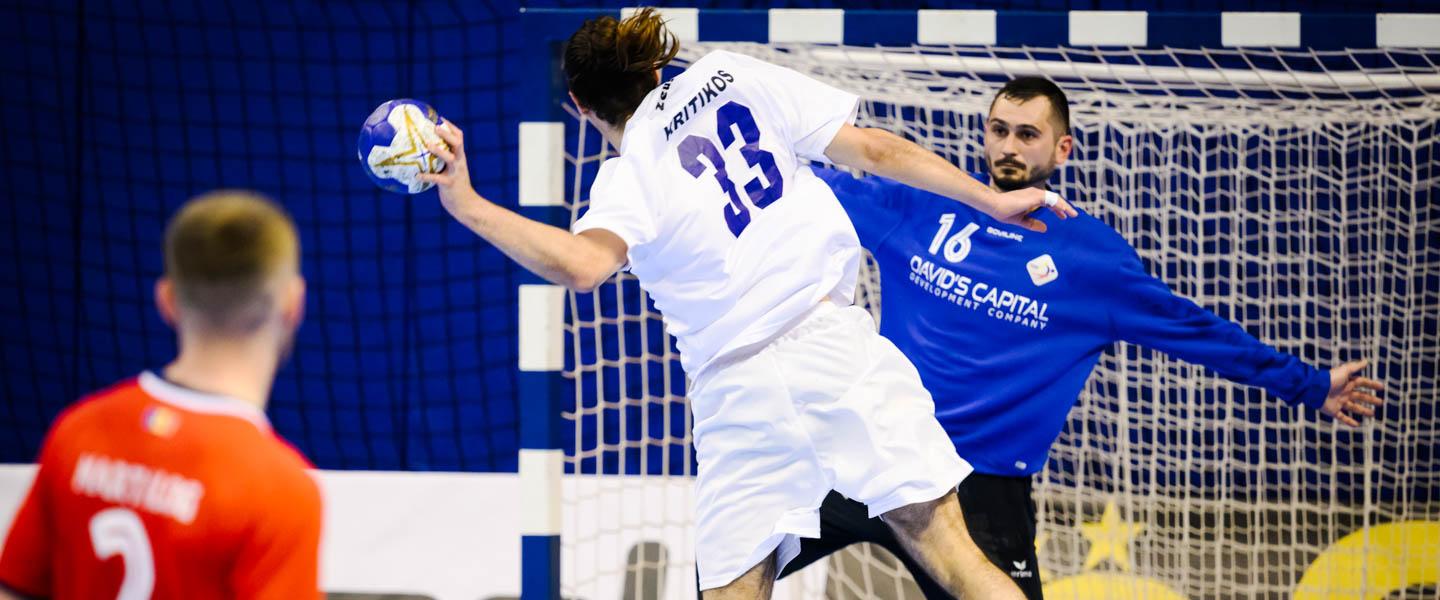 The Republic of Moldova came back to the IHF Men's Emerging Nations Championship for the first time since 2017 with a young side eager to prove their mettle.
While several crucial players were not able to link up with the young Moldova side, the ones currently representing the team are full of grit and trying to do their best, despite the results not going their way.
The first game at Bulgaria 2023 saw the Republic of Moldova concede a 31:35 loss against Cyprus, but it could have been much worse for them were it not for a late comeback which dwindled the gap from 10 to only four goals.
The gritty performance was exactly what the Republic of Moldova wanted, as highlighted by their goalkeeper, 32-year-old Andrei Mitrofan, who is the most experienced player in the side, having seen plenty throughout his career.
"Indeed, it is a loss, but we are an inexperienced team; our players feature in the domestic league and do not have much international experience. But it is good we are playing here now. We need to get more games under our belt," says Mitrofan.
"We have some players featuring in other leagues, like Romania, but they are not here, so we need to make do with what we have, and I am confident we can win some games."
The goalkeeper is the only player from this roster featuring outside the Republic of Moldova at SC Vöhringen in the German lower leagues as an amateur. During the days, Mitrofan works as a truck driver, training with his club in the evenings.
He has been living in Germany with his wife for over a decade now, after starting handball in the Republic of Moldova and then moving to Romania, where he played at Politehnica Iași in the second league.
"Sometimes it might get hard, but what is really helping me is my passion for handball. I love this sport, I have loved it since I was a little kid when I started playing in Moldova, and that passion has never disappeared. It is still a way to live, and while it might be hard at times, it is also very rewarding," says the Moldova goalkeeper.
"I am working 10-11 hours a day, and then I go back home, have a training session three times a week and spend some time with my family. Now I am in the national team, and it is something amazing, a nice feeling."
Could it have been different? Sure, he might have had a future in the Romanian league, but Moldova's goalkeeper says he would not change a thing from his current life, settling in well in Germany with his wife and kids.
"I did not know a word in German when I came here, but now I can speak the language, I am settled, and this is my life. I learnt the language bit by bit, but I am fluent now, and this makes all the difference in the world. Otherwise it would have been impossible to live here," says Mitrofan.
Sure, it might get tough at times, but it was exactly that passion that helped Mitrofan fuel his ambition and continue on the handball path, reaping the rewards as the top Moldova goalkeeper.
While the loss against Cyprus definitely was a blow for the Republic of Moldova as the chances of progressing to the next phase of the competition were definitely hampered, a single loss will not make for a tournament. As the most experienced player in the Moldova roster, Mitrofan feels a bit responsible for motivating and educating the up-and-coming teammates.
"I am not that old; I am only 32 years old now," laughs Mitrofan when asked if he is the leader and the big brother for his teammates, some as young as 16 years old. But then his tone becomes serious once again.
"Sure, this is a learning curve for many of them; this is the first time they face such an opposition. There are players with potential, but like I have told you before, they need such games, they need to be challenged, they need to become better and better, because they have a nice future ahead of them," says Mitrofan.
The objective for the Republic of Moldova is to avoid the worst finish at the IHF Men's Emerging Nations, which is finishing at least ninth. For that, they will have to produce an excellent game against Australia, which would mean finishing second in the group and a chance to feature in the 5/8 Placement Matches.
"We will go again and hope to win. Like I told you, there are talented players who can play excellently. But we need some consistency," concludes the Moldova goalkeeper.