Great Britain and Colombia fight for last semi-final place
12 Jun. 2019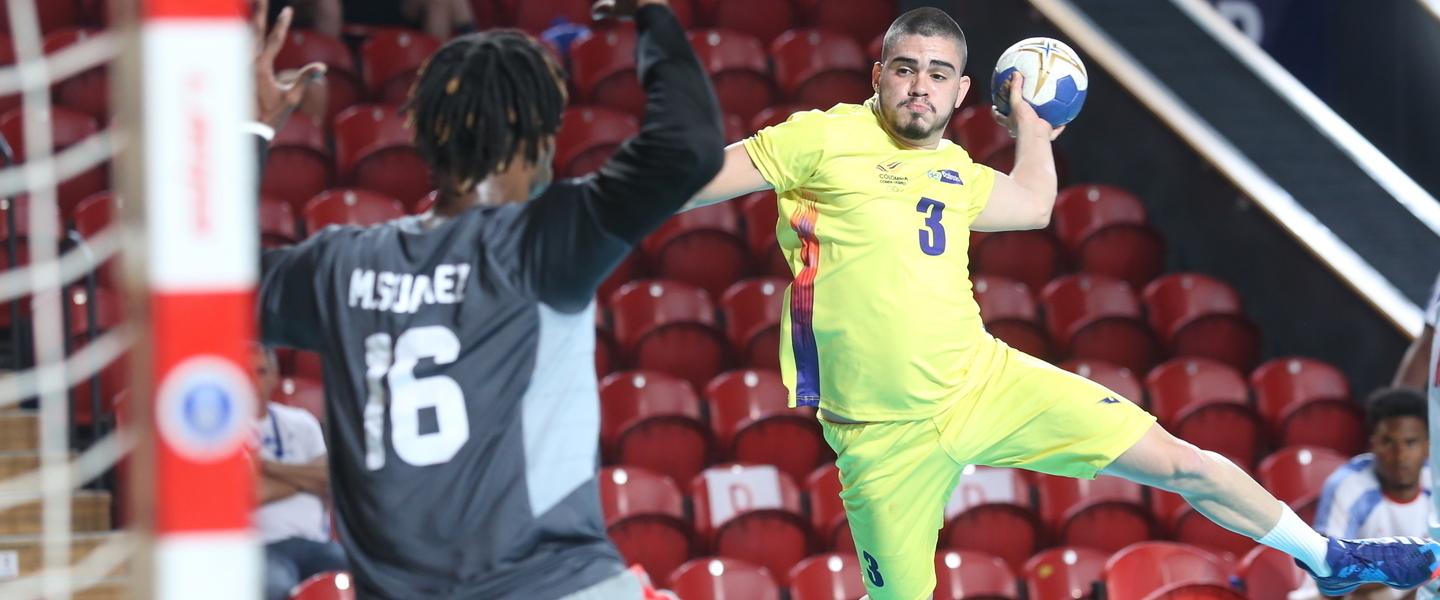 With three of the four semi-final places at the 3rd IHF Emerging Nations Championship decided ahead of the final day of the preliminary round on Thursday 13 June, all eyes will be on the Great Britain versus Colombia match, as their game will see the fourth semi-final place allocated.
The last semi-finalist will join Cuba, Bulgaria and Georgia in the penultimate stage, which will be played on Saturday 15 June.
GROUP A
Feature match: Great Britain vs Colombia
Tbilisi Sport Palace, 12:00 local time
Cuba secured their place on top of Group A in round four, leaving one ticket to the penultimate stage left for their preliminary round opponents.
That place will be decided between Great Britain and Colombia in a direct head-to-head – although the teams also rely on Azerbaijan to either beat or draw with P.R. of China. Great Britain enter the final preliminary round day on six points, while Colombia and China are on four.
If China beat Azerbaijan in the opening round five match at 10:00, then Colombia will need a five-goal victory over Great Britain to be sure to proceed. If China lose or draw, Colombia only need to defeat Great Britain to join the European team on six points and clinch the semi-final berth based on the win in the direct clash.
Great Britain are in a better position, as they can afford a draw and still qualify for the semi-finals.
"Today's game was very important for us and we won. Our play today wasn't so good," said Colombia coach Fernando Gonzalez Gutierrez after his team's round four victory over India. "We need to fight tomorrow."
The 41:36 result versus India was Colombia's second win, following their round two victory over Azerbaijan. They were defeated by China in round one and Cuba in round three. Great Britain have beaten India, Azerbaijan and China on the path to their six points. Their only loss was to Cuba in their Emerging Nations opener.
For both Great Britain and Colombia, qualification for the Emerging Nations Championship semi-finals would be a first. Great Britain ranked ninth at the first edition in Kosovo in 2015 and 11th two years ago in Bulgaria, while Colombia are participating in the event for the first time.
Georgia and Bulgaria to decide top of Group B
The remaining round five games are all about placement on the table. After China meet Azerbaijan at 10:00 local time in Tbilisi then Great Britain take on Colombia at 12:00, the final Group A match will see Cuba play India. Cuba are on the hunt for their fifth straight win, but considering they are through to the semi-finals and sure to finish first on the table, it is likely the Pan American side will rest their key players.
In Group B, Ireland will take the court to meet Malta at 16:00 local time, before the top-of-the-table clash between Bulgaria and Georgia at 18:00. Whoever wins the match between Bulgaria and Georgia will finish first on the table.
The last preliminary round game will see the USA meeting Nigeria, in a battle for third place in Group B.