"It's not long term!" USA aim for results before 2028
10 Jun. 2019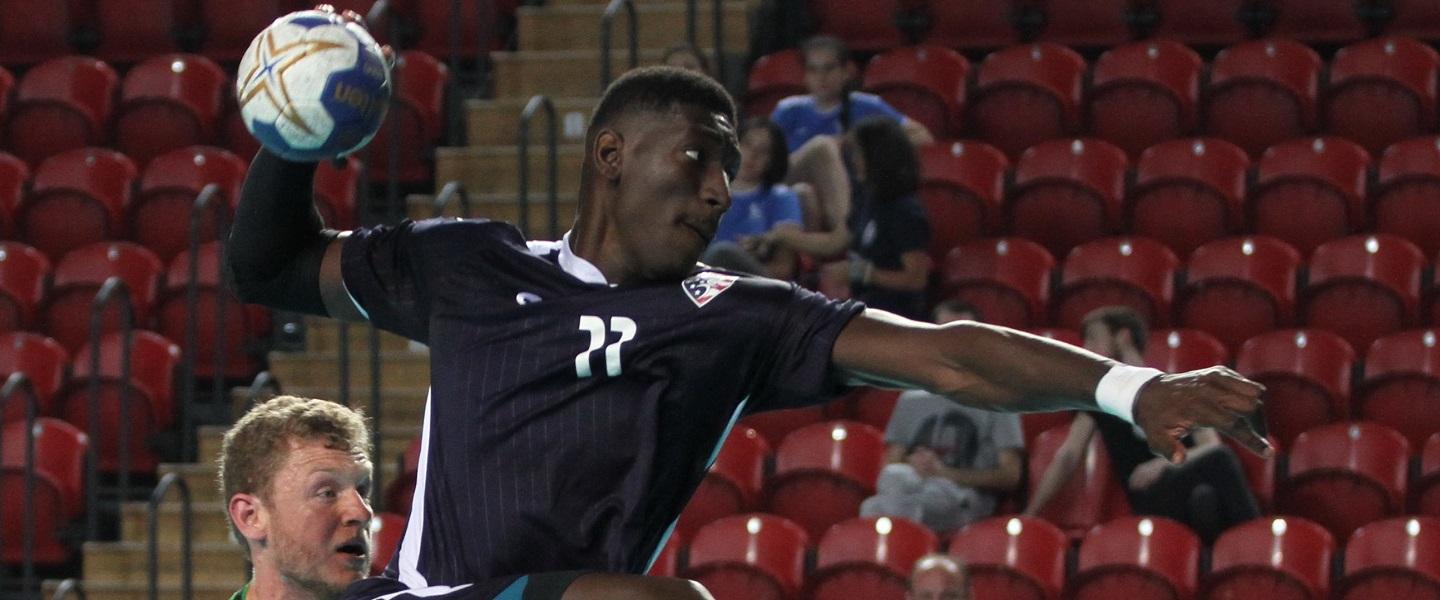 While it is a joy to witness all 12 sides competing at the 3rd IHF Emerging Nations Championship work their way towards a more prominent presence on the international stage, the USA are already in the minds of the global handball community given their status as 2028 Olympic hosts.
However, left back Aboubakar Fofana says that while the long-term goal is present for the young squad members, it is far from their main focus and they are determined not to wait so long for results.
At Georgia 2019, the USA are currently ranked third in Group B, on two points following an opening win against Ireland, 37:32. In round two, they were defeated by Bulgaria 35:38, after coming back to level from an early 0:7 deficit and creating a close battle.
Fofana enters day three at the 3rd IHF Emerging Nations Championship as the top scorer at Georgia 2019, alongside Ireland's Joshua Krohn Grace. Both have scored 13 goals over the two matches.
ihf.info spoke with Fofana following the USA's round two match versus Bulgaria.
ihf.info: This was a tough game and an especially difficult start. Did you expect Bulgaria to come out so strong from the outset?
Fofana: We never expect to start down five or six goals. It was a lot, but we knew we could come back, and if it wasn't for the last three or four plays when we did really bad stuff I think we could have won the game. But I still like how we came back into the game – how we kept our composure most of the game, and how we're fighting through even though the team is still not full. We're really tired from our unexpectedly hard-fought game in the game before [vs Ireland].
ihf.info: Your coach called a time-out when you were behind 1:8 around the 10-minute mark. What did he say?
Fofana: He just said simple stuff. He just announced the next play and said 'stay focused, stay composed, and everything will go all right.' That's how we work.
ihf.info: You mentioned the match against Ireland as being unexpectedly tough. What specifically surprised you there?
Fofana: What was tough was that they were really, really aggressive. We didn't expect them to be that aggressive, so that took us by surprise. They have a lot of heart. It took us a little while, longer than today, to get into the game. But once we got into the game, they still kept fighting.
ihf.info: Many teams at the Emerging Nations Championship do not get the opportunity for many international matches. How valuable is this tournament for the USA?
Fofana: It's really, really valuable for us. We don't have a lot of tournaments – the federation doesn't have as much money as the top European ones, so it's hard to get together. We're basically using this as practice for Pan Ams [Pan American Games] later this summer. It's really good practice because the level is good, we get to trial a lot of stuff, we get to improve our team. We're really happy this tournament exists.
ihf.info: For many in the handball world, the USA are present as a side to watch for 2028 when you host the Olympics. How much is this long-term focus in your minds?
Fofana: It's not long-term, cause through the Pan Ams we're trying to compete for the Olympics, so it's not that long term. We're talking about 2020, we're talking about 2024, we're talking about 2028, which is at home. It's always in our minds cause for Americans, the Olympics is the ultimate goal, so that's where we're trying to get.
ihf.info: You have three more games in the group phase. First versus Malta, then against Georgia and finally Nigeria. What do you think about those opponents?
Fofana: Malta had a bad game against Bulgaria – I expect them to come back harder. We'll do our best to try and close up the game as fast as possible.
I expect Georgia to be a very, very tough game, especially on home turf. It will probably be decisive for second place in the group, or first, so that's going to be a really important game and that's what's on our mind now.
And Nigeria – they're really, really athletic, so we have to watch out for that.