France

Coach: Guillaume Gille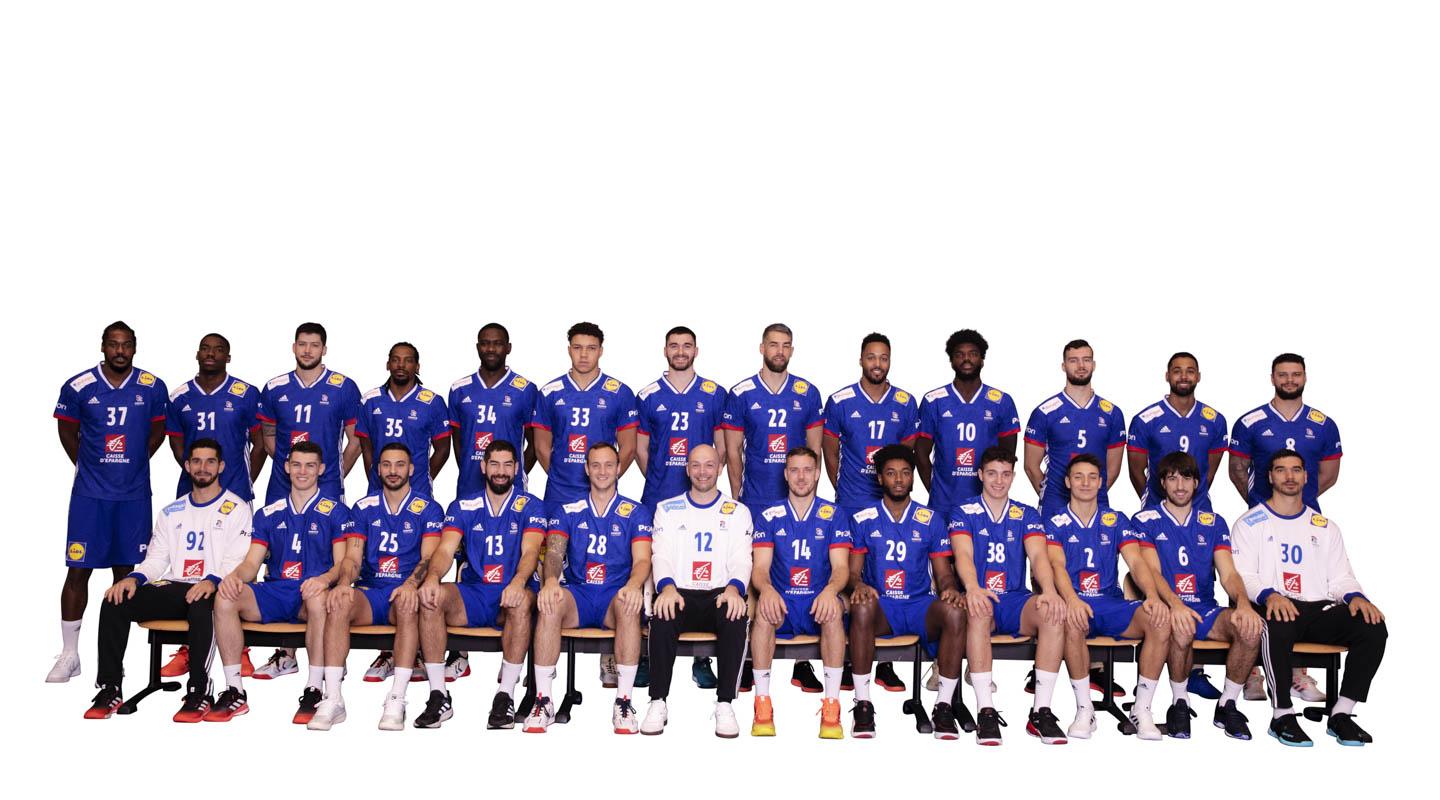 France
France
Team Players
Team Info
Since 1993, when they won their first medal at the IHF Men's World Championship, France have failed to reach the podium only four times. They raked up 11 medals in the process, becoming the most decorated team in the competition's history with six titles, one silver medal and four bronze medals.
Generations come and go, but France have always been steady, continuously unearthing new talent and ushering in new players to fill the gaps. Even when top stars have retired, the team has always remained one of the best in the competition.
Two years ago, at Egypt 2021, France have finished fourth, missing out on a medal despite a very strong start, but it was just an appetiser of what "Les Bleus" had prepared for the Tokyo 2020 Olympic Games. While not being labelled as favourites, they dominated their opponents and added another gold medal to their already-cramped trophy cabinet.
It was the last major tournament for stalwarts like right wing Luc Abalo or left wing Michael Guigou, who retired after the Tokyo 2020 Olympic Games. Yet, another member of "Les Experts", the golden generation that won four titles between 2009 and 2017, still lingers.
Nikola Karabatic has featured 336 times for France, scored 1257 goals, the second largest number in history for "Les Bleus", and can become the second player in history to win five world titles after Thierry Omeyer.
A former world champion himself as a player, coach Guillaume Gille has once again an excellent squad at his disposal, with one of the best players in the world right now, Dika Mem, deputising on the right back position, as well as two excellent wings in Valentin Porte and Hugo Descat, a superb centre back in Kentin Mahé and great defensive stalwarts, like Nikola Karabatic, Ludovic Fabregas or Karl Konan.
The 2023 IHF Men's World Championship will also serve as a qualifier for the Paris 2024 Olympic Games, where France are already through as hosts, while plenty of other teams are eyeing a spot in the tournament next summer. 
For France, the World Championship will also be an opportunity to try their mettle between the top teams in the world right now, with only one year and a half to go before they can reach the important objective for this Olympic cycle: another gold medal in front of their fans.
2022 has been full of ups and downs for France, who finished fourth at the EHF EURO 2022, losing the semi-finals against Sweden 33:34, and the bronze medal match against Denmark 33:35 after extra-time, while their EHF EURO 2024 Qualifiers ended with wins against Latvia (35:18) and Italy (40:29).
France's debut at Poland/Sweden 2023 will definitely not be easy, with a match against co-hosts Poland, another European challenge in Slovenia and a game against Saudi Arabia in the preliminary round.
"Playing against the hosts in the first match of the competition will hand us one of the toughest debuts we could have; we need to focus on our preparation and be at the best level possible. We have recently met these sides, but we need to be on our top game to start the tournament well," says France's coach Guillaume Gille.
Key players: Dika Mem (right back), Ludovic Fabregas (line player), Vincent Gérard (goalkeeper), Nikola Karabatic (left back)
Qualification for Poland/Sweden 2023: Men's EHF EURO 2022 – 4th place
History in tournament: 1954: 6th, 1958: 9th, 1961: 8th, 1964: 14th, 1967: 10th, 1970: 11th, 1978: 16th, 1990: 6th, 1993: 2nd, 1995: 1st, 1997: 3rd, 1999: 6th, 2001: 1st, 2003: 3rd, 2005: 3rd, 2007: 4th, 2009: 1st, 2011: 1st, 2013: 6th, 2015: 1st, 2017: 1st, 2019: 3rd, 2021: 4th 
Group at Poland/Sweden 2023: Group B (France, Poland, Saudi Arabia, Slovenia)