Nine games ready to throw off 2022 World & European Wheelchair Handball Championship (six-a-side)
17 Nov. 2022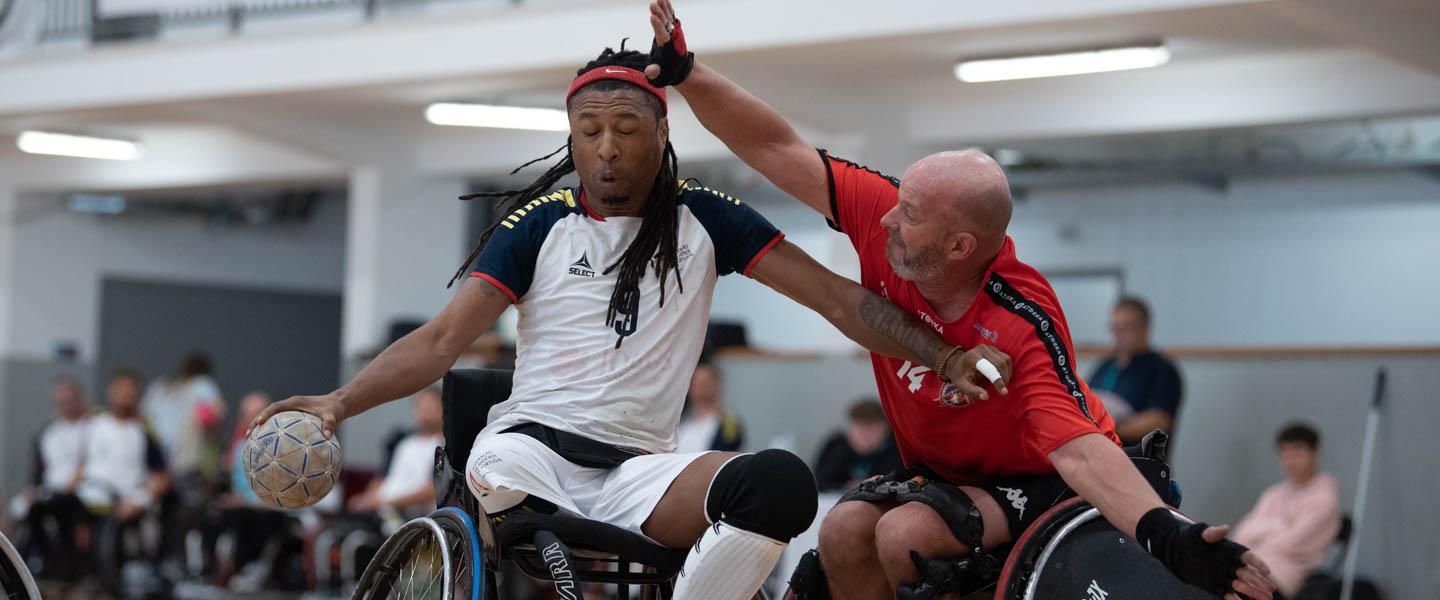 The town of Leiria, Portugal, will see a full card on Friday as the nine teams participating in the World & European Wheelchair Handball Championship (six-a-side) are ready for battle.
Nine games are scheduled in an action-packed day, with all sides taking the court twice, in the preliminary round, on a day that could likely see four teams cement their position to qualify for the semi-finals.
Two of the winners of the four editions of the EHF European Wheelchair Handball Nations' Tournament, Portugal and the Netherlands, are in Group B, as they will be facing each other in a fiery clash to start the group, with the game scheduled for 11:00 CET.
We know the Netherlands national team; we know they have great athletes who defend a very tight 6:0, who have some difficulty in transitions, whether offensive or defensive. Therefore, we will have to set a high pace of play, and if we succeed, we can start to solve our problems. It's always important to get a victory in the first game in this type of competition, so we're going to do that and let Portugal win," said Danilo Ferreira, Portugal's national team coach.
However, Portugal will miss two key players, Etelvina Vieira and Marco Francisco, which could provide some unexpected issues for the hosts.
Netherlands are also eyeing to bounce back in this competition after finishing fifth at the 2022 IHF Four-a-Side Wheelchair Handball World Championship in September. Several key players from that squad, like Joyce van Haaster or John Schot are also in the squad for this tournament.
India and Romania, two newcomers in the sport, complete the group, as they will likely be underdogs, but without many games in the past years due to the Covid-19 pandemic stopping wheelchair handball, anything is possible.
Five games are scheduled in Group A, where Croatia are favoured, due to their experience, having previously won one edition of the EHF European Wheelchair Handball Nations' Tournament.
Norway, Pakistan, Hungary and Spain are also in the mix in the group, which looks to be wide open, with Croatia and Hungary the most experienced teams from the five that are fighting for two semi-final berths.
"The aim is to carry out these tasks in the best possible way. We keep in mind that we are a brand-new national team with no international experience. We will still go down with great courage, and we will give everything we have in every single match.
"We are really looking forward to participating in our first championship. This is historic, and we are proud of how far we have come in a short time. As a team, we have a goal of utilizing our full potential and playing on the strengths we have in the team," said Susane Utgård, Norway's national team coach.
2022 World & European Wheelchair Handball Championship (six-a-side) – Day 1
Group A
10:00 CET Croatia vs Norway
12:00 CET Hungary vs Spain
14:00 CET Norway vs Pakistan
16:00 CET Spain vs Croatia
18:00 CET Pakistan vs Hungary
Group B
11:00 CET Portugal vs Netherlands
13:00 CET India vs Romania
15:00 CET Romania vs Portugal
17:00 CET Netherlands vs India
Photo: Handball Federation Portugal