World & European Wheelchair Handball Championship to take place in Portugal
16 Nov. 2022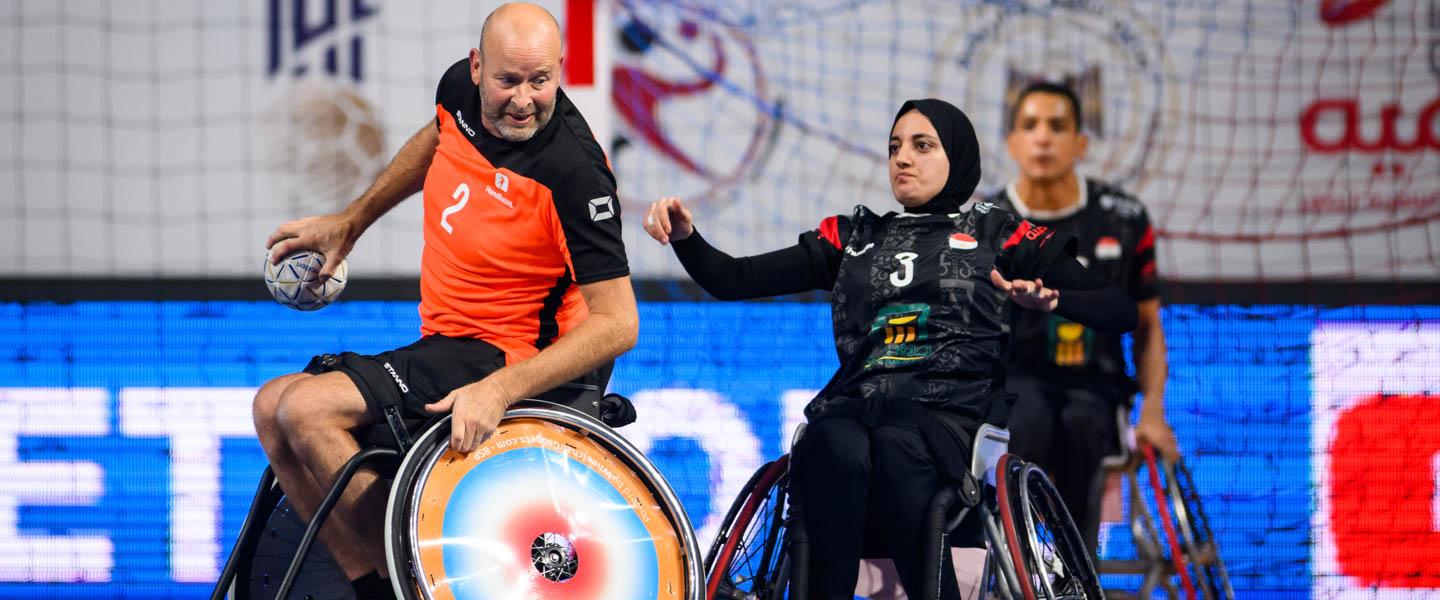 After the success of the first IHF Four-a-Side Wheelchair World Handball Championship, which took place in 6 of October, Egypt, in September 2022, wheelchair handball will mark another premiere: the first World & European Wheelchair Handball Championship (six-a-side), organised jointly by the International Handball Federation, the European Handball Federation and the Portuguese Handball Federation.
A total of nine teams – seven teams from Europe joined by two sides from Asia – will participate in the event and compete for the coveted trophy in Leiria, Portugal, between 18 and 20 November.
All the teams will be mixed and must feature at least three female players, while one female field player will always be on the court.
Croatia, Spain, Hungary, Netherlands, Norway, Portugal and Romania will be joined by India and Pakistan in the tournament, which was initially scheduled for 2020 but was postponed due to the COVID-19 pandemic.
The tournament follows in the tradition of the EHF European Wheelchair Handball Nations' Tournament, which saw four edition taking place between 2015 and 2019, with the Netherlands winning twice in 2015 and 2016, followed by Portugal in 2018 and Croatia in 2019.
Portugal are the only side to have won a medal in each tournament, with one gold medal and three silver medals, while the Netherlands follow in the standings, with two gold medals and a bronze medal.
Portugal and the Netherlands are the only teams to have played in each of the previous four editions of the EHF European Wheelchair Handball Nations' Tournament. At the same time, Spain will make their debut in such competition after a tailor-made approach for wheelchair handball paying dividends.
India will come to the tournament empowered by their participation in the 2022 IHF Four-a-Side Wheelchair World Handball Championship, where they finished sixth after losing their last game against the Netherlands 1:2, while Pakistan will make their debut in an intercontinental competition.
The teams have been divided into two groups, one of five teams and one of four teams. The top two sides in each group will qualify for the semi-finals, which will take place on Sunday, 20 November, with the final and the bronze medal game also scheduled for the same day.
Croatia, Pakistan, Hungary, Norway and Spain have been drawn into Group A, while two of the title favourites, Portugal and the Netherlands, are crossing path in Group B, with Romania and India also trying to progress to the next round and ultimately win the trophy.