Who will go through to the last eight?
24 Jun. 2022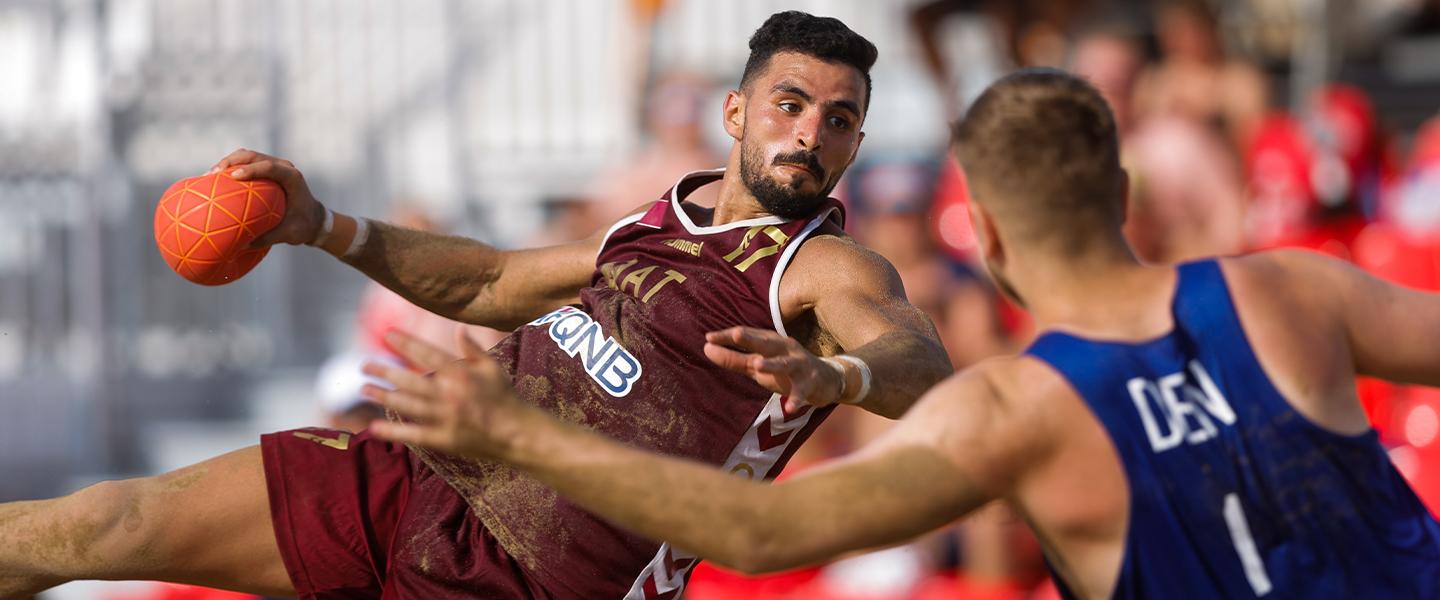 Live blog: It's the last main round day at the 2022 IHF Men's Beach Handball World Championship in Heraklion and we know nearly all of the quarter-finalists. Just two games remain.
Today's matches:
09:30 EEST CR: Egypt vs New Zealand (2-0) / Puerto Rico vs Ecuador (0-2)
10:20 EEST MR II: Denmark vs Brazil (1-2)
11:10 EEST MR II: Norway vs Portugal (1-2)
12:00 EEST MR II: Islamic Republic of Iran vs Qatar (1-2)
18:50 EEST MR I: Greece vs Croatia (0-2) / United States of America vs Spain (0-2)
19:40 EEST MR I: Argentina vs Uruguay (2-1)
20:33 Quarter-finals set
With the main round completed, we now know the men's last eight match-ups:
Croatia vs Norway
Greece vs Qatar
Spain vs Brazil
Uruguay vs Denmark
 
20:31 EEST Final table - Main Round Group I
You can see it live here, but the final table is:
1. Croatia (10 points)
2. Uruguay (6)
3. Greece (6)
4. Spain (4)
5. USA (2)
6. Argentina (2) 
The top four are through to the quarter-finals and bottom two go into the 9-16 placement round.
20:25 EEST The South American derby is won by Argentina
Even though both teams were confirmed as going in different directions, Argentina put up a good fight and took a 2-1 shoot-out victory.
19:30 EEST USA heartbroken as Spain deliver
In a game which seemed to go on forever, Spain eventually beat the USA 2-0 on court 2 to move into the quarter-finals, just and Croatia leave the central court unbeaten, another 2-0 victory to add to their six previous ones.
18:50 EEST A long wait, but we're back
Croatia come into their game against Greece unbeaten while the USA vs Spain is a winner-takes-all, loser-goes-home (kind of) match.
13:35 EEST Final table - Main Round Group II
You can see it live here, but the final table is:
1. Brazil (10 points)
2. Qatar (6)
3. Denmark (6)
4. Norway (4)
5. Iran (2)
6. Portugal (2)
The top four are through to the quarter-finals and bottom two go into the 9-16 placement round.
13:10 EEST Qatar topple Iran
It was full of passion, drama and emotion but Qatar have held their nerve to win on shots! It went to the eighth round and Iran missed a chance within the original five to take a win.
Qatar only scored one of their first four shots, missing one and seeing two saved. This opened the door wide for another Iran win against them. But they missed their third and saw their fourth saved.
Shooting first, Qatar equalised with their fifth, 4:4, so all Amin Kazemi Nouredinvand needed to do was score the single pointer, but his shot was sensationally saved by the evergreen 43-year-old Qatar goalkeeper, Mohsen Mohammed Alyafeai.
The order changed and the next two rounds saw all four shots safely secured, but with Iran now going first, Parsa Dehghani Najvani missed his shot, opening the door for Qatar for the first time. They didn't refuse the offer, with Mohamed Ahmed Hassan scoring the single point to confirm some emotional celebrations.
12:47 EEST Iran power back, shoot-out alert
No team led by coach Peixe is easily beaten and Iran are no exception. After being behind for most of the second period, the Asian champions came back and had a single point lead with just a few seconds remaining. Despite a time out from Qatar to calm their nerves they mishandled and it is going to a shoot-out.
12:25 EEST Time for all of us to have a breather
Qatar have taken the first period, 22:17. They are desperate to reinstate themselves as the authority of men's beach handball on the Asian continent after Antonio Guerra Peixe (now Iran head coach) inspired the Iran men to finally overcome Qatar at the last Asian championships.
Khaled Aly's Qatar had led for most of the first period, but Iran came within one (17:18) late on but it all became a bit dramatic with a number of suspensions on both sides and a red card for Alireza Pirzadeh Ahvazi. After this had subsided, Qatar powered ahead.
12:00 EEST We're off!
Qatar steal the ball in the first second and go 2:0 ahead. Already drama, within a few seconds.
11:40 EEST Portugal win but it's not enough
Portugal and Norway played out an exciting encounter, but, ultimately, the result was of little significance to the quarter-final spots as Portugal could not qualify and Norway could not go out.
The Portuguese side won the shoot-off but it's all about the Iran vs Qatar clash later.
11:10 EEST Brazil beat Denmark via shoot-out, take main round group II title
Brazil have now gone 1,428 days without losing an IHF Men's Beach Handball World Championship game.
Their last defeat came against?
Denmark.
At Kazan 2018 they lost 1-2 (20:10, 26:29, SO 6:7) against the Europeans on 27 July in their final main round game.
Since then, they have beaten Spain (2-1), Sweden (2-0) and Croatia (2-0) in Kazan and here in Greece they have taken down Qatar (2-1), New Zealand (2-0), Portugal (2-0), Iran (2-0), Norway (2-0) and now the Danes (2-1).
That's nine in a row - three more and it's another gold for the all-time medal table toppers.
10:55 EEST Main Round Group II will be decided by a shoot-out
Brazil won the first period 16:12, Denmark have won the second 21:16. It's going to a shoot-out.
You can watch live on our IHF - Competitions You Tube channel.
The South and Central America champions against the European champions is living up to expectations, despite the early start.
10:10 EEST Ecuador record third, straight win
After two wins yesterday, their first in beach handball world championship history, Ecuador have won again, defeating fellow debutants Puerto Rico 2-0.
Egypt won their second game of Greece 2022, defeating New Zealand 2-0.
09:00 EEST Quarter-final decisions to come
It's crunch time at the 2022 IHF Men's Beach Handball World Championship as the quarter-final places will be decided today!
Just six games remain in the men's main round and emotions will run high as teams try to secure the last spots among the top eight sides of the world. And both Group I and II still have an open reservation for the quarter-finals.
Six teams are through already: Croatia, Greece, Uruguay (Group I) and Brazil, Denmark and Norway (Group II). Argentina and Portugal are in the 9-16 placement round.
The remaining quarter-final spots from each group will be decided by these matches today.
12:00 Iran vs Qatar - Group II
18:50 Spain vs USA - Group I
Read more about the last main round day here.