Emotions on the edge as one game left to decide fate
24 Jun. 2022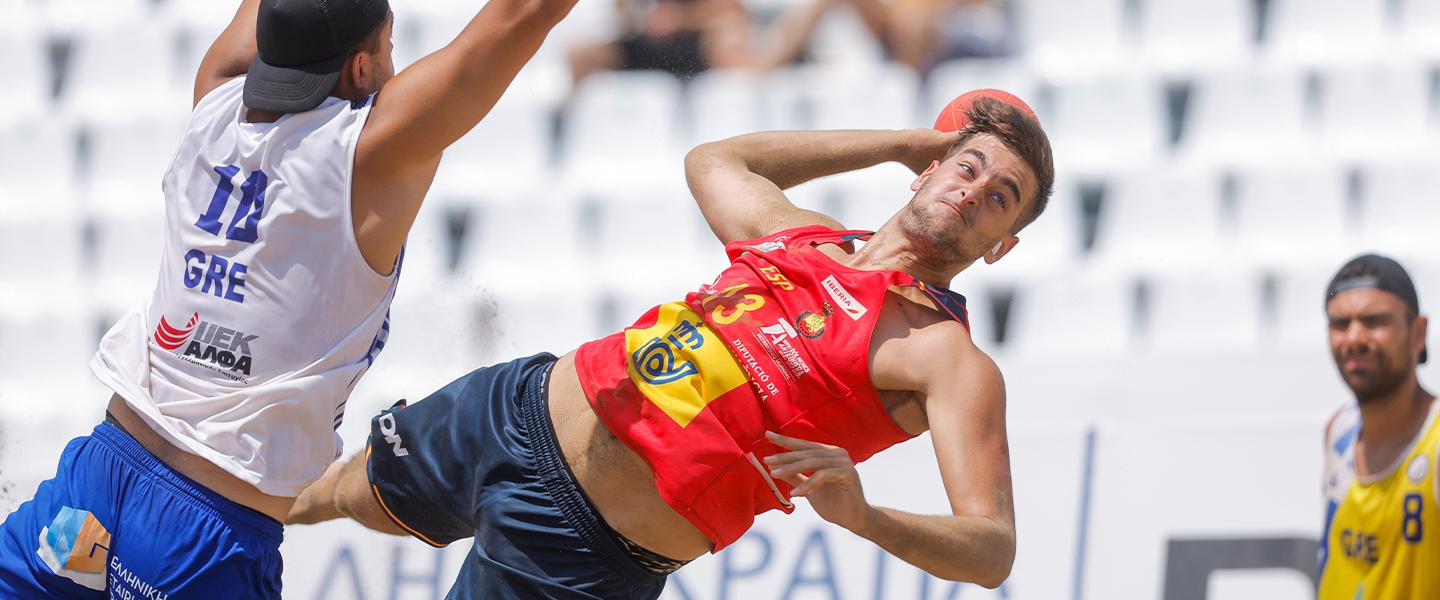 Just six games remain in the men's main round of the 2022 IHF Men's Beach Handball World Championship.
In Group I, Croatia, Greece and Uruguay are through to the quarter-finals, with one space left to decide in a direct tie between Spain and the USA, who play each other at 18:50 EEST on court 2.
They are on two points each in fourth and fifth, both having beaten Argentina in sixth, on zero points. Argentina will hope to end with a win against Uruguay, who they beat twice at the South and Central America Championship in April, including a 2-0 semi-final victory.
Greece will be looking to get back to winning ways after a surprise loss against Uruguay late last night. They face the unbeaten Croatians to decide who wins the group.
That scenario is exactly the same in Group II with Brazil looking for their sixth, successive win, coming up against Denmark who lost an epic encounter with Qatar last night – their first loss of Greece 2022.
Their early morning clash at 10:20 will decide the group winners, a group in which Portugal are out of contention for a last eight spot having lost all their games in it, and unable to get more than two points today.
Portugal face Norway who are sitting in a healthy position, with four points from four games and the better record against Qatar, who are in third on four points and Islamic Republic of Iran, on two points in fifth. 
Those two teams face each other for that final qualification spot and it is quite simple – whoever wins is through.
Ecuador could record their third, successive win at Greece 2022 when they play Puerto Rico in the consolation round – the Puerto Ricans are still looking for their first win in Heraklion. New Zealand got their first win yesterday against them and face Egypt this morning.
In Lucian Bura, Croatia can boast – by some distance – the top scorer. He sits on 104 points in five games (20.8 per game average) with that total coming from 54 goals, 40 of them spinshots.
It is no surprise that Croatia are also the top points-scorers in the championship with 259 (51.8), Brazil are the strongest defensively by some distance themselves – just 158 points (31) conceded, way ahead of Denmark on 205. Brazil's Cristiano Seben Rossa has made the most saves, with 40 (8) in his five games.