Germany

Coach: Alfred Gislason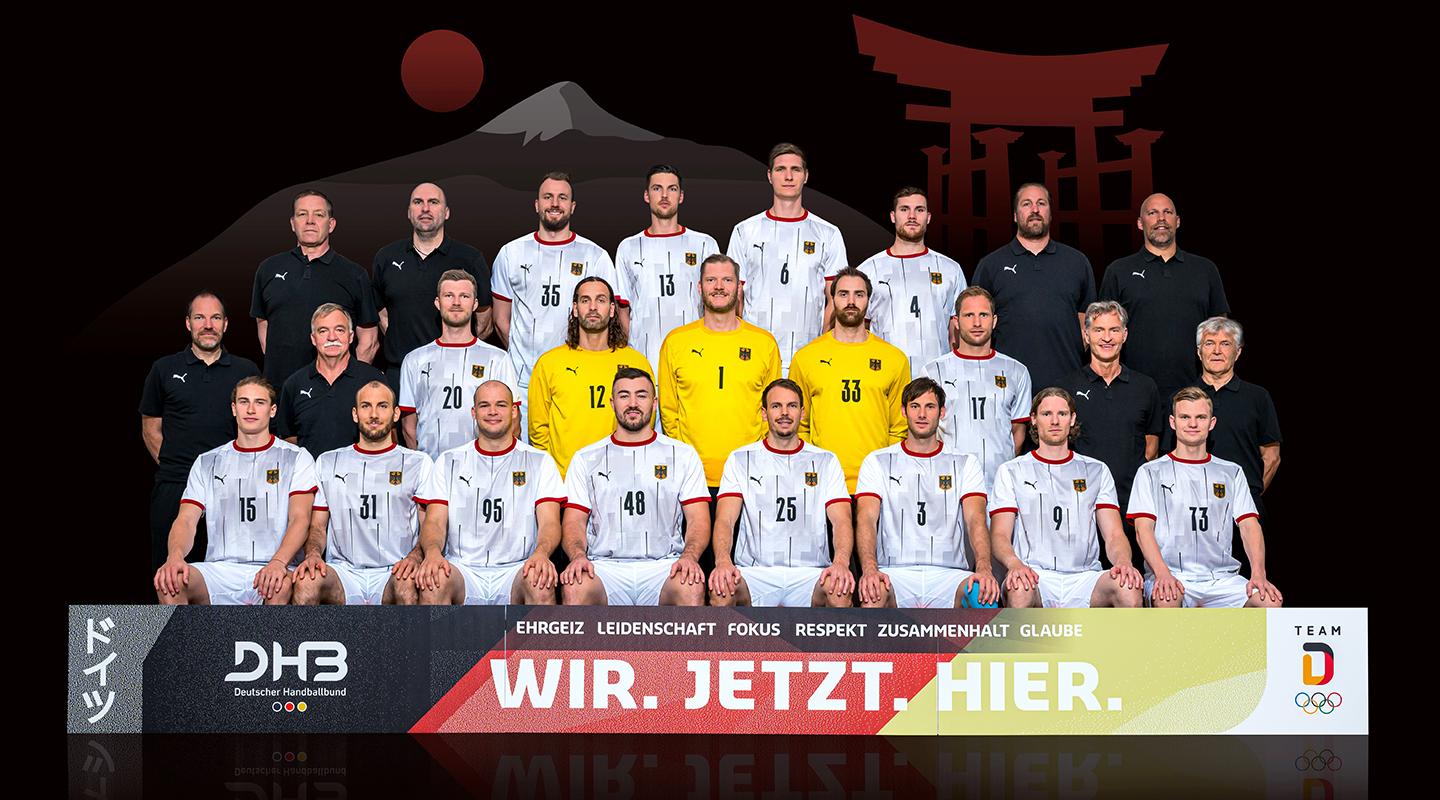 Germany
Germany
Team Players
Team Info
Unpredictable. That is the word which can be associated with the German men's handball team in the Olympic Games not only in the last few editions, but this millennium.
Having not even qualified for London 2012 – the first time a German side was not at an Olympic Games since handball was introduced back in 1936 – the Germans took third place at the very next event, Rio 2016, easily beating Poland 31:25 in the bronze-medal match. It was their best finish since Beijing 2008 (silver) and second best ranking since before the country was reunified.
The Germans come to Tokyo just seven months after their worst-ever ranking at an IHF Men's World Championship – 12th place at Egypt 2021 – an incredible result considering that in all the championships since it started back in 1938, there has only been one occasion when a German side did not qualify, and that was for Japan 1997.
But there are reasons for this historic low.
After suffering heartbreak at their home World Championship in 2019, co-hosted with Denmark, when they finished fourth, and then a fifth-placed rank at the Men's EHF EURO 2020, coach Christian Prokop was replaced by Alfred Gislason.
The 61-year-old Icelander Gislason is loved in Germany after moving there in 1984 as a 24-year-old player before returning as a coach from Iceland to win numerous club titles, most notably at THW Kiel where he enjoyed numerous championships and titles from 2008 to 2019.
However, just weeks after he was unveiled as the new German national coach, in early February 2020, the world was struck by COVID-19 and the whole of Germany – and handball – went into lockdown. 
Gislason found himself in an unusual place – no daily training, planning or preparation in person with players. Games like the qualification double-header for Egypt 2021 were cancelled, meaning Gislason's forensic analysis of Ukraine went out the window, worthless. Frustration abounded.
However, thanks to Prokop's results before him, that fifth place European finish would see his side through to Egypt. Under considerable pressure and public discussion surrounding COVID-19, though, a number of high-profile players did not make themselves available, most notably the line pairing of Patrick Wiencek and Hendrik Pekeler.
Gislason then took a somewhat depleted squad to North Africa, and his side never got going. After waiting until the third match day to play their first game, against World Championship debutants Uruguay, it was almost a training session as they easily beat them without breaking sweat (43:14).
Two days later, their second game, against another debutant, Cape Verde, was cancelled due to COVID-19 so by the time they played Hungary in their third game, Egypt 2021 had been running for a week and Gislason's squad had not been tested.
It was no surprise that an impressive Hungary ran out 29:28 winners but Germany were already in the main round. 
They opened their account in the next stage with a loss to eventual bronze medallists Spain (28:32) and lost a last-second lead, to draw with Poland (23:23). Sandwiched in-between was a 31:24 win over Tokyo 2020 opponents Brazil but it was not enough to see them through to the last eight in the world.
Despite this disappointment another Prokop ranking would pay dividends again for Gislason. The fourth-place finish at Germany/Denmark 2019 meant that Gislason and his German side had qualified for Tokyo Handball Qualification 2020 Tournament 3, and it would be in Berlin. 
One more chance to qualify, and on home soil. Germany impressed, drawing with Egypt 2021 silver medallists Sweden (25:25) and easily beating Slovenia (36:27) and Algeria (34:26) to confirm their Olympic ticket where they will again face Brazil, who beat them at Rio 2016 in the group stage (30:33), one of five opponents in their group, arguably the easier of the two.
"Our group is strong and there is not much to say about Norway, France and Spain, we have already played against them a lot of times and we know them, plus we won against Brazil at Egypt 2021 and they are very dangerous opponents," said Gislason to ihf.info.
"We know that we face tough opponents at Tokyo, but the decision [about] which players we nominate for the Olympic Games is as hard as the tournament will be. We have a huge pool, so the decision will be anything but easy. We are looking forward for the task at hand [in Japan]."
That selection dilemma has been compounded by the German top handball division – the HBL – enjoying an extended season due to COVID-19 meaning Gislason has to wait right until the very end to make his final squad of 15 decisions.
It could prove to be a good or bad situation for Germany with players competing with their club until just a few days before joining the national team preparation. On one hand, the players are match fit and focused, but on the other hand, season-long injuries and fatigue could play a factor.
What is sure, though, is that Germany's inspirational captain Uwe Gensheimer, who plays his club handball for Rhein-Neckar Löwen, will be a big influence. The 2016 Olympic bronze medal-winning left winger has now scored over 900 goals for Germany and has just returned to action following meniscus surgery, which saw him miss the Men's EHF EURO 2022 qualifiers against Latvia and Bosnia and Herzegovina in late April and early May.
Wiencek also missed those games due to a fibula break in the EHF Champions League Men in April, returned to action in June, but will still miss the Olympic Games.
Both of those games resulted in wins for Germany (35:20 vs Estonia, 26:24 vs Bosnia and Herzegovina) and ensured that the Germans qualified through with six wins from six games – evidence of the quality the squad possesses.
Germany's pre-Tokyo 2020 training camp starts on 5 July with two friendly matches in Nuremburg against Egypt and Brazil, before the squad fly to Tokushima in Shikoku, Japan for their final preparations.
 
Key players: Andreas Wolff (goalkeeper), Hendrik Pekeler (line player), Julius Kühn (left back), Uwe Gensheimer (left wing)
Qualification for Tokyo 2020: Tokyo Handball Qualification 2020 Tournament 3 – 2nd place
History in Olympic Games: 1936: 1st, 1972: 4th**/6th*, 1976: 4th*, 1980: 1st**, 1984: 2nd*, 1988: 7th**, 1992: 10th, 1996: 7th, 2000: 5th, 2004: 2nd, 2008: 9th, 2016: 3rd 
*FRG (West Germany) **GDR (East Germany)
Group at Tokyo 2020: Group A (Argentina, Spain, Germany, France, Norway, Brazil)