History ready to be made on final day of men's tournament
07 Aug. 2021
Running updates of the Tokyo 2020 men's finals – follow the action of the Olympic handball tournament live and stay always up-to-date. Gold goes to France, silver to Denmark and bronze to Spain – the Tokyo 2020 have been determined. 

It's the final day of the Olympic Games Tokyo 2020 men's handball tournament and we'll finally find out who will make their dream of an Olympic gold medal come true. Will France be the first men's team to claim three Olympic gold medals or will Denmark defend their title?
Today's matches:
17:00 JST: Bronze-medal match Egypt vs Spain (31:33)
21:00 JST: Gold-medal match France vs Denmark (25:23)
 
23:30 JST Summary of the day
 
France became the first side ever to win three gold medals at the men's handball Olympic tournament after securing a 25:23 win against Denmark in the final at Tokyo 2020
Guillaume Gille became only the third man after Russia's Vladimir Maksimovic (player – 1976, coach – 2000) and Yugoslavia's Branislav Pokrajac (player – 1972, coach – 1984) to win the gold medal at the Olympic games both as a coach and as a player
Nikola Karabatic, Luc Abalo and Michael Guigou won their third-ever gold medals at the Olympic Games, the first players to seal this achievement
With his nine goals in the final against France, Mikkel Hansen became the top scorer at the Olympic Games for the first time, with 61 goals, and also broke the record for number of goals scored in one tournament by a player (men's competition)
In the bronze-medal match, Spain beat Egypt 33:31 to seal their fourth medal in history at the Olympic Games
 
23:00 JST The new generation of 'Experts'

Between the summer of 2008 and the summer of 2012, France were the team to beat in men's handball. It was the moment when the players decided to call themselves 'Les Experts', a nickname which does not need any translation.
The emergence of a vintage team was on display at the 2007 IHF Men's World Championship in Germany, when France finished fourth, failing to win a medal for the fourth tournament in a row.
Yet, that missed chance was the precise moment when everything started to click. Between Beijing 2008 and London 2012, France embarked on a superb run, winning everything that was to win, with 40 victories and five draws in 50 matches at the Olympic Games, IHF Men's World Championships and the Men's EHF EUROs.
Something had to give and with ageing players, France were on a plateau. Since January 2017, 'Les Experts' did not win a major tournament, sealing only two bronze medals, at the IHF Men's World Championship 2019 and at the EHF EURO 2018.
But now, they really did it! Do you want to find out exactly how? You can read our piece from last March, after France sealed their berth for Tokyo 2020 in the Olympic Qualification Tournament they hosted in Montpellier.
 

22:45 JST Karabatic on his way to the handball pantheon

So, about that final! Experience really pays off, but it is also a story about Nikola Karabatic, one of the greatest-ever players to have ever stepped on a court. Karabatic is now 37 years old, played at Tokyo 2020 only after recovering in time from a devastating knee injury, but stayed true to himself, believed in his qualities, especially as a leader of the pack, and now will be presented with his third gold medal at the Olympic Games, sharing a new record with teammate Michael Guigou, as the most decorated player in the history of the competition.
Karabatic has been outstanding throughout the years, a player whose longevity and strength overcame even the toughest of challenges, with his trophy cabinet having little space for more medals. In short, Karabatic has won 15 medals at major international tournaments, being a four-time world champion, a three-time Olympic champions and a three-time European champion. He also won silver at Rio 2016 and bronze twice at IHF Men's World Championships and at EHF EUROs. Karabatic was also named IHF World Player of the Year three times and also won the EHF Champions League Men three times.
 
22:31 JST FINAL WHISTLE France vs Denmark 25:23

IT IS OVER! FRANCE ARE THE NEW OLYMPIC CHAMPIONS AFTER SECURING A 25:23 WIN IN THE TOKYO 2020 FINAL AGAINST DENMARK.
For the third time in history, France are the Olympic champions, repeating their wins from Beijing 2008 and London 2012 and avenging their defeat against Denmark from Rio 2016, the final from five years ago.
'Les Experts' are the most decorated team in the history of the Olympic Games after this win, with five medals overall, three of which are gold 
It was an amazing final, which France dominated at the start, taking a lead that they never surrendered, to surprise the reigning Olympic and world champions, Denmark. Therefore, Guillaume Gille becomes the third man to win gold at the Olympic Games both as a player and as a coach, after Russia's Vladimir Maksimovic and Yugoslavia's Branislav Pokrajac.
But what a finish this has been. This is handball, a roller-coaster of emotions which can drain you, but also pump you up with adrenaline. Denmark stayed closed until the end, when Morten Olsen cut the gap to only one goal, 24:23. France had the attack, only to squander it. Therefore, Denmark had the last attack and coach Nikolaj Jacobsen deployed a seven-on-six attack. But who was going to shoot the final throw? Hansen, right?
No, he did not. With a passive play warning set, the ball got to Mathias Gidsel, who tried to pass it back. Just a small hiccup, though, with Luka Karabatic, a defensive enforcer close to him. Karabatic stole the ball, passed it to fellow line player Ludovic Fabregas, who scored an empty-goal shot to seal the 25:23 win for France.
It was not pretty, as France only boasted a 49% shooting efficiency, as opposed to Denmark's 59%. Only Nedim Remili scored at least five goals for France, with no other player making more than three goals in the game. But this is truly, truly, a coronation of hard work, grit and defence-first mentality, who helped France lift their third Olympic title in a row.
 
22:25 JST Hansen misses penalty in crucial moment

Denmark had the chance to tie the game, then cut the gap to one goal, but Vincent Gerard has been immense in this match. The French goalkeeper, who also boasted a superb game in the semi-final, is now on nine saves and a 32% saving efficiency, and has helped France stay alive in crucial moments. It's not a good game from Hugo Descat, who missed only one shot this tournament prior to the final, only to miss four, including a penalty here. And, generally, France's attack has been lacking the intensity they had in the first 45 minutes.
Now Hansen misses a penalty and this could be a pivotal moment for the game. Yann Genty stayed on the goal line, guessed right and Denmark's coach, Nikolaj Jacobsen has his face in his hands. It could be devastating for the reigning Olympic champions, but Hansen was due a miss, right? Still, France are only 23:21 up ahead, with four minutes and 30 seconds to go!
 
22:16 JST We have a game on our hands!

Whenever a player takes over a game, like Mikkel Hansen just did here, it is just breathtakingly to watch. And now France are in big trouble, after Luc Abalo and Dika Mem conceded consecutive suspensions to leave France with only four outfield players in defence. France tried to play it conservatively, but Landin saved another shot, taking his tally to 13 saves and a 37% saving efficiency. Hansen scored nine goals, Gidsel added five and the gap is reduced to only one goal, 21:22, with 11 minutes to go. Time-out called by Guillaume Gille and Denmark have all the momentum in the world, with France's mistakes costing them plenty.
 
22:12 JST Wait, can Denmark save this game?

The celebrations have not started and France are keeping it as professional as they can right now, but it seems to be getting clearer and clearer that 'Les Experts' are on track to seal their third Olympic title. It would take a miracle, a monumental effort from Denmark to mount a true comeback here and a true implosion for France, who have constantly found ways to exploit the gaps in Denmark's defence. It is a bit of a surprise, but it truly is a magnificent effort from France to frustrate an all-time great team.
Denmark have thrown every player they had on the bench, including centre back Morten Olsen. At least Hansen scored his seven goal in the game to become the player with the largest number of goals scored in one edition of the Olympic Games, 59, one more than Kyungshin Yoon, at Athens 2004. With two goals in a row, Hansen cut the gap to three goals, 21:18, with 15 minutes to go.
 
22:06 JST France's depth outpaces Denmark

Denmark shift their defence to a 5+1 aggressive outfit, but France are still scoring for fun. They make it look easier than Denmark in attack and that's surprising, because Denmark simply was an attacking powerhouse throughout the last tournaments. It's just a testament to France's depth on all positions, with 'Les Experts' constantly bringing up heaps of talent on the court. When Dika Mem is not on the right back position, Nedim Remili turns up there, with Kentin Mahe taking up the centre back position. They changed both their wings, while Luka Karabatic has mainly played in defence.
Guillaume Gille has really found the right balance for this team and they are now cruising to the win. Can Denmark do something to stop France? For starters, they will need Mikkel Hansen to shoot more from the back line, as the Scandinavian side relied on Mensah Larsen and Gidsel to do that. But they will also need to look more after the ball. They could have cut the gap to three goals, but a careless pass from Toft Hansen was intercepted by Abalo, with France pouncing on, 21:16, after another goal from Karabatic. There are 19 minutes left and Denmark have no answer.
 
21:59 JST Denmark fail to show up in attack in the most crucial of times

A 2:0 unanswered run from France to start the second half brings the gap to a record six goals, 16:10. It is all about execution and being level-headed in the front of adversity and Denmark are lacking those qualities to stay in the game. A good pass intended for Magnus Landin is fumbled by the left wing, while quite an unprepared shot from Mads Mensah Larsen is saved by Vincent Gerard. This is a critical time for Denmark. If they cannot up their attack, they will lose the game.
It's time for Niklas Landin to start raking up saves, but attacks are squandered once again. It is an incredibly bad executed game plan for Denmark, who are just trying to score fast and cut the gap easily. For this half, it has just been Mathias Gidsel vs the French defence, as Denmark are still down five goals, 13:18, with 25 minutes to go.
 
21:41 JST HALF-TIME France vs Denmark 14:10

It's all-in for Denmark at the end of the first half, using a seven-on-six attack, replacing Landin with Toft Hansen. It did not pay off, as France continue to play better and stay stronger in defence, taking the score to 14:10 at the break. With just eight seconds to go, centre back Kentin Mahe takes the action on his own, sprints a few meters and then unleashes a 97 km/h shot that surprises Landin. This goal can be crucial and can really help France on the long run.
Denmark have not been playing at their best, but the main issue is still the attack, where they only converted 50% of their shots and had seven turnovers. This is Denmark's lowest attacking input in the first half at the Olympic Games since Rio 2016, when they have scored only 10 goals in the first 30 minutes of their group phase match against Argentina, but that was a group phase match, not an Olympic final.
Handball is a team sport and France have been the better team here by a country mile. They were stronger in defence, neutralising Denmark's backs, but also their wings. Usually, Denmark take great pride in their game with the wings, but right now, they have not scored any goal from that position. There have been only four players scoring, with Hansen being responsible for 50% of Denmark's goals, with five goals out of 10, while Gidsel and Saugstrup added one each. By comparison, France had 10 different outfield players score at least one goal, with Nicolas Tournat, who only played defence, and Valentin Porte, who did not play at all, failing to get on the scoresheet.
Right now, this game looks like it's France to lose. What a story would this be for the French side and, particularly, for Nikola Karabatic and coach Guillaume Gille.
 
21:34 JST Turnovers plague Denmark

A suspension conceded by line player Nicolas Tournat clearly hampered France, who struggle to score. Yet after spending nearly 90 seconds in attack, Michael Guigou missed the penalty won by France, with Landin once again dominating the mental battle with the French shooters, saving his second penalty in the game after the one against Descat. However, the turnovers clearly plague Denmark's attack, with now seven attacks, two in a row, being discarded with critical errors in passing.
With plenty of experience on display, France are not deterred by their penalty woes and continue to try and surprise Denmark in attack. The Scandinavian defence have also been playing well, blocking three shots. But the difference, 11:8, with four minutes to go in the first half, is clearlya result of the turnovers.
 
21:25 JST France inflict blow after blow

And it's a time-out for Denmark, after they have turned the ball over four times in the first 15 minutes. It's truly unusual for them to not take care of the ball, especially in this situation, a do-or-die game for another Olympic title. It might have looked to take France's momentum, but a Mikkel Hansen one-on-one miss with Gerard helps France take back control. The defence Guillaume Gille, himself a former Olympic gold medallist for France as a player, has designed for this game is just astonishing, limiting the Danish side to only seven goals scored in the first 20 minutes.
Hansen is not getting much help and he is always searching for spaces to shoot. He has already scored four times in the first 20 minutes, but he cannot stop Denmark's rut who are now down 6:9. France have distributed the ball excellently, with eight different players scoring at least one goals, with Dika Mem leading the way with two goals. Great plan and great execution by this new generation of 'Les Experts'.
 
21:15 JST Defences turn up in style

Denmark are threading a fine line with them trying to up the pace at no costs. It produces costly turnovers, as the two best attacks in the competition are slowly starting to cool down after a frenetic start of the match. It is also about the two goalkeepers, Niklas Landin (three saves for a 38% saving efficiency) and Vincent Gerard (two  saves for a 33% saving efficiency), who are starting to get hotter and hotter. There are also costly misses in one-on-one situation. Can these players, so experienced, have the jitters due to this match being an Olympic Games final?
While it might be true, it is also about the two defences, who can really step it up a notch when needed. There are plenty of specialists on the court, from Luka Karabatic to Henrik Molgaard, as the two sides match up evenly. We thought this was going to be a balanced game and it really lives up to its expectations. It's anybody's match, this, and it is turning out to be an old-school defensive contest, as the two sides' efficiency dipped to 42% for France and 44% for Denmark. France are now leading 6:4 after 14 minutes.
 
21:07 JST Hansen eyeing records, with Denmark leading after six minutes

Hansen vs Karabatic. We have been talking about this match-up and it's no surprise that the two stars are the ones who scored the first goals for their teams. Hansen is the all-time top scorer at the Olympic Games, with 157 goals, while Karabatic needs only three goals to tie Kyungshin Yoon for the second place in the top scorer standings in the competition. In fact, Hansen is also virtually the top scorer of the tournament, having racked up 54 goals up until this point. And another record is set to fall, the largest number of goals scored in a tournament by a player, set by Yoon at Athens 2004, with 58 goals.
Up until that point, though, we still have a final on our hands. The pace is exciting, with the two teams trading goals. But up until the seventh minute, it looks like France are better in defence, forcing two turnovers. Yet look what's happening at the other end! Left wing Hugo Descat misses his first penalty in the tournament and only the second shot at Tokyo 2020, with Landin saving it superbly. It's Denmark who are leading, 4:3, with a pair of goals from Hansen and line player Magnus Saugstrup each.
 
20:50 JST Ready to go, countdown started

Are you ready? 10 minutes to go until the start of the big final of the Tokyo 2020 Olympic men's handball tournament. Denmark are shortly favoured ahead of France, but everything will be in play when two great sides, led by two all-time greats, Mikkel Hansen, and Nikola Karabatic, take on the court. Remember, this is the first time ever that two teams play consecutive finals at the Olympic Games.
Only one side won consecutive Olympic titles: France – at Beijing 2008 and London 2012, with the French side also becoming the first-ever team to play the final at the Olympic Games for the fourth time in a row.
 
20:45 JST Denmark hope to clear injury woes

Denmark have been sweating over the fitness of right back Mathias Gidsel before the semi-final win against Spain, after he received a knock to the head in the quarter-final against Norway. Gidsel was, however, back at its best and he was not hampered by any issues and will make the start today, against France.
Another back, Lasse Andersson, has suffered an ankle injury, missed two games, but made his comeback. He still has pain in his ankle, but will take up the court and hope to make the difference against 'Les Experts'. On the other side, France will not count on Timothy N'Guessan, who suffered a tournament-ending muscular injury in the last game of the group phase, against France, while Hugo Descat shrugged off an adductor problem to be fit for the last two games of the tournament.
 
20:40 JST Familiar faces back in the final

Five years ago, at Rio 2016, Denmark crowned themselves Olympic champions for the first time with a 28:26 win against France, after leading at half-time, 16:14. Mikkel Hansen was Denmark's top scorer, with eight goals, while Michael Guigou scored six times for France, but could not help his team win the third Olympic title in a row.
From that game, Denmark brought seven players back – goalkeeper Niklas Landin, backs Mikkel Hansen, Mads Mensah Larsen, Henrik Molgaard and Morten Olsen, wing Lasse Svan Hansen and line player Henrik Toft Hansen. On the other side, France have nine players from the silver medallist side: goalkeeper Vincent Gerard, backs Nikola Karabatic, Kentin Mahe and Timothey N'Guessan (replaced earlier in tournament, though), line players Ludovic Fabregas and Luka Karabatic and wings Luc Abalo, Michael Guigou and Valentin Porte. No player in history has won more than two gold medals in the competition.
 
20:30 JST Ten wins in 17 games for France against Denmark

The two sides met 17 times in competitive games, with France taking 10 wins, as opposed to Denmark's seven. France and Denmark's first meeting was at the 1954 IHF Men's World Championship, with Denmark taking a convincing 23:11 win. In fact, Denmark won the first four mutual games between the two sides, only for France to make a comeback and dominate their meetings in the next 20 years. Yet this game has become a classic in the last decade, with Denmark and France facing off seven times in the last 10 years.
This will actually be the third major tournament final between the two European powerhouses. The first came at the 2011 IHF Men's World Championship, when France won the title, after a vintage game, which ended after extra-time, 37:35. The second one was at Rio 2016, when Denmark avenged that result with a 28:26 win. In fact, France won three of the four mutual meetings, but Denmark won the last game, 38:30, at the IHF Men's World Championship, when they went on to win the title undefeated.
 
20:15 JST Balance all around between France and Denmark

These two sides also boast the best attacks in the competition, with Denmark leading the pack with 232 goals, followed by France, with 231 goals. It's a huge push from Rio 2016, when Denmark, the reigning Olympic champions, secured the gold medal by scoring 230 goals in eight games, a performance already broken with one game in hand. They have been masters of their own destiny, usually leading from start to finish and overpowering their opponents. However, the two sides have different ways of scoring at Tokyo 2020. Denmark are leading the bunch by far with their breakthroughs, scoring 46 goals, 32 more than France. On the other hand, France have been deadlier on fast breaks, putting 29 goals past the opponent goalkeepers, while Denmark scored only 11 times.
Goals from wings are also balanced, with France scoring 41, as opposed to Denmark's 35, but France have a superb left wing in Hugo Descat, who converted 29 of his 30 shots in the competition for an incredibile 97% efficiency. France usually change wings, with Luc Abalo and Michael Guigou taking the rep in the first half, with Valentin Porte and Hugo Descat coming in the second half.
The balance is uncanny also in the goalkeeper area, where both France's Vincent Gerard and Denmark's Niklas Landin have the same saving efficiency, 31%, with Gerard saving more, 64 shots, than Landin's 50, due to playing more. Gerard has also been superb at penalties at Tokyo 2020, saving nine of the 21 he faced, but will be measuring against Mikkel Hansen, the top scorer of the tournament, who scored 26 of the 30 penalties taken.
 
19:45 JST Most decorated sides in the last decade to face off for Tokyo 2020 gold

Since 2010, France and Denmark have been the most decorated sides in major international tournaments, as they are gearing up now for another gold medal. France have won three gold medals at IHF Men's World Championships, two gold medals at EHF EUROs and a gold and silver medal at the Olympic Games. On the other hand, Denmark have been world champions twice, at Germany/Denmark 2019 and Egypt 2021, Olympic champions at Rio 2016 and European champions in 2012.
Between them, France and Denmark have won 16 medals in the last 11 years, with eight gold medals, six silver medals and two bronze medals, dominating the world handball in this stint. They also boast two of the most decorated players ever, Nikola Karabatic and Mikkel Hansen, as this is setting up to be a final for the ages at the Tokyo 2020 Olympic Games.
 

19:10 JST Spain's fourth medal brings them closer to the top

Egypt missed the chance to become the first-ever African team to win a medal at the Olympic Games, but can be proud of what they achieved, a superb performance, their best in the history of the competition – five wins – despite losing the last two games, against France and Spain. With a young team, the second youngest in the competition, the 'Pharaohs' will be looking to the future, with an eye on the IHF Men's World Championship in 2023 and the Olympic Games Paris 2024, with players like Yahia Omar, Yehia Elderaa and Ahmed Mohamed shining at Tokyo 2020.
On the other hand, Spain won their fourth medal at the Olympic Games, tying Sweden and Romania. Sure, all of those medals are bronze, with Spain always sealing this medal when they reached the semi-finals at the Olympic Games, but nonetheless, they will still be looking for more in the next years.
As the bronze medal game is over, we focus our attention on the big final between France and Denmark, which will throw off at 21:00 JST. Just a little under two hours before the two sides write history on the Yoyogi National Stadium court.
 
18:47 JST Entrerrios finishes his career on a high

291 matches, an all-time record for Spain. 671 goals, enough for fifth place in the all-time standings. Raul Entrerrios has finally met an end to his career, one year after he decided to play one more season, to cap one of the most illustrious stints in European handball. His decision truly paid dividends, as he won the EHF Champions League Men for the third time, his 11th domestic league title and his 10th Spanish Cup with Barça, the club he represented since 2010.
He wanted to win his first gold medal at the Olympic Games with Spain, but he settled for his second bronze, after Beijing 2008, finishing his career with nine medals for 'Los Hispanos', becoming the most decorated player ever in the Spanish side. And he also scored the last goal in the game against Egypt, bowing out in style. Respect, Raul!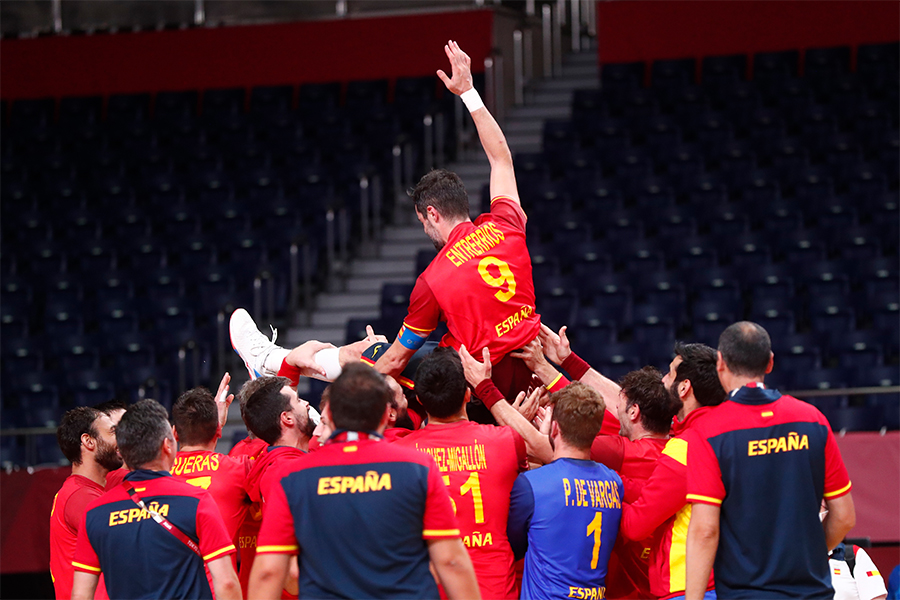 18:40 JST Dujshebaev stars in crunch time once again

What a player Alex Dujshebaev is! He is the future of this Spanish side, alongside his brother, Daniel, who missed the Olympic Games Tokyo 2020 due to an injury. It's not only the high handball IQ the Spanish right back brings to the table, surely inherited from his father, two-time Olympic champion, Talant, it's also the ice in his veins, the nerves of steel, which allow him to showcase his talent in the most difficult of conditions.
Of his 29 goals scored at Tokyo 2020, 20 came in the second half, eight of which were in the last five minutes of the matches he played. Dujshebaev scored the decisive goal in the quarter-finals against Sweden, which helped Spain seal the win, three goals in the space of the last five minutes in the bronze-medal game against Egypt and two against Germany in the group phase, in a game which Spain took by the slightest of margins, 28:27.
With a good foundation, Spain can make a generational change now and eye the gold medal once again at Paris 2024.
 
18:30 JST FINAL WHISTLE Egypt vs Spain 31:33

They were more aggressive in defence, shapeshifting from a 5+1 to a 4+2, and Dujshebaev really stepped up his game in attack, scoring three times in the last six minutes, like everyone expected him to do in these final minutes, as Spain seal their fourth bronze medal at the Olympic Games after a 33:31 win against Egypt.
It has just been written in the stars and Raul Entrerrios could not have hoped for a better ending of his career, scoring with the final shot to seal the bronze medal for Spain. This game had it all: lead changes, superb goals, some impressive goalkeepers, but, in the end, experience prevailed. In the last game for the national team for many players, who are contemplating or even announced their retirement, Spain win the bronze medal at the Olympic Games, their fourth in history, after Atlanta 1996, Sydney 2000 and Beijing 2008.
The African side has also finished a superb tournament, one of their best ever, if not the best ever at this level, yet the feeling is that they missed a medal by a thread. They will come back, more experienced, stronger, and probably hungrier for success. But right now, this is Spain's show, having sealed the bronze medal in emphatic fashion. They could have taken more from this game, but eventually, in the end, Spain converted more of their clear-cut chances to win, 33:31.
 

18:17 JST Hendawy frustrates Spain, as Egypt are back in the game

Hendawy is now on 44% saving efficiency, with seven saves in the second half and Egypt are firmly back in the game, even missing two chances to take back the lead after nearly 40 minutes. It has been a testament to their aggressiveness in attack, where coach Roberto Garcia Parrondo deployed a seven-on-six tactic, replacing the goalkeeper with an outfield players, that has really fazed the Spanish defence.
"We are playing very good defence, proceed like this," said Garcia Parrondo during a time-out called by Spain, with 10 minutes to go. Will we see crunch Alex Dujshebaev once again on the court? He has been crucial for Spain in these type of situations, so 'Los Hispanos' will need him if they are to seal the bronze medal. It's 27:27 tie with seven minutes left in the regular time.
 
18:09 JST Elahmar enters the century club

Elahmar scored eight goals in this game already and has just become the ninth-ever player to score at least 100 goals at the Olympic Games. Mikkel Hansen, Nikola Karabatic and Michael Guigou are the only active players to have hit this milestone, which Elahmar cleared with his second goal of the game. The 37-year-old right back is now at 106 goals in the competition, after taking part in four editions – Athens 2004, Beijing 2008, Rio 2016 and Tokyo 2020.
His superb performance has helped Egypt get slowly back into the game, which is not a straightforward procession at all. With his fifth goal of the match, Yahia Omar ties the score, 25:25, with 15 minutes to go, as Gedeon Guardiola concedes his second suspension in the game. It could be crucial for Spain, as the defensive specialist is an integral part of their system.
 
18:00 JST Spain face challenge after sluggish second-half start

The pace is still blistering in the bronze-medal game and Egypt seem to have newfound energy in this game. It's their last 30 minutes of the tournament and a bronze medal awaits them if they manage to win this game. Spain have been a little bit on the back foot in these first minutes of the second half, with three turnovers and two saves from Karim Hendawy, who replaced Eltayar between the goal posts.
Yet Egypt cannot take full advantage of those mistakes by Spain, as 'Los Hispanos' apply the same recipe they had throughout the tournament: a great save from Perez de Vargas converted via a fast break by Aleix Gomez Abello. It's interesting to see Elahmar and Dujshebaev, two left-handed players, trying to lead the attack from the centre back position. Still, Spain boast a 21:20 lead, after Gomez misses his first shot, a saved penalty from Hendawy. In only six minutes, Hendawy saved three shots, one less than Eltayar did the entire first half.
 
17:40 JST HALF-TIME Egypt vs Spain 16:19
 
Two suspensions in a row for Egypt was not the best news for coach Roberto Garcia Parrondo, who sees his team slacking, as they look tired and jaded. Of course, with an upped pace and plenty of experience, Spain can score some easy goals and make Egypt trail, with the fast throw-ins punishing the African side, who are struggling to make stops in defence. As right wing Mohammad Sanad is not in his best form, missing two shots, captain Ahmed Elahmar slots into that role, leaving Yahia Omar on the right back position and some goals are coming from them, with the two players combining for nine goals.
But the main issue here is Spain's attack, who has hardly been stopped by the Egyptian defence. Their two goalkeepers have only saved three shots, enabling 'Los Hispanos' to score on 83% of their shots, with only four missed shots, including an empty-goal shot from Gonzalo Perez de Vargas. This has been a bit of a masterclass in attack by the Spanish side, with right wing Aleix Gomez Abello scoring six times. Yet the unsung hero for Spain was right back turned centre back Alex Dujshebaev. Despite scoring only a single goal, the back dished five assistsduring his 10 minutes on court to lift his side to a 19:16 lead.
Egypt look tired, with their game predictable in attack and too lax in defence. Can they turn this around? They needed the break, let's see what they bring to the table in the second half.
 
17:27 JST Spain up the pace to take the lead

The two sides are trading goals now, as Aguinagalde is still limping on the sidelines. The defences are not operating at the highest level right now, but with the attacks converting their chances time and time again, this makes up for a very exciting game to watch. Remember, these teams are not playing for pride, it is a bronze medal at stake and, especially for Egypt, this would be huge news, their best-ever finish in a major international tournament outside of Africa. Up until this point, Spain are constantly taking the lead, but Egypt are no pushovers and are constantly replying instantly.
Spain boast a 81% shooting efficiency, while Egypt are replying with 63% shooting efficiency, as Ahmed Elahmar, Yahia Omar and Mohamed Shebib combined for nine goals up until the 23rd minute, when the score is 15:13. On the other side, line player Adrian Figueras just entered the game in place of Aguinagalde, scoring twice already, underlining the great tournament he had at Tokyo 2020. But Spain have really upped the pace now, with fast throw-ins that have been unsettling the Egyptian defence.
 
17:20 JST Nothing to separate the two sides

It's nip and tuck here, with nothing to separate the two teams after 16 minutes. Elahmar has really been bright, scoring four goals for Egypt, as the score line is tied at 8:8. There have been three lead changes, with the two sides trading 3:0 runs, in a bright start of the game, while the two goalkeepers also each saved three of the 11 shots they faced. It's been more of the same for Egypt like in the previous games, with their backs taking care early of the situation, scoring goal after goal.
We just had an injury scare for experienced line player Julen Aguinagalde, who rolled his ankle, but he is walking, albeit looking to be in some discomfort. This will probably be his last game for the Spanish national team and he is looking to add to his superb medal tally.
 
17:09 JST Spain trail early 

Spain send their old guard on the court in the first minutes, with Entrerrios, Aguinagalde and Sarmiento on the attack. While it may not click and the pace is not the highest, they are efficient and have been finding ways to frustrate the Egyptian defence in the start of this game. But Egypt are not a team to be deterred easily, despite missing influential back Ali Zein. After a big miss from Yehia Elderaa, Egypt scored two goals and are still in the game. It might not be the fast start, which helped them seal wins against Sweden and Germany before in this tournament and kept Egypt in the game against France, in the semi-final, but this will have to make do against a very experienced side.
Yet after two stops in defence, Egypt take the initiative and open a 4:2 lead after eight minutes, with experienced back Ahmed Elahmar and line player Mohamed Shebib scoring two goals each. It was a 3:0 run for the African side, who have been very constant throughout Tokyo 2020.
 
16:45 JST The proper send-off 

Spain feature the most experienced side in competition at Tokyo 2020, boasting an average age of 33 years and an average of 131 international matches per player. It will be the last hurrah for many of the member of this team, with stalwart centre back Raul Entrerrios (40) putting a stop to his career after this game. Entrerrios has featured in 290 games for Spain, the largest number of games in the team's history, 10 more than the previous record holder, David Barrufet. Defensive specialist Gedeon Guardiola will also play his last game for the Spanish side, while players like Viran Morros or Antonio Garcia Robledo will also probably stop here.
"It hurts a lot when you see something beautiful like this end. It hurts even more," said Gedeon Guardiola after the semi-final loss against Spain. This will be a sending-off for Entrerrios, who won eight medals in international tournaments with 'Los Hispanos' – one at Beijing 2008 at the Olympic Games, two at IHF Men's World Championships, including a gold at Tunisia 2005, and five at the EHF EURO, including two golds in 2018 and 2020.
Another player who is due to end his international career at the end of this competition, line player Julen Aguinagalde, has been named in the squad for this bronze-medal game, replacing right wing Ferran Sole. Egypt have also made a change in their team, as Ali Zein, the back who signed for Barça this summer, was replaced by line player Wisam Nawar. The game will start in 15 minutes, so are you ready?
 
16:30 JST Garcia Parrondo, Egypt's X-factor

Few are better equipped than Egypt's coach Roberto Garcia Parrondo to help the 'Pharaohs' contend for their first-ever medal at the Olympic Games, as well as to take their first win against Spain. When he was appointed in 2019, he was tasked with creating a strong Egyptian side, able to fight for the medals at any given major competition. The objective was the 2021 IHF Men's World Championship in Egypt, where the African side finished eighth, after being eliminated by future world champions Denmark after a penalty shoot-out. This Egyptian side, however, has been superb in Tokyo, with the right mix of young exuberance and the experience brought to the table by the other stalwarts in the team.
Garcia Parrondo, who has won the EHF Champions League Men with Vardar in 2019, is one of the best coaches around and knows the Spanish handball intimately, having donned the national team shirt in 85 games, scoring 203 goals between 2004 and 2014 and winning a bronze medal at the IHF Men's World Championship in 2011. He has never played under current coach, Jordi Ribera, who took that position in 2016, but is well-respected by the Spanish side. "He is a great coach, who has won competitions, who puts order into a team and teaches them how to be more dangerous," said Spain's goalkeeper Rodrigo Coralles during a press conference.
 

16:10 JST Egypt still seek the first-ever competitive win against Spain

This will be the 11th competitive match between the two sides and Egypt's head-to-head record against Spain is not … the best. It's basically abysmal, with the African side having never won against 'Los Hispanos' in their history. In 10 games, Spain won nine and drew one (19:19) at the IHF Men's World Championship in 1997. Since then, the Spanish side are on a five-game winning streak, by an average goal difference of six goals per game.
The two sides met twice at the Olympic Games, both times in the group phase, with Spain taking a 23:18 win at Barcelona 1992 and a 20:19 win at Atlanta 1996. The generations have changed since then and, right now, Egypt look like they mean business, boasting one of the greatest generations in their history. They have arrived at the quarter-finals upsetting many powerhouses, so why not for a final hurrah?
 

15:55 JST Appetizer: Match for bronze. Main course: Gold-medal game.

It's the day we have all been waiting for, the day the Olympic champion in the Tokyo 2020 men's handball tournament is ready to be crowned.
For the first time ever, two teams that have met in the Olympic final of the previous edition will take the court once again fighting for the gold medal, with Denmark facing France in what promises to be a memorable showdown.
Until that match, though, which is scheduled for 21:00 JST, there is some time left and we will enjoy watching the bronze-medal game between Egypt and Spain, throwing off at 17:00 JST. Spain have already won three bronze medals in the competition, while Egypt have none. Will the tradition continue or will we have the 18th national to seal a medal in the Olympic Games history?
 

15:30 JST Ready for the finals?!

No, you are not mistaken and this is still 2021, not 2016. But we understand if you might be mistaken, as Tokyo 2020 brought another premiere in the world of handball. Five years after Denmark won their first Olympic title at Rio 2016, winning the gold medal in the final against France, the Scandinavian side have the chance to retain the Olympic title.
The opponents? Sure enough, France. The best two teams in the competition, who dropped only one game up until this point, face off with the big prize in front of them, trying to write themselves into handball history once more.
Not only are Denmark and France the only sides not to have lost more than one game at Tokyo 2020, they also boast the best attacks in the competition. Denmark have scored 232 goals, one more than France, but the French side have the better shooting efficiency – 72%, as opposed to Denmark's 69%.
It will also be a battle of the giants, with Mikkel Hansen taking on Nikola Karabatic. The Danish back won one gold medal at the Olympics, at Rio 2016, and could tie Karabatic, who is eyeing his third gold medal.
Karabatic leads Hansen in medals won at major competitions, with 14, as Hansen won only seven. However, Hansen will probably seal the top scorer award at Tokyo 2020, leading the table with 52 goals, 12 more than the next player in line who is still in the tournament, teammate Mathias Gidsel.
Hansen can also become the player with the largest number of goals scored in one edition of the Olympic Games, being only six goals shy of the record set by Korean back Kyungshin Yoon at Athens 2004, while he already is the top scorer in the competition, with 156 goals. Karabatic is third, with 123 goals, four less than Yoon.
While several teams have won the Olympic handball tournament twice already, only France won it twice in a row. Denmark aim to achieve that feat as well, while France want to deny them that as they, themselves, look to top the all-time table by becoming the first team to win three gold medals.
Moreover, in that last case, Nikola Karabatic, Luc Abalo and Michael Guigou would become the first players to win three gold medals and four medals in history.
In the bronze-medal game, Egypt will aim for their first-ever medal at a major global tournament when they take on Spain.
It will be a special game for coach Roberto Garcia Parrondo, who will be facing the team he donned the shirt for as a player. However, Spain will not take a step back, eyeing their fourth-ever medal in the competition.
They have won bronze three times – at Atlanta 1996, Sydney 2000 and Beijing 2008 – and will look for an emotional goodbye for their golden generation, with many players saying their farewells to the international career.