Fiery semi-finals set to give final answers for the men's tournament
05 Aug. 2021
Running updates of the Tokyo 2020 men's semi-finals – follow the action of the Olympic handball tournament live and stay always up-to-date. After two thrilling semi-finals, the finalists are determined: France and Denmark will battle for gold once again in a rematch of the Rio 2016 final. 

For four teams, the dream of an Olympic medal is close to be a dream come true as we enter the semi-finals of the Olympic Games Tokyo 2020 men's handball tournament. Today, we will find out who will contest the finals of Tokyo 2020. 
Today's matches:
17:00 JST: France vs Egypt (27:23)
21:00 JST: Spain vs Denmark (23:27)
 
23:20 JST Summary of the day
 
Another superb day of handball concluded with the Olympic Games Tokyo 2020 men's final set: a rematch of the Rio 2016 final, with France facing Denmark for the gold medals
Even though the average number of goals scored in the tournament has soared to 58.24 goals per game prior to the semi-finals, both matches with the same score line, 27:23, totalling 50 goals each, with a higher emphasis on defence
The two games also brought superb performances from the goalkeepers. Spain's Gonzalo Perez de Vargas (33% saving efficiency) and Denmark's Niklas Landin (38% saving efficiency) saved 12 shots, while France's Vincent Gerard finished the game on 17 saves and a 44% saving efficiency
Spain can win their fourth bronze medal in history at the Olympic Games, but will face a sturdy challenge on Saturday from Egypt, who are eyeing their first-ever medal in the competition
Mikkel Hansen just threw the best scoring performance ever in the semi-finals of the Olympic Games, scoring 12 goals to cement his place at the top scorer in the tournament, with 52 goals in seven games

23:00 JST Hansen shows why he's Denmark's darling

It's records time for Hansen, who also became the player who scored the largest number of goals in a semi-final at the Olympic Games, set by Uwe Gensheimer at Rio 2016, against France. The Danish left back has also scored 10 goals in the extra-time win against Poland in the other semi-final five years ago, but improved his performance in this game against Spain, which he finished on 12 goals scored out of 16 shots.
 
Hansen will probably secure the top scorer award for the first time in his career at the Olympic Games, leading the way with 52 goals from 84 shots, for a superb 62% shooting efficiency, otherworldly put in the context of the volume of shots he is taking. He leads the standings by nine goals ahead of Norway's Sander Sagosen and has 12 goals ahead of Mathias Gidsel, the fourth-placed Danish back, the first player still in the competition.
Hansen is also leading the all-time goal scorer standings, with 156 goals, followed by Korea's Kyungshin Yoon, with 127 goals and Talant Dujshebaev, with 123 goals. The next active player on the list is Nikola Karabatic, with 121 goals.
 
22:45 JST Will France avenge their Rio 2016 defeat in the final?

36 games are now gone in the men's tournament at Tokyo 2020, with only two to go. And we already know who will be fighting for the gold medal on Saturday. Reigning Olympic champions Denmark will face the most decorated team in the history of the competition, France, with the coveted gold medals present in the Yoyogi National Stadium. In the bronze-medal game, Egypt will eye their first-ever medal at the Olympic Games, with Spain ready to deny them that dream to secure it themselves, after having an unblemished record in bronze-medal games, winning three of them at Atlanta 1996, Sydney 2000 and Beijing 2008.
But one more thing about the final, right? This is the first time ever that two teams face off in two consecutive Olympic Games finals. Five years ago, Denmark took a convincing 28:26 win against France, as Hansen was once again the top scorer in the match, with eight goals. It was a performance that sealed the MVP award at Rio 2016 for the Danish superstar, and the start of a generation that has been dominating world handball for the past years.
 
22:34 JST FINAL WHISTLE Spain vs Denmark 23:27

It's the final whistle. What a proper fight this has been, with Spain and Denmark constantly trading blows before the end of the game. Eventually, the better team won, with the Danish golden generation getting closer to win the fourth major tournament in the last five years, after securing gold at the Rio 2016 Olympic Games and winning the IHF Men's World Championship in 2019 and 2021.
It was basically a toned-down version of the Egypt 2021 semi-final from six months ago, with the pace taken down a notch, but the same development and outcome of the game. Denmark led from start to finish, Spain ran continuously to try and tie the score, until they finally could not stop the Danish attacks anymore, to concede another painful loss and fail to win a trophy once again because of Denmark.
Spain are in tears and Denmark's coach Nikolaj Jacobsen came to hug the opponents and say a few encouraging words, in a huge show of sportsmanship. It's nice to see this type of attitude, especially after winning such a tense game, but Eduardo Gurbindo is breaking down after this defeat. It just shows how much they wanted this, before the story of this generation is over.
Spain had never got hold of the lead and this was their main issue, but when Mikkel Hansen is in this form, Denmark are unstoppable. Hansen might be 34, but he will always be one of the best-ever players in the history of handball and he proved why once again today, after he scored 12 goals. The top scorer award will be his and he, probably, can also win the MVP of the tournament.
PS: In other news, THE FINAL OF THE OLYMPIC GAMES TOKYO 2020 IS SET. France will face Denmark on Saturday at 21:00 JST.
 


22:23 JST Hansen tops 10 goals, Landin tops 10 saves

It's nip and tuck and Spain are using the Danes' weapons to try and tie the game, with fast throw-ins and open goal shots after conceding goals. Denmark have started to turn the ball over more, miss more shots, but fortunately for them, Landin has continued to keep his form and level high. Hansen has also been unstoppable, just converting a penalty for his 11th goal, as Denmark hold a 24:22 lead with only four minutes to go. Landin has also saved three shots in the last six minutes to take his tally to 11. What a great game this is!

22:15 JST Spain run to tie the game

Up until this point, Dujshebaev has scored 16 of his 24 goals in the second halves of the game he played, one of the most interesting statistics in this tournament. It's amazing how little pressure he feels, how he takes up the court ready to feel the pressure and feed on it, getting always ready to deliver in the hardest of conditions. Credit must be handed to Spain, whose experienced side knows how to create shots in the most difficult of conditions.
Denmark's mettle has been tested already in this competition, but this game against Spain really is something else. It's not that Denmark did not play well, albeit their efficiency dropped to 59% from their 65% average this competition, it is also about Spain's defence who forced these mistakes. But the nerves are getting on the Spanish players' minds and an empty-goal shot from Gedeon Guardiola is saved by Gidsel. Gonzalo Perez de Vargas saves a one-on-one shot with Henrik Toft Hansen, his 12th save of the game, and we have a game! It's 22:20 for Denmark with 10 minutes to go.
 
21:59 JST Denmark try to weather Spain's momentum

Well, this is how Denmark can be stopped. Spain really are a different side to start the second half and they are more aggressive, trying to stop Denmark's nine-metre line. It took Denmark five minutes and 40 seconds to score the first goal of the half, but Hansen's amazing pass to Svan Hansen, who came into the centre of the court from the wing took Sarmiento by surprise. It was a penalty conceded by Spain and a two-minute suspension that seem to have taken out all of their momentum.
Still, Spain started the half with a 3:1 run, including two goals from right back Alex Dujshebaev, who is getting better and better in clutch moments. We saw his goal in the quarter-finals, against Sweden, that basically sealed the game and we are getting more and more from him in this game. Denmark are leading 17:14 and it could be a long game. Yet Spain are susceptible to empty-goal shots when Denmark are fast to throw back the ball in the game after conceding a goal.
 
21:50 JST Quotes after France's win

Nikola Karabatic, France centre back 
On winning the semi-final: "I'm so thrilled and happy about it. We will have a medal no matter what and now we have two days to prepare our game and come back stronger.
"I personally badly wanted to reach this final. With our team we lost the past three semifinals in a row (at the 2021 and 2019 World Championship as well as the 2018 European Championship) so we had to respond today and it was really difficult, because they played really good."
On Egypt taking a 5-1 lead after 7 minutes: "We started so bad. We played really badly in the offence, I missed a lot of shots, taking some shots too early, and they countered us.
"They were leading 5-1, so it was tough to come back, but we managed to do it and this shows how tough mentally we are. I'm really proud of the team."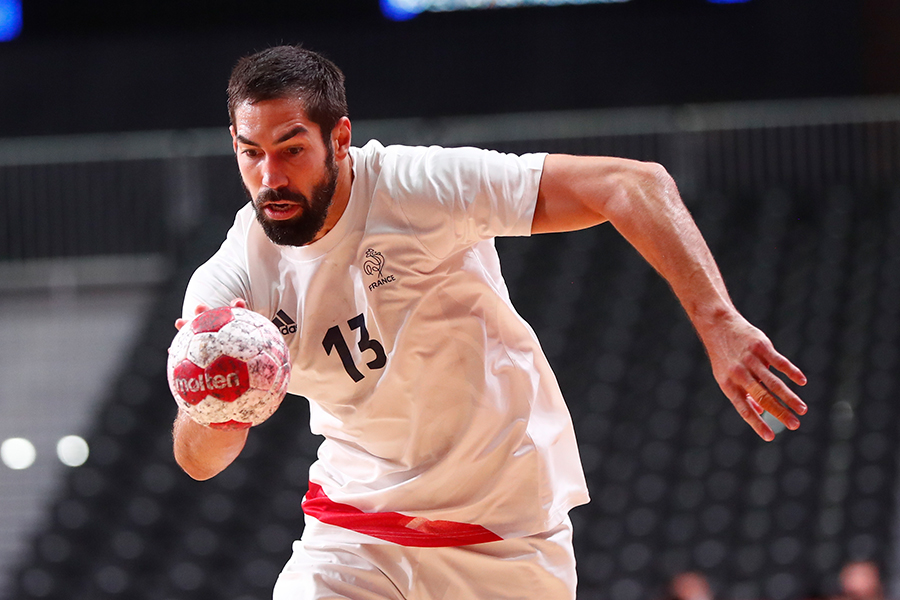 Yahia Omar, Egypt right back
On losing the semi-final: "We sacrificed a lot to be here, we've been playing great all tournament. We played really good today, I'm so happy with my team. We just lost a lot of balls from six metres and when you do that it's really hard to keep up.
"I really hope that we reach the podium after tomorrow (after Saturday's bronze-medal match) because that is what this team deserves."
On Egypt making history as the first African team in an Olympic handball semi-final: "I feel like this team is so much more than reaching the semi-final once. We have too much and for too long been outside the top but we are back and I'm sure this is not the last time you will see us in the semi-final. This is what we deserve, this is our level, this is not only luck or a part of our team that we're boosting. I feel that this will be our level for the next years.
"We have a lot of young players who still will show much more and I'm sure that this is just the start for our team, we have just been developing for two-three years and we have much more to give.
"We are so much bigger than just being a national team. We're friends outside and I really love them (his teammates) so much."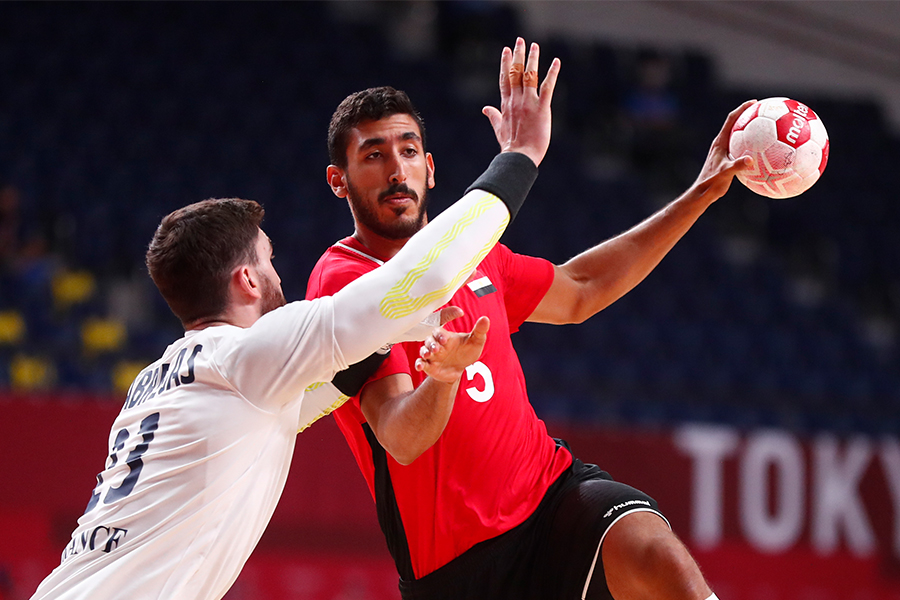 21:38 JST HALF-TIME Spain vs Denmark 10:14

Denmark are clearly in control in an especially defensive-oriented game, where both teams have focused on not conceding rather than pushing up the tempo. It's a throwback to another era, where defences reigned, but Denmark retain the same recipe: great throws from powerful backs and great fast breaks, where they scored two goals, with Lasse Svan Hansen and Mikkel Hansen converting easy goals. Spain have also proved their experience in some moments, but the last goal of the half, when Mikkel Hansen threw the ball in the open goal just after Spain scored to cut the gap to three goals, was immense.
It was basically a summary of the first half, where Spain worked hard, shot the ball as many times as Denmark, but missed the special ingredient that made them great, taking care more of the ball and trying to outsmart their opponents. That and, of course, their efficiency in attack, which plummeted to 43% in the first half, while Denmark scored with 58% of their attacks.
Hansen is well underway to cap his Olympic tournament with another medal, the top scorer title and maybe, just maybe, with his second MVP award. Of course, the second gold medal at the Olympic Games is just as big as an objective as anything, and he could be only 90 minutes away from it. Right now, Denmark are leading 14:10 and they don't look like they can be stopped.
 
21:26 JST Will Spain's efficiency cost them the game?

Are we sure that Niklas Landin is human? He has an unprecedented penchant for entering the mind of the opponent and saving one-on-one shots and it truly helps Denmark stay in front. Gedeon Guardiola was through and all set to make it a one-goal game, 8:7, only for Landin to save his shot from one metre away. Sure enough, Denmark did everything right in attack to take a three-goal lead, 9:6. It is only a small sample of the game, but this is Denmark in a nutshell, basically, pouncing on every opportunity the game presents.
They have also navigated well through Spain's 5+1 or 4+2 defence, always getting open shots. But, despite Denmark's easy misses, Spain simply are not in the proper form to contend in this game. Until the 20th minute, they have only converted 35% of their shots, as some of their players – Maqueda, Ferran Sole, Antonio Garcia Robledo and Gedeon Guardiola – missing all the shots they tried in the game. And Denmark are running away with the win, it's 10:6 after 22 minutes, with Hansen and Gidsel scoring three goals each.
 
21:19 JST Denmark's show force a Spanish time-out

In a tournament that has averaged 58.34 goals per game, nearly four goals more than at Rio 2016, it is somewhat staggering to see defences being of the utmost importance in the semi-finals of the Tokyo 2020 Olympic Games. In the first match, France and Egypt combined for 50 goals, while Denmark and Spain had nine goals in 12 minutes, as the Danish side were leading 5:4. After failing to take centre stage in the first minutes, Gonzalo Perez de Vargas (four saves) and Niklas Landin (three saves) have been instrumental for their sides in key moments. Landin, the IHF World Player of the Year in 2019 is simply superb, saving even the toughest shots with superb mobility.
Slowly, but surely, Denmark are starting to dominate on both ends, with Hansen stealing a ball in defence, taking the total to three steals. It's 8:5 for Denmark now, after 15 minutes, and Spain are making the same mistakes from six months ago, when they needed to fight to comeback, eventually conceding a loss. Mikkel Hansen is also heading for his first-ever top goal scoring title at the Olympic Games, tying Sander Sagosen on 43 goals in first place. Both Sagosen and the second-placed Hampus Wanne are out of contention now.
 
21:09 JST Early jitters for both teams

Plenty of turnovers for both sides to start the game, as both Denmark and Spain feel the nerves. It has been the same recipe for the Scandinavian side, with Mathias Gidsel and Mikkel Hansen scoring the first goals for Denmark, but the tempo is a bit lower than what we have witnessed a few months ago at Egypt 2021. There were 68 goals scored then and we could have scoring outbursts here, but this time the two sides look more composed and better defensively. Spain have registered only one shot on goal in the first seven minutes, with their turnover ratio through the roof, while Gonzalo Perez de Vargas, whose turn it was to start in goal for Spain, registered two saves in the first seven minutes.
It could have been worse for Spain, who were a man down due to a Ferran Sole suspension, but they are still only one goal down after eight minutes, 2:3, with line player Adrian Figueras, their second top scorer in the competition with 29 goals, scoring both times.
 
20:35 JST Good news for Denmark, as Gidsel is available

The most important news for Denmark is that right back Mathias Gidsel will be available for the game, after sustaining a blow to the head in the previous game, against Norway. He was questionable, but will take the court, hoping to boost his impressive stats in major tournaments for Denmark, where he won 14 of the 15 games played, the only loss coming at Tokyo 2020 against Sweden (30:33).
Gidsel has been instrumental for Denmark, being the player with the largest number of assists in the competition after six games, 27, and the fourth goal scorer, with 35 goals, a helping hand to all-time great Mikkel Hansen at Tokyo 2020.

 

20:30 JST Denmark look to strengthen their grip on world handball

It's time for the second semi-final of this Olympic Games tournament, which pits Denmark and Spain together. It is a rematch of the semi-final of the 2021 IHF Men's World Championship in Egypt – back then, Denmark won against the Spanish side 35:33, after a dominating attacking performance. It could have been a different story, if line player Adrian Figueras converted a shot with only nine seconds to go in the game, but Denmark thoroughly deserved that win, going all the way to win the gold medal.
This Danish side is one of the all-time greats in handball, having dropped only two games in the last four major tournaments, one at the EHF EURO 2020 and the other one here, at Tokyo 2020, against Sweden (30:33), when they had already a strong claim to the group lead. They are favourites, but Spain's experience is not to be discarded here.
 
19:30 JST 16 medals for Karabatic

Since Nikola Karabatic, a young handball prodigy, has been ushered in the France national team in 2002, 'Les Experts' knew they had something special on their hands. His ascension to greatness coincided with France's golden generation antics, while his medal record is both astonishing and unprecedented. With 20 goals at this edition of the Olympic Games, Karabatic has reached 1,230 career goals for France, only 233 shy of Jerome Fernandez's all-time record. Karabatic has also played 320 games for France, the fifth-place in the all-time standings, way behind Jackson Richardson, who had 97 games more for France.
Yet, Karabatic's medal record is the true indicator of his greatness both as a player and as a leader. The 37-year-old back, who has been dreaming of mounting a comeback after injury and playing at Tokyo 2020, just secured his 16th medal for France with the win against Egypt. Prior to this edition of the Olympic Games, Karabatic won three medals (two gold and one silver) at the Olympic Games, six medals at the IHF Men's World Championship (four gold and two bronze medals) and five medals at the EHF EURO (three gold medals at two bronze medals).
He has also secured three IHF Male World Player of the Year awards (2007, 2014 and 2016), two MVP awards at IHF Men's World Championships (2011 and 2017) and at the EHF EURO each (2008 and 2014) and the All-star centre back at the Olympic Games in 2008 and 2012.
 
19:20 JST Bright future ahead for Egypt

Egypt will have to wait until securing their first medal in the Olympic Games at least two days, until Saturday, when they will play the bronze-medal game against the loser of the second semi-final, whichpits Denmark against Spain. Yet, this was a good stepping stone for the future, with players like Yehia Elderaa, Yahia Omar or Mohamed Ahmed getting precious experience in crunch match situations.
The future looks bright for Egypt, with coach Roberto Garcia Parrondo leading his side to the seventh place at the IHF Men's World Championship, their best performance in the competition since 2001, but also for their top placing in the Olympic Games in seven editions. Egypt also improved their winning percentage in the competition by almost 50%, having secured five wins at Tokyo 2020, whereas in the past six tournaments they won only nine games. In fact, Egypt won as many games at Tokyo 2020 as they did at Sydney 2000, Athens 2004, Beijing 2008 and Rio 2016 combined.
They look like a good bet for the future, with key players getting much-needed experience at European clubs, with Ali Zein signing for Barça this summer or Yahia Omar extending his stay at Veszprem after being loaned by Zamalek for the last two years.
 
19:10 JST Fourth consecutive final for France at the Olympic Games

France are the first-ever side to seal four consecutive berths in an Olympic final, writing history even after a much-needed change of generation, which ushered players like Dika Mem, Romain Lagarde or Melvyn Richardson into the team.
 

France also reached 45 wins in 60 games at the Olympic Games, a superb 75% winning percentage and have only dropped five of their last 39 games in the competition, being one of the most consistent sides in the competition since Athens 2004.
 
18:28 JST FINAL WHISTLE France vs Egypt 27:23

Huge credit for Egypt for the way they played throughout the tournament, delivering time and again consistent performances against the best teams in the world. There was something missing here, though, maybe some goalkeeper action, maybe a bit of speed between their amazing backs or a bigger efficiency in their shots. But they played a courageous game, wore their hearts on their sleeves and can be proud about how they brought the match to France, despite conceding a 23:27 loss.
But France are the team that will fight for the gold medal, once again, claiming an unprecedented fourth consecutive final berth in the competition. Their depth saved them after a very slow start, when they were down 1:5 and, especially, their goalkeeper, Vincent Gerard, atoned for his semi-finals where he totally disappeared, delivering one of the best games in his career exactly when his team needed him the most, having trouble in attack.
It was not a vintage performance for France, yet they are in the final and it is easy to understand why Nikola Karabatic, who is playing in his fifth edition of the Olympic Games, had his hands on his head in disbelief. His journey has been amazing, from rehabbing from a knee injury to playing his first official game after more than sixth months on the court at the Yoyogi National stadium, everything has been a fairytale for France.
Sure, they will not reach the final undefeated, after conceding a loss in the final game of the group phase against Norway, but their path to the final has been amazing, a lesson of handball, where everything clicked at the right moment, delivering key performance after key performance, with different players shining in different games. They will rest and probably watch the second semi-final, which sees Denmark face Spain, waiting to find out who their opponent in the final will be.
 

18:20 JST Gerard saves France one again

Five minutes to go and France are still leading 24:21, but the game is far from over. Credit to Egypt for slowing down the pace and hampering France's attack, who scored an average of 34 goals per game in the first six matches. But the main take from this game is Vincent Gerard's performance. Much has been told about his penchant for missing in action in these crucial games, both at club level, at PSG, and in the French national team. Yet he has been immense, the MVP of the match here, saving 17 shots up until this point, for a magnificent 46% saving efficiency.
France have navigated well a period of suspension and, despite a time-out from Roberto Garcia Parrondo, Egypt simply could not stop Dika Mem in this second half, where the right back scored in crucial moments from far away with powerful shots, the fastest being clocked at 94 km/h. The game is not done yet, but France are a good bet for a fourth consecutive Olympic final now. What can Egypt do to prevent that?
 
18:08 JST France open crucial three-goal gap

Egypt are going all-in in attack, deploying the seven-on-six tactic, by replacing their goalkeeper with an outfield player. It is risky, any mistake could be followed by a French goal, but this does not deter Egypt's coach, Roberto Garcia Parrondo, who really transformed a side who was searching their way into a true powerhouse, that can deliver excellent performances on the biggest of stages. But France are leading the way now, forcing Egypt to the tie game time after time, with outstanding games from Hugo Descat (five goals) and Dika Mem (four goals).
This will be a test of nerves and France do have the experience of being in these tough situations, forcing their fourth consecutive Olympic Games final berth. It looks like it is getting tougher for Egypt to score, as the French side amped up their defence. It's now Mohamed Eltayar in the goal for Egypt, replacing Karim Hendawy, but he cannot save a rocket from Nedim Remili, who sends France to a three-goal lead, 21:18, with 14 minutes to go.
 
18:01 JST Egypt prove their mettle in tough situation

Whenever the French defence is permeated by the fast combinations of the Egyptian backs, Vincent Gerard is there to save the shots. The French goalkeeper has racked up 13 saves in the first 39 minutes for a 45% saving efficiency, being the difference between the two sides right now. We expected the Egyptian goalkeepers to make key saves, yet it is Gerard who is helping France slowly getting into the lead and taking the game.
In attack, Nicolas Tournat has replaced Ludovic Fabregas on the line for France and the French side are now in front with a two-goal advantage, 16:14, for the first time in this game, after Tournat scored twice. It is a difficult moment for Egypt and the way how they will navigate it will set the course for this game. And they do it in style, despite their 55% shooting efficiency, tying the score once again, 17:17, with 21 minutes to go, after Hendawy saves two shots in a row, including one from Nikola Karabatic.
 
10:39 JST HALF-TIME France vs Egypt 13:13

Egypt enjoyed a great start of the game, leading 5:1, but they could not maintain the same rhythm as in the game against Germany, when they steamrolled their opponents in the quarter-finals and never let them mount a comeback. France are a different beast, though, with plenty of depth and talent at their disposal, so when a player does not perform at the highest level, another takes his place and can help the team. Yet, even with this advantage and the superior experience of France, the game is tied at 13:13, as Egypt have been superb at times.
Sure, there have been mistakes, they could have been more cut-throat in attack, more efficient in defence, but the main thing is that they are not happy with only progressing to the semi-final, they want the gold medal. It's a huge leap for the 'Pharaohs', who are nurturing some great young talent and mixing it up with experienced leaders and the results are there to be seen.
There are still 30 minutes to go, but it's anyone's game now. The only thing might be France's theoretically superior physical advantage, with players having taken the court less than Egypt's players throughout the tournament. Will that be decisive?
 
17:29 JST Nip and tuck before the end of the first half

The game is nip and tuck, as both Egypt and France are trading blows, turnovers and goals. There are no surprises here, just two of the best teams in the competition fighting for a place in the final. After a slow stint, where they did not score for more than six minutes, Egypt have bounced back, with Ahmed Elahmar scoring three times, seconded by Mohamed Shebib and Mohamed Ali, with two goals each.
France, who were boasting a 73% shooting efficiency prior to this game, have seen that efficiency dip to 59% in the first half of this match, with reliable backs Dika Mem and Nedim Remili each scoring twice, but missing five shots combined. France need to polish their attack and clean up the mistakes they make. Right now it's 11:11, with six minutes to go in the first half, as Descat converted his third penalty.
 
17:20 JST Gerard stars to help France get back into the game

Six months ago, in the IHF Men's World Championship semi-final against Sweden, French goalkeeper Vincent Gerard saved only one shot from the 20 he faced, being replaced early in the second half by Yann Genty. By that time, Sweden have already been dominating and France could not get out the hole they dug themselves into. Right now, there is a totally different Gerard on the court. The French goalkeeper stopped five shots, including a Ahmed Elahmar penalty, to help his team get back into the game.
At the other goal, Karim Hendawy stops his second shot to prevent France to get ahead, while line player Mohamed Shebib earns a penalty for his struggles near the goal area. However, another experienced Egyptian player, Mohamed Sanad, misses the penalty shot, saved once again by Gerard! In the first six matches at Tokyo 2020, Egypt only missed four of the 24 penalties they shot, but now, in just 17 minutes, they missed two.  With plenty of experience in their side, France pounces on, creating a 4:0 unanswered run, to take the lead for the first time, 8:7, in the 18th minute.
 
17:10 JST The unsettling Egyptian team

There is something about this Egyptian side that is truly unsettling their opponents. France were touted as favourites before the game had thrown off, but the team with the better start is Egypt. In attack, France have turned the ball over three times in the first 10 minutes and they also lost Nikola Karabatic for three attacks, due to the medical team entering the court after he collided with Yehia Elderaa. The start has been vintage for the African side, whose backs, Yehia Elderaa, Ahmed Mohamed and Yahia Omar have been superb and nearly unstoppable by the sturdy French defence. They are truly leaving everything on the court in terms of desire and grit.
It's the same start for Egypt as the one they had against Germany, when they led 6:1 after eight minutes. Now, they boasted a 5:1 lead after seven minutes, as France had little to no answer to what they did in attack, especially as line player Mohamed Mamdouh Shebib scored two goals. This is, by far, the best tournament ever for Egypt. Can they go all the way and complete their winning streak against strong European teams like Sweden, Germany and Portugal with one against France?
 
16:55 JST Wing power from France

Left wing Hugo Descat is back in the French squad, after overcoming a muscular injury. He replaces Melvyn Richardson and could be a crucial player in today's game. His Olympic Games performance has been excellent, with Descat scoring 24 goals from 25 shots, an otherworldly stat in such an important and difficult tournament. It's back to the basics for Gille, with two right wings, Luc Abalo and Valentin Porte, and two left wings, Descat and Michael Guigou. The usual game plan for France is to start the game with Abalo and Guigou and replace them at half-time. Will it be the same against Egypt?
France won three games out of five played in the semi-final stage at Olympic Games, for a 60% winning percentage. Egypt have played only one semi-final  at a major tournament: at the 2001 IHF Men's World Championship in France, where they lost against … France, 21:24.
 
16:40 JST Can Egypt secure their first win against France?

This is not exactly an instant classic, but the two teams share a history, having met nine times in history at Olympic Games and IHF Men's World Championships. In all nine games, France secured the win, including at three Olympic Games editions – 22:19 at Barcelona 1992, 25:20 at Atlanta 1996 and 22:21 at Athens 2004. The head-to-head record is completed by six wins at the IHF Men's World Championship, most recently a clash in the group phase at Qatar 2015, when France took a 28:24 win.
Therefore, the French side could have a mental advantage in this game, having never lost against the 'Pharaohs', but the history could be thrown out of the window in Egypt's best tournament in recent memory. Egypt wrote a new page of history at Tokyo 2020, becoming the first-ever African team to proceed to the semi-finals of an Olympic tournament, just a few months after being so close to secure a place among the top four teams at the IHF Men's World Championship they hosted. In January, the 'Pharaohs' lost against eventual world champions Denmark in the Egypt 2021 quarter-final stage by the closest of margins – 39:38 after a penalty shoot-out.
 
16:20 JST New record for Karabatic

Two days ago, France back Nikola Karabatic has become the player with the most caps in the Olympic men's handball tournament, starting 36 games, leapfrogging Russia's Andrey Lavrov, a player he faced at Athens 2004. Karabatic will now open the gap to Lavrov with a new game he features in and will reach 38 games in the competition by the time Tokyo 2020 closes. Karabatic is one of the few players to have featured in five different Olympic Games editions, with Lavrov, teammate Michael Guigou and Korea's Kyungshin Yoon sharing this performance.
 

Guigou, one of only four players who scored at least 1,000 goals for France in history, has 33 games at the Olympic Games and will tie Lavrov for second place after the final two match days at Tokyo 2020. No other active player makes the top 10, with France's current coach, Guillaume Gille, having played 31 Olympic matches in his career.
 
16:00 JST France's players got more rest than Egypt's

Rest will play a key role in the semi-finals, but France look to have distributed the minutes more evenly between their players than Egypt. France's player who was on the court the most was goalkeeper Vincent Gerard (252 minutes), followed by Ludovic Fabregas (242 minutes), Dika Mem (221 minutes) and Nikola Karabatic (219 minutes), with the latter just returning from a devastating knee injury.
On the other side, on average, Egypt's key players spent nearly an hour more on the court than their French counterparts. Wing Mohamed Sanad (307 minutes) leads the way, followed by fellow wing Omar Elwakil (286 minutes) and backs Yehia Elderaa (263 minutes) and Yahia Omar (239 minutes). Will this be a factor in the game, as France will look to push up the tempo?
 
15:45 JST Can Egypt's goalkeepers save the day once again?

How do the two teams measure up before this semi-final? France have the second-best attack in the competition, scoring 204 goals, or an average of 34 goals per game at Tokyo 2020, just one goal shy from Denmark's performance in the competition. On the other side, Egypt have scored only 185 goals, with a 66% shooting efficiency. However, France's efficiency has been through the roof in this competition, converting their shots at an outstanding 73% rate.
The goalkeepers battle might be a little more interesting. Vincent Gerard's woes in semi-finals have led to long discussions, with the French goalkeeper registering only one saved shot in the first half of the semi-final against Sweden at the IHF Men's World Championship in January, to help the Scandinavians proceed to the last act. At Tokyo 2020, Gerard and Yann Genty, his teammate, registered 66 saves for a 27% saving efficiency in the competition, less than Egypt's goalkeepers.
Karim Hendawy has been amazing in this tournament, especially in the games against Sweden in the group phase and Germany in the quarter-finals, having racked up a total of 45 saves for a superb 33% saving efficiency. His teammate, Mohamed Eltayar, has saved 34 shots for the same saving efficiency, which places the two shot stoppers in the first place of the top goalkeeper standings, tied with Germany's Johannes Bitter. It is not that usual to see both goalkeepers of a team playing so well, so this could be a key advantage to Egypt.

 

15:30 JST Decision day – who will make it to the final?

There will be no shortage of drama, as the Tokyo 2020 Olympic men's handball tournament is reaching its business end, with two mouthwatering semi-final clashes on the card on Thursday.
France and Denmark have already qualified for at least one Olympic final in their history, while Spain and Egypt are still waiting for their turn to stand a chance of playing for the coveted gold medal at the Olympic Games.
First up, France will be up against Egypt, the first-ever African side to go this far in an Olympic tournament. The 'Pharaohs' dropped only one game on their way to the semi-finals – against reigning Olympic champions Denmark – but have claimed wins against Sweden, Germany and Portugal to progress to the top four teams in the tournament.
Their combination of exciting young players and experienced stalwarts, led by Roberto Garcia Parrondo, an experienced and intelligent coach, has turned many heads, as Egypt can upset even the biggest powerhouses in handball.
France will surely be prepared for this, as coach Guillaume Gille, himself a two-time Olympic gold medallist, has surely has an ace or two upon his sleeve. France had to replace Timothy N'Guessan, who suffered a muscular injury in the last game of the group phase – Hugo Descat, however, is poised to make his comeback, after having been rested during the last game against Bahrain due to a small muscular injury.
In the other game, Denmark will rekindle their rivalry with Spain, having already played four semi-finals at major tournaments against 'Los Hispanos', winning three of them, including the one at the IHF Men's World Championship in January (35:33).
However, Denmark's preparation has been hampered by Mathias Gidsel's head injury in the game against Norway two days ago, in the quarter-finals. Gidsel is now questionable and it would be, undoubtedly, a huge loss for the Danish side.
His team lost only one of the 15 games he played in major tournaments, being crucial to Denmark's game plan at Tokyo 2020, where he is the fourth top scorer of the competition, with 35 goals. Gidsel also leads the top assists standings, helping his teammates score 27 goals.
Spain have played three Olympic semi-finals, losing all of them, most recently at Beijing 2008 – but going on to win bronze every time. This will also be the swansong of the current generation, with several Spanish players retiring from international duty, such as centre back Raul Entrerrios.
All statistics for the Olympic Games Tokyo 2020 handball tournament can be found on our competition mini-site, with Mikkel Hansen poised to become the top scorer of an Olympic tournament for the first time in his career.