Smiles, professionalism and positive influences for handball
27 Jan. 2019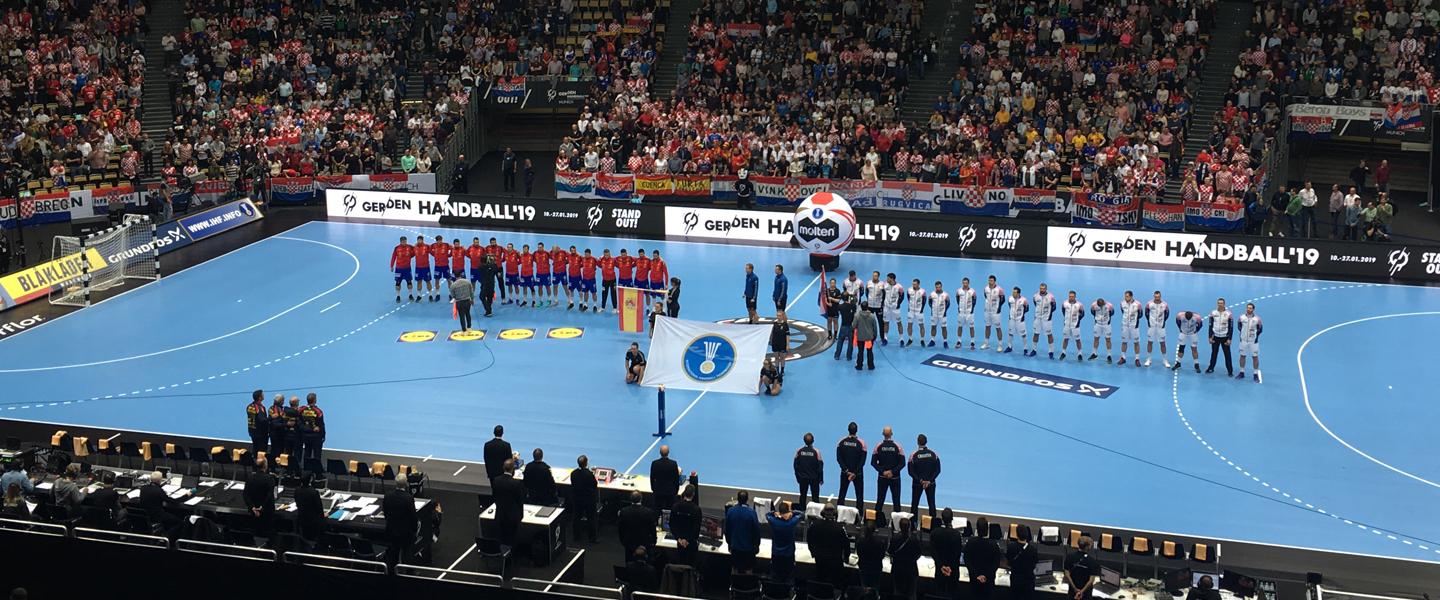 The final day of the 26th IHF Men's World Championship saw match number 95 and 96 take place - the bronze medal clash between France and Germany, and gold final between neighbours Denmark and Norway.

Before the final two clashes got underway Per Bertelsen, Chairman – IHF Commission of Organising and Competition (COC), Ramon Gallego, Chairman - Playing Rules and Referees Commission (PRC) and Dietrich Spate, Chairman – IHF Commission of Coaching and Methods (CCM) gave some unique insights into the event from the perspective of the International Handball Federation.
Per Bertelsen, Chairman – IHF Commission of Organising and Competition (COC)

I want to thank the federations of Denmark and Germany for the work we have done together now for more than two years to prepare this championship. It has always been a pleasure to work with you as you have always been positive, we always got a smile from your side and always found good solutions.

From the beginning, very clearly, we wanted both nations to show one championship and not two countries with their own championship. With these two big handball nations, both with different handball cultures, it has not been easy to find one way to show a picture to the outside world of one world championship, but you have both done it great with 96 matches in six halls and a lot of people in them.
The volunteers have, every day, welcomed everyone to the hall with a smile - it was fantastic. In the future we must think more about them, they were great.
We have had around 20 disciplinary cases and only from one of the matches we had four, but that is on an acceptable level and we have not had any big cases.
On the competition side, we are always looking at the referees and delegates, who are under the Playing Rules and Referees Commission (PRC) and I want to thank my colleagues from the PRC for the long preparation they had for this championship. They have been working very hard, with a lot of preparation and a lot of tests - they have done a fantastic job.
Delegates are a bigger and bigger part of the fast play which handball is, and we have worked really hard with them with tests, so they can be better and better, and I can really only be proud of the people who have worked with us at this world championship.
Thanks to the organising committee and for everything you have done for handball all over the world.
Dietrich Spate, Chairman – IHF Commission of Coaching and Methods (CCM)

All of our results and findings from this championship will be online at the IHF Education Centre in around a month, but one factor has been really important. Attacking effectiveness has had a really strong improvement over the past 10 years. For example, in 2011 in Sweden it was 48%, two years later in Spain (2013) it was 50%, Qatar (2015) 53%, France 2017 was 55% and here at Germany/Denmark 2019 it is nearly 58%. This means that the quality again is rising up. 
Shot efficiency from the top eight teams at France 2017 was 62%, now it is nearly 65%, with Norway more than 70% which means a really high quality in the game.
Technical fouls in Qatar were, on average 12 per game, now, it is eight or nine – a really big improvement. We observed improvement in qualities of technical skills and tactical behaviour in all positions. We saw incredible artistic actions from the pivots. After France 2017 we said cooperation between the back court and pivot reached its limit, but it was not, it is still rising up. We also saw incredible pass variations to the pivot.
As we have mentioned many times in the past, the speed of the game continues to increase and the quality of fast-breaks and quick throw-offs too. Two years ago, we had a real high-speed final in France, every second attack was starting with speed and I hope it will be today.
With regards to 7v6 we saw not so much action or tactics like before, only in some special moments in the games and I think that is a good idea. In really important moments you can play it, but it is not successful when you use it over a long period of time, but this depends on the defensive behaviour.
The defence tries to, especially against 7vs6, more offensive, more active and they are changing defensive formations and that is a good trend. Individual behaviour of defenders has seen them adapt the IHF line, given by the referees. I have never seen so many interceptions of passes to the pivot, this is positive as it means when the ball is caught the player starts a fast-break so that was a real good impression and I hope we can continue with this as it has a positive influence on our game.
Ramon Gallego, Chairman – IHF Playing Rules and Referees Commission (PRC)

We had a mixed group of experienced and young generation of referees for the future and they have showed they are ready now, today, and for the future. In general, the performances of the referees has been really good and only in two or three matches it was needed to reinforce the PRC and the IHF criteria, but 99% of the matches they took forward our ideas.
The behaviour of our referees has been absolutely professional in mental, physical, technical and tactical ways with the help of my colleagues in other commissions. They have been absolutely professional 24 hours a day without being professionals. 
Our work now is to continue worldwide to detect the best young talents and teach them with the IHF ideas.