Germany/Denmark 2019: "A huge success for the sport of handball"
27 Jan. 2019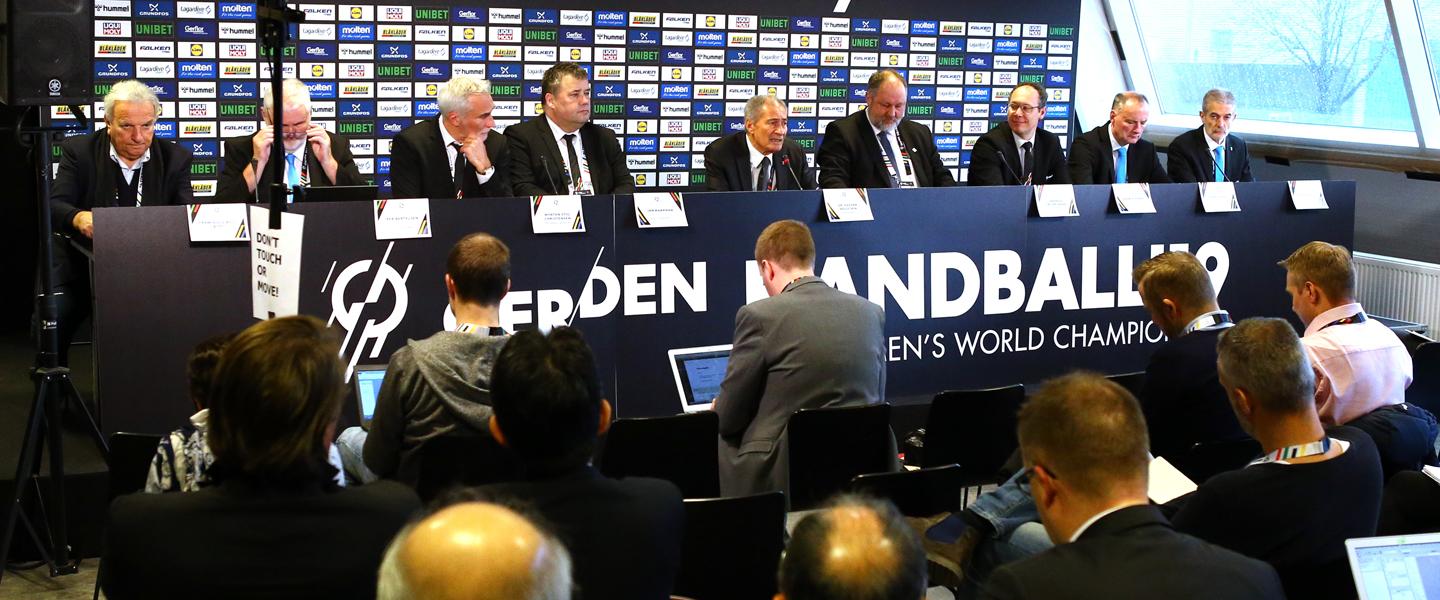 Ahead of the final matches of the 26th IHF Men's World Championship being held in Germany and Denmark, the co-organising committees spoke to the world's media at the closing media conference.

Jan Kampman, Vice President – Danish Handball Federation
On behalf of the Danish Handball Federation, I would like to thank everyone who has been part of the his 26th IHF Men's World Championship. It has been an honour to co-host this event and I have witnessed first-hand how all of the teams, spectators and organising committees has truly embraced the motto of 'Stand Out'. I would like to thank my colleagues from Germany too. It has been a great pleasure to have you as co-hosts.
The last 17 days has been a huge success not only for the two teams competing, but also for the sport of handball. When we look at the TV figures for Denmark, a country of just five million, more than two million people have been watching matches - a TV share of 80%.
We have also had fans from all over the world visiting our two cities in Herning and Copenhagen, showcasing the sport of handball. We hope you have enjoyed our small kingdom as much as we have enjoyed having you. 
All this would not been possible without help of 1,000 volunteers in Denmark, these great people have dedicated a countless number of hours to ensure the success. Thank you.
I would like to thank the IHF for granting us the honour of hosting. We have enjoyed every minute and look forward to hosting more major sport events in our handball-loving country.
Andreas Michelmann, President – German Handball Federation
Back in 2013, German handball was not in its best position. Germany had not qualified for the Olympic Games, the European Championship in Denmark or the 2015 World Championship. Therefore, it was a clever decision by then German Handball Federation President Bernard Bauer and Danish Handball Federation President Per Bertlesen to have this common bid and I am very thankful to the Danish Handball Federation to organise this 26th world championship in a common way.
When the Unified Team of Korea played their very first game in Berlin it was a very special moment for me as I was born in the GDR. It made me feel very emotional and it showcased the bridges sport can build. I am very proud of the enthusiasm here and the number of spectators is a perfect example  – over 9,500 watched Bahrain vs FYR Macedonia in Germany. I am very proud that handball was so dominant in the German media too, which it had not been like before in previous years. 
France and Norway deserve to be here in Herning, but I am very happy that both co-hosts made it to the final weekend.
Mark Schober, Secretary General – German Handball Federation
I am happy and proud to be part of this first men's world championship in two countries. From an organisational side it worked well, and we can be proud of it. From the start we wanted to make one big championship and it worked. Here in Herning today and in other arenas it is all the same championship. 
I want to say thank-you to you Morten and his team. We had a lot of fun and we learned a lot from each other with experiences we can go forward with. We had a lot of spectators and TV and in the arena and we will now go forward to develop our sport in our countries because we both know we want to bring more kids into our arenas, to play handball and watch our sport. This the aim of both federations and we will go forward in this way.

Morten Stig Christensen, Secretary General – Danish Handball Federation
Five years ago, a dream came true when we, together with Germany, were awarded this championship. For 17 days we have been living this dream and creating, together with our big handball brother Germany, the biggest handball party ever for more than 900,000 spectators. 
With five million people in Denmark, when we played and against Sweden, the TV ratings peaked at two million people, meaning that more than 40% of the Danish population were watching handball – more than 75% of people watching television at that time, and 80% of all young people watching television at the time.
Social media exploded too, and it was not only Europe, but a lot of people from countries such as Nepal, Thailand and India for example were going to Facebook to follow this championship.
I hope a lot of people have enjoyed and experienced the fan zones we have had in Denmark with more than 120,000 people passing through and having a lot of fun. Also, the brand-new Royal Arena in Copenhagen had our experimental activity zone where you could try a lot of different things with kids and youngsters and people young at heart. We had 17,000 people coming through this activity zone in Copenhagen – it was quite amazing.
Our philosophy is that when you have this window to the world by hosting a championship like this it is very important that we are doing something for grassroots handball and telling them that handball is much more than the games you are watching on television.
Everybody can play handball no matter what age, what level they are playing, soft balls, sand, outside, inside - you can play handball all life-long. We had a school world championship in Denmark too with 10 events throughout the month, culminating in the Royal Arena on a rest day with 1,750 schoolchildren competing and trying out handball.
We now have the brand-new Royal Arena hall in Copenhagen, a venue we have been looking for over 30 years and it was the first time we saw handball there and it worked excellently. In Herning, our Gold VIP Lounge we also had over 1,500 people in attendance. 
Thank-you Dr Hassan Moustafa and the IHF for giving us the opportunity to Germany and Denmark together. I would like to thank the German Handball Federation, our big brothers, for a warm friendship.