President Moustafa hails "unbelievable" championship ahead of final matches
27 Jan. 2019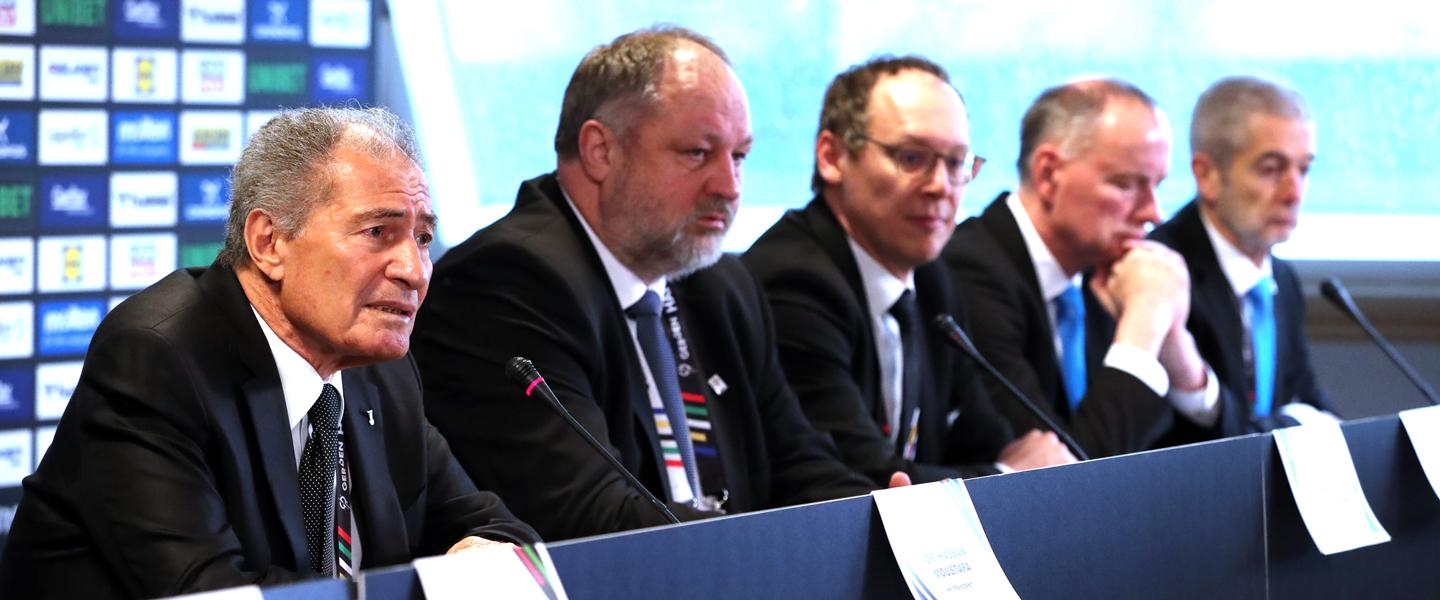 IHF President, Dr Hassan Moustafa, spoke to the world's media earlier today at the closing press conference, ahead of the final two matches.

We are very happy with what happened up until now, as it is the first time for the IHF that we have had a world championship with two countries. For this occasion, we are happy with all the results which happened here – and we have also had some very good figures from TV here.
We have played in six venues in six cities, starting in Germany in Berlin with the historic opening feature both Korea's - north and south - playing in one team against Germany. If you think of the history before, with DDR and West Germany, it was a very good thing to put the people from both Koreas in together to play in the opening match of the world championship. 
Before, in Germany in 2007, we had a record spectator audience of 750,000, and now there will be around 900,000 spectators. The atmosphere and spectators in all venue was very good even when countries like Germany played or not. I was very happy that in Munich games without the German team the arena was full, including 13-14,000 for President's Cup matches in Cologne. This is unbelievable and has not happened before. We really are in two great handball countries.
We have some new referee couples for the first time in a world championship and there were some human mistakes, but we have to accept that, but (overall) we are in a very good way with the referees. We have been working with them for a long time and they are like a team and just like Norway, Germany, Denmark or France you have to make a preparation for your team. Before, no-one took care of the performance of the referees and we are ready now, working with specialists on their mental and physical training. They are doing exercises at home and this is why the performance of the referees has been so high.
We also have had technological innovations, before, for time-outs coaches had to go with the card to the table, but we have already finished this and now the coach can immediately take their time out. For the passive play too, after the referee raises his hand it is also shown on the screen, we have the speed of the shot recorded and many other things.
Yesterday, we had the congress of clubs in Europe and the IHF wants to increase the number of rest days for players, but we know that clubs need the players and we need to give them more rest. But yesterday they already accepted this and are going to study how they can take care of the health of our players. 
We as the IHF are very happy to have three teams outside Europe at the same levels - Brazil, Egypt and Tunisia, plus Japan played very good matches against very strong teams here in Europe.
This is the last world championship which will have 24 teams as, for the next IHF Men's World Championship – Egypt 2021 – we will have 32 teams competing.
We are in a very good way. Finally, I want to give my thanks and my gratitude to both federations who did a very good job, and the organising committees who did a very, very good job. I also want to give my thanks and my gratitude to my colleagues from the IHF who are working hard alongside the organising committees.
Good luck to all the teams in the final two matches.