The Best: Main Round and President's Cup
24 Jan. 2019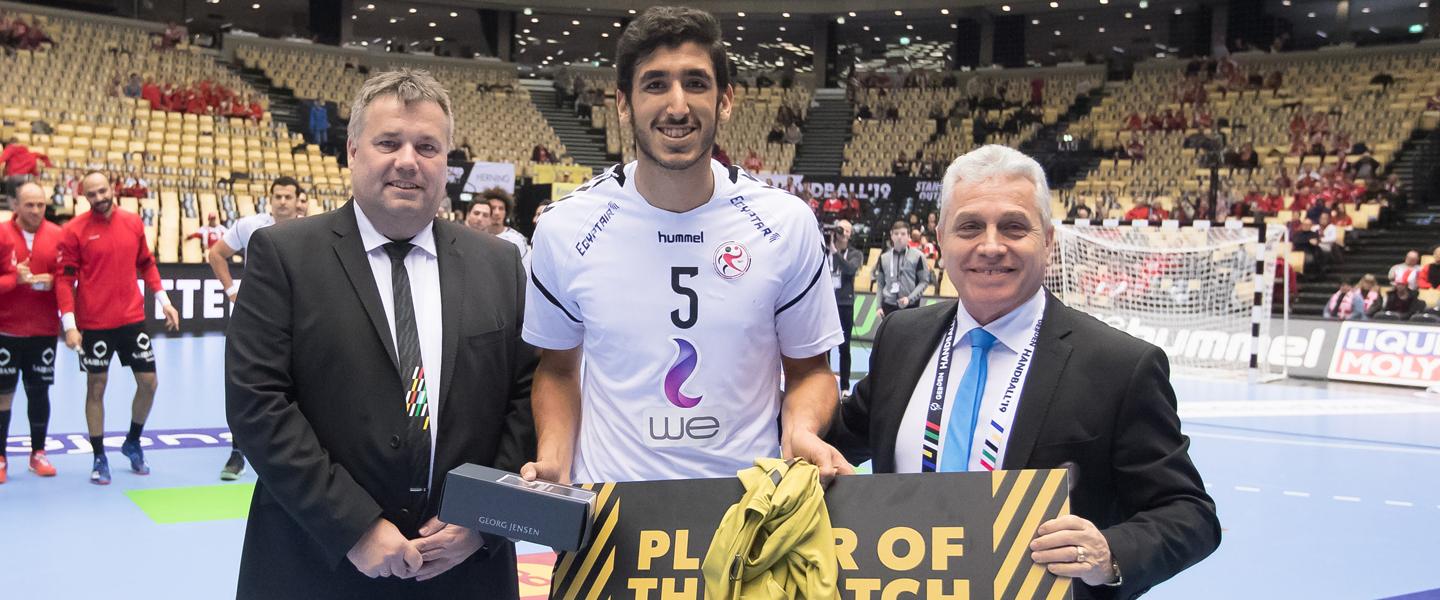 With just six games left of the 26th IHF Men's World Championship, the action is heating up on court at Germany/Denmark 2019 as the world's best players look to claim the world champion title.

After the completion of the Main Round and President's Cup games – matches 61-90 –  we look at the awards given out by hummel for the best player in each match.

So far, 90 awards in total have been given out, with Norway's left wing Magnus Jondal receiving the most – three. Denmark have won the best player award in each of their eight matches, with Bahrain the only nation of the 24 competing not to have won. The left back position has won the award the most times, 18 in total, closely followed by goalkeeper, on 16.
To see a complete list of the Preliminary Round best player awards click HERE.

hummel Best Players of the Match
All games at Germany/Denmark 2019
By team:
One: Saudi Arabia (KSA), Serbia (SRB)
Two: Angola (ANG), Austria (AUT), Japan (JPN), FYR Macedonia (MKD)
Three: Chile (CHI), France (FRA), Hungary (HUN), Iceland (ISL), Tunisia (TUN)
Four: Argentina (ARG), Unified Team of Korea (COR), Egypt (EGY), Qatar (QAT), Russia (RUS)
Five: Spain (ESP)
Six: Brazil (BRA), Croatia (CRO), Sweden (SWE)
Seven: Germany (GER), Norway (NOR)
Eight: Denmark (DEN)
By player:
Two: Ali ZEIN EL ABEDIN (EGY), Andreas NILSSON (SWE), Arnor THOR GUNNARSSON (ISL), Erwin FEUCHTMANN (CHI), Fabian WIEDE (GER), Ferran SOLE SALA (ESP), Frankis MARZO (QAT), Jeongu KANG (COR), Joan CANELLAS (ESP), Jose TOLEDO (BRA), Lukas NILSSON (SWE), Mate LEKAI (HUN), Mohamed SOUSSI (TUN), Niklas LANDIN (DEN), Rome HEBO (ANG), Timur DIBIROV (RUS), Victor KIREEV (RUS), Vincent GERARD (FRA), Youssef ALI (QAT)
Three: Magnus JONDAL (NOR)
By position:

Centre Back (CB): 14
Centre Back/Left Back (CB/LB): 2
Goalkeeper (GK): 16
Left Back (LB): 18
Line Player (LP): 9
Left Wing (LW): 12
Left Wing/Centre Back (LW/CB): 1
Right Back (RB): 9
Right Wing (RW): 9
By match:
| Main Round/President's Cup |   |   |   |   |   |
| --- | --- | --- | --- | --- | --- |
| Date | Match | Player | Country | Position | Jersey # |
| 19/01/2019 | RUS-MKD | Victor Kireev | RUS | GK | 87 |
| 19/01/2019 | CHI-QAT | Frankis Marzo | QAT | LB | 10 |
| 19/01/2019 | COR-JPN | Jeongu Kang | COR | CB | 34 |
| 19/01/2019 | KSA-ANG | Abdullah Alabbas | KSA | LW | 3 |
| 19/01/2019 | SRB-BRN | Vanja Ilic | SRB | LW | 21 |
| 19/01/2019 | AUT-ARG | Leonel Carlos Maciel | ARG | GK | 40 |
| 19/01/2019 | FRA-ESP | Ferran Sole Sala | ESP | RW | 49 |
| 19/01/2019 | GER-ISL | Steffen Fäth | GER | CB | 23 |
| 19/01/2019 | TUN-SWE | Andreas Nilsson | SWE | LP | 35 |
| 19/01/2019 | DEN-HUN | Jannick Green | DEN | GK | 16 |
| 20/01/2019 | MKD-CHI | Erwin Feuchtmann | CHI | LB | 4 |
| 20/01/2019 | RUS-QAT | Youssef Ali | QAT | LP | 41 |
| 20/01/2019 | JPN-ANG | Rome Hebo | ANG | CB | 5 |
| 20/01/2019 | COR-KSA | Suyoung Jung | COR | RB | 7 |
| 20/01/2019 | BRN-AUT | Robert Weber | AUT | RW | 28 |
| 20/01/2019 | SRB-ARG | Manuel Crivelli | ARG | CB | 17 |
| 20/01/2019 | BRA-CRO | Haniel Langaro | BRA | LB | 37 |
| 20/01/2019 | ISL-FRA | Vincent Gerard | FRA | GK | 12 |
| 20/01/2019 | HUN-TUN | Mate Lekai | HUN | CB | 66 |
| 20/01/2019 | NOR-EGY | Sander Sagosen | NOR | CB | 5 |
| 21/01/2019 | ESP-BRA | Joan Canellas | ESP | LB | 21 |
| 21/01/2019 | CRO-GER | Fabian Wiede | GER | RB | 10 |
| 21/01/2019 | SWE-NOR | Magnus Jondal | NOR | LW | 17 |
| 21/01/2019 | EGY-DEN | Anders Zachariassen | DEN | LP | 14 |
| 23/01/2019 | BRA-ISL | Jose Toledo | BRA | RB | 10 |
| 23/01/2019 | FRA-CRO | Marin Sego | CRO | GK | 55 |
| 23/01/2019 | GER-ESP | Fabian Böhm | GER | LB | 38 |
| 23/01/2019 | TUN-EGY | Yahia Omar | EGY | RB | 5 |
| 23/01/2019 | NOR-HUN | Magnus Jondal | NOR | LW | 17 |
| 23/01/2019 | DEN-SWE | Niklas Landin | DEN | GK | 1 |