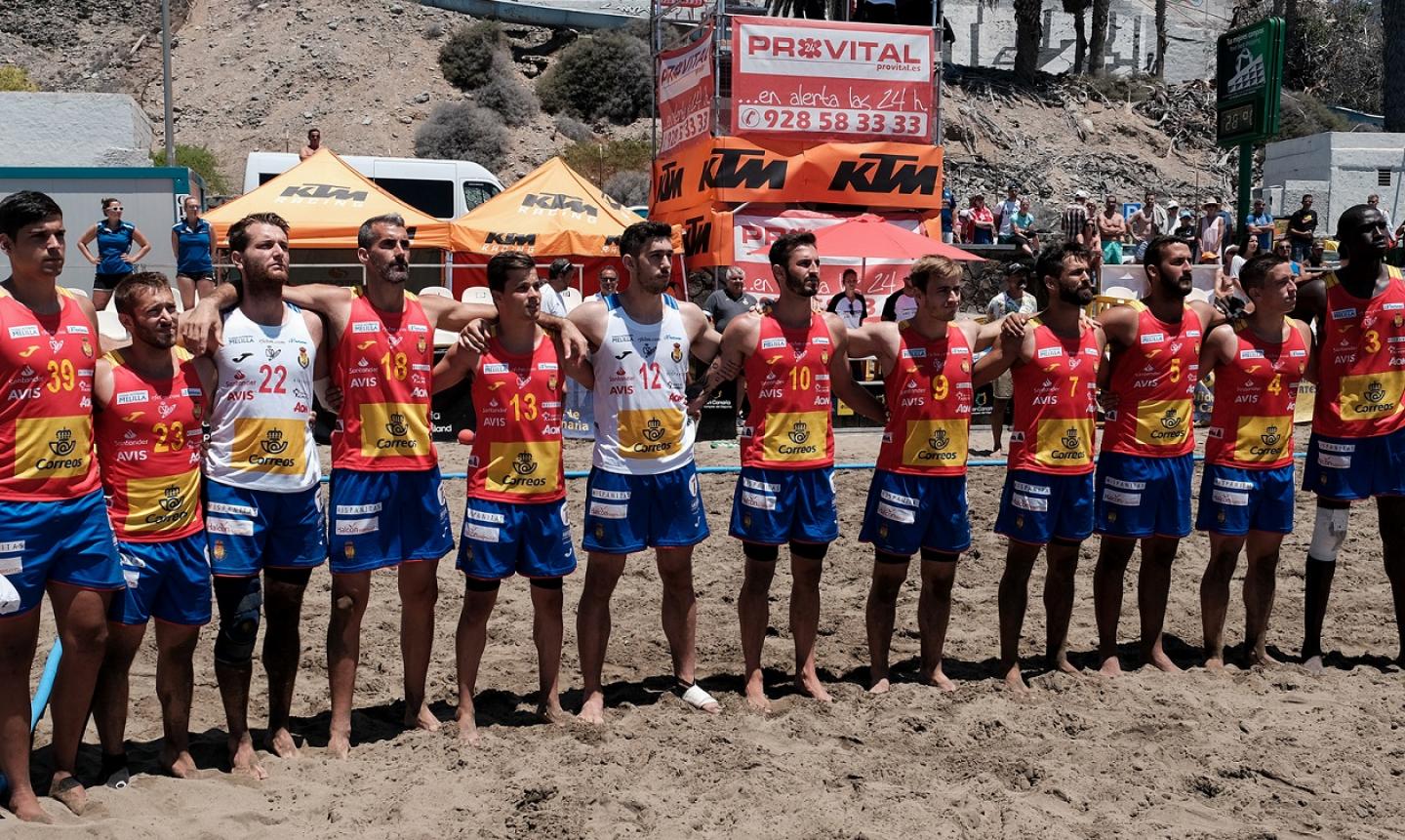 Spain
ESP
Team Info
Despite having one of the most developed and largest beach handball cultures in the world, Spain's men's team have only shown glimpses on the international stage in recent years of what that culture can produce. 
A gold medal at the 2017 EHF Men's European championship, followed silver at the previous version (2015), while you have to go back to 2006 for their only World Championship medal, bronze.
Two silvers (2001, 2005) were gained when beach handball was an exhibition sport at the World Games, but the Spanish men failed to qualify for the last two editions, in 2013 and 2017. 
Combine this with two fifth places at the last two World Championships (2016, 2018) and ninth at their most recent tournament – the 2019 EHF EURO – and it is clear Spain will be going all out to be on the podium in Qatar, which they qualified for through that fifth place at Kazan 2018.
However, despite their recent indifferent form on the continental and global stage, the future for Spain's men is golden – literally. Their men won gold at the debut edition of the IHF U17 Men's Beach Handball World Championship in 2017 in Mauritius, and then gold again at the debut of beach handball at the Youth Olympic Games, in 2018, in Buenos Aires, Argentina.
And they have one of those double gold medallists in their ranks at Qatar 2019, with right wing Domingo Jesus Luis Mosquera named in the senior squad. 
His coach Jaime Osborne will be hoping that the blend of the young player with his more experienced team members; defender Elhji (Hagi) Toure Jabby – who was part of the All-star Team at 2016 World Championship – and left wing Gonzalo Manuel Cervera Perez de Vargas – who top-scored for Spain at both the 2016 and 2018 World Championships, with 95 and 105 points respectively and who will captain his side in Doha, will prove to be the key to victory on the Doha sand.
Osborne's men will face Croatia, Hungary, Qatar, Uruguay and Tunisia in Qatar and the coach is expecting a hard preliminary round test.
"The teams we have are top level and very experienced in terms of international competitions," he said to IHF.info. "Tunisia are the newest, but they will be very tough for sure; Uruguay are fighters with a lot of experience, and then we have three teams who are normally on the podium in all competitions: Hungary, Croatia and Qatar.
"But we want to reach high, and why not be the first champion of the World Beach Games? However,  we must to be calm, take it step-by-step and get a good feeling after every match and look for the best opponent in the knockout rounds.
"It's such a joy to be at the World Beach Games," he added. "We are really proud to represent our sport and I think it means that it will get more attention in Spain and other countries."
To prepare for Doha, Spain have been training in Alcala de Henares, Madrid.
Key Players: Juan Antonio Vazquez Diz (pivot), Domingo Jesus Luis Mosquera (right wing), Elhji (Hagi) Toure Jabby (defender), Gonzalo Manuel Cervera Perez de Vargas (left wing)
Qualification for Qatar 2019: 2018 IHF Men's Beach Handball World Championship – 5th Place 
Group at Qatar 2019: Group B (Croatia, Hungary, Spain, Qatar, Uruguay, Tunisia)