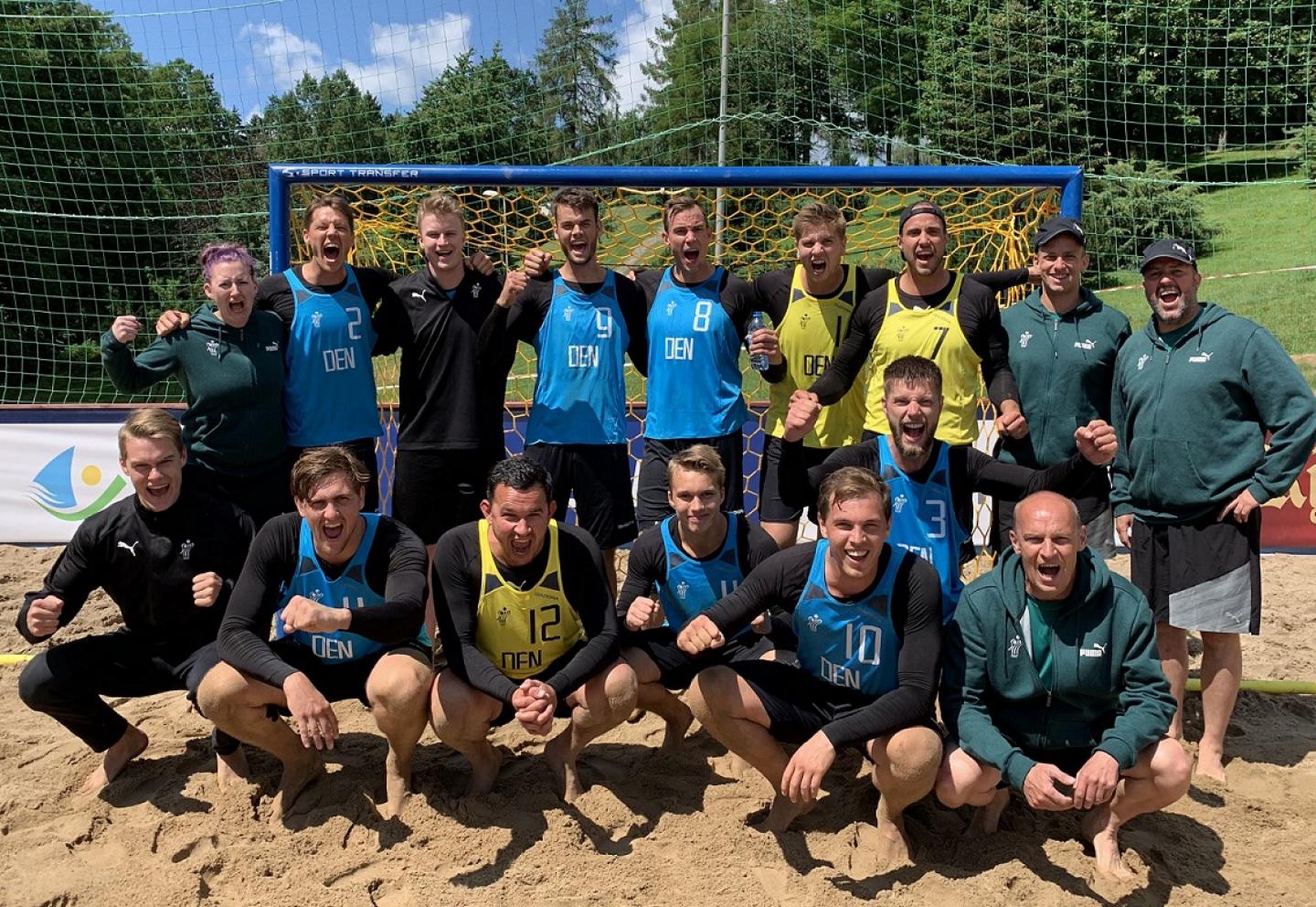 Denmark
DEN
Team Info
With their 2-0 win over Norway in the final in Poland, last July, Denmark not only crowned themselves European men's beach handball champions but qualified for the debut edition of the ANOC World Beach Games.
The took the continental title after 10 tough games played on the Polish sand, with Martin Vilstrup Andersen top-scoring for his side on 120 points, followed by teammate Simon Moss (117).
Andersen took the top-scoring accolade for his side at the 2018 IHF Men's Beach Handball World Championship too – and topped all the men's scorers there as his 149 points were enough to see him part of the All-star Team as the tournament top-scorer.
In Kazan, his side finished seventh after losing their quarter-final on a shoot-out to Croatia and then their first game in the 5-8 placement round, also via shoot-out, to hosts Russia, before a 7/8 placement win against Iran.
That European title remains the best-ever result for the team and they will be looking to get on the podium in Doha after passing through a preliminary group campaign which features Brazil, Sweden, Oman, USA and Australia. 
"Brazil are definitely the favourites to win the gold medal, they are the best team in the world and an inspiration to the rest of us," said coach Gorm Anderson to IHF.info about the preliminary group teams his side will face at Qatar 2019.
"Sweden has a really strong side and have the tools to reach the podium. Oman has a good coach, and the players practice a lot of beach handball, are very skilled and plays with a lot of heart and I believe it's a matter of time before we'll see some great things from this team – I just hope that it won't be against us.
"Looking at the USA team, I know they have practiced a lot, but I don't know their actual level. They are the dark horse in their group. Australia I can recall several times where they have challenged us all the way to the final whistle – but we have won all our matches against them so far. 
"As for us, we want to do something great in this tournament but are aiming for the quarter-finals."
Key points scorer Martin Vilstrup Andersen, who currently lives in Norway, knows the size of the challenge that awaits his team, despite their status as continental champions.
"All the teams that have qualified are top quality, otherwise they wouldn't be at such a big event," said Andersen to IHF.info. "I think we are in a group where we have a fair shot of qualifying to the next round and with all respect to the other teams, that is our goal.
"It's always hard to say whether we're satisfied with our group or not; either you end up in a group with strong teams but have a good chance to avoid them later on. Or you have a strong group, where you will have tough matches for the knockout phase.
"We're really humbled by being in the World Beach Games and want to represent our country as best as possible," he added. 
"We have now played with almost the same team in the past three championships, so we've gained some trust and knowledge about each other, which has benefitted us. Furthermore, we've developed our game in more than one tactical way and now have players that can play in more than one position, which gives us an advantage in offence and defence."
"Our strengths are definitely that we are good at adapting to the various situations of a match," added teammate Joachim Trend Hansen to IHF.info. "We have different ways of playing and a very strong defence that always makes it tough to score against us."
Key Players: Martin Vilstrup Andersen (specialist), Martin Norlund Christensen (captain, goalkeeper), Simon Moss (pivot)
Qualification for Qatar 2019: 2019 EHF Men's European Beach Handball Championship – Winners
Group at Qatar 2019: Group A (Brazil, Sweden, Denmark, Oman, United States of America, Australia)