KOS

Coach: Fatmir Muhaxheri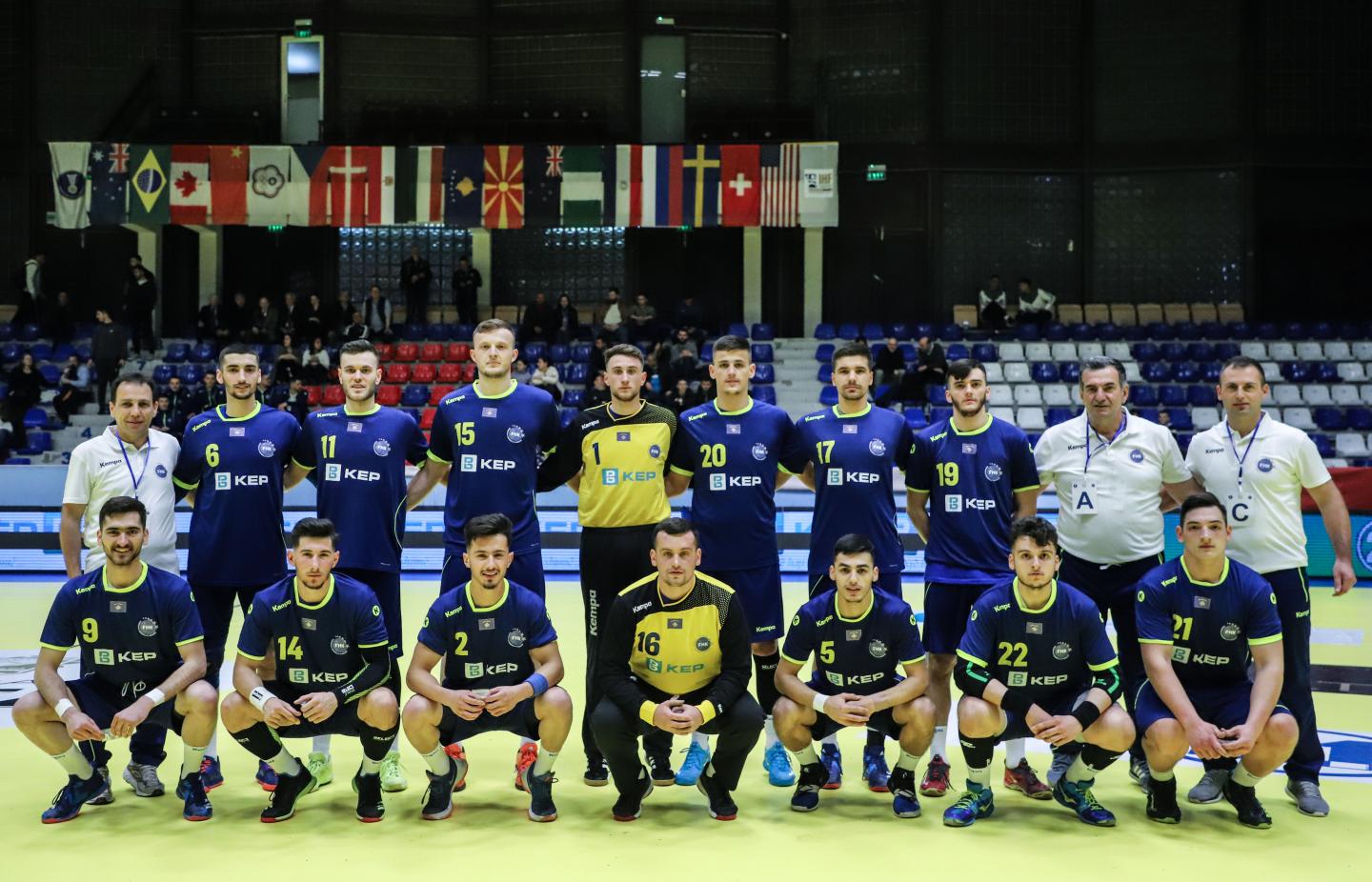 Kosovo
KOS
Team Info
All the talk about Kosovo before Spain 2019 will be about history as the Kosovo U21 side are the first-ever Kosovan sports team at any age or gender to qualify for a World Championship.
They are also the first-ever team to qualify for a World Championship through the new IHF Trophy pathway and they did it by winning the 2018/19 IHF Men's Trophy - Intercontinental Phase, held at home in Pristina in April. 
Head coach Fatmir Muhaxheri's side dispatched Chinese Taipei (31:23) and Nigeria (34:21) in the preliminary group before Paraguay were seen off in the semi-finals (36:27). In the final, Chinese Taipei were beaten 30:26 with the final whistle sounding at around 19:30 local time on Sunday 14th April – a date sure to be written into Kosovan sporting history.
For coach Muhaxheri it was the culmination of many years of planning. "We deserved it as we have trained for four years, tried for four years, and we deserve to be part of a World Championship," he told IHF.info after winning the title. "Now, we will work harder and harder to go in our best way to Spain."
His side had qualified for the Intercontinental Phase after winning the 2018/19 IHF Men's Trophy - European Zone competition, also held in Pristina. After drawing with Moldova (27:27) in their opening match they powered on to four-straight victories, defeating Malta (47:17), Georgia (22:21), Ireland (35:22) and Great Britain (38:17) to finish top of the standings, a point ahead of Georgia and grab a ticket through to the Intercontinental Phase.
With a wave of success engulfing Kosovan handball currently – their senior men's side recently defeated Israel in a Men's EHF EURO qualifier – President of the Kosovo Handball Federation Eugen Saraçini is well-aware of the importance of hosting international tournaments – and appearing at them.
"Handball in Kosovo was founded over 65 years ago," he told IHF.info. "But it's very important for us to have another impact, another injection of interest in our sport and one way to do this is to organise international level events – people in Kosovo love handball.
"Success on court gives us more impetus for the teams to work harder and to achieve much better results. Of course, there will be challenges at the IHF Junior World Championship, but we will arrange more friendly and unofficial matches which will give the team the possibility to become more experienced and to see what kind of handball is played around them, Europe and the world.
"We all aim to represent our young nation with dignity and pride," he continued. "We have a generation of athletes with great sporting and humane values, and a passion for the game and competition, and we are hoping to demonstrate this in Spain.
"We are certain that the IHF, the Spanish Handball Federation and the local organising committee will do a fantastic job, for which this generation of athletes will remember fondly for the rest of their lives.
"Handball in Kosovo is on the rise, and this event will inspire the younger generation to join our growing handball family."
Men's senior head coach Taip Ramadani, who represented Australia at the 2000 Olympic Games in Sydney, will be in Spain as the Kosovo Head of Delegation and, along with Muhaxheri, will be hoping they can inspire the young side to go as far as they can.
"We are expecting a tough competition," said Ramadani. "This is our first World Championship campaign and very important to our young nation, as it is also the first time a sports team will represent our nation at a world championship for any team sport. 
"Taking part in the World Championship is a source of immense pride for us as a nation and will surely motivate a new wave of children to take up handball, a sport with a rich history in our country.
"Our aim is to represent our nation with pride and dignity and compete to the best of our ability. Our players are motivated to perform at this level and be part of such a great international event. We are hoping to make it through to the main round and continue challenging the superior international teams.
"Our players have just ended a busy season with their clubs and international competition, so we have planned that they rest for a few days before we begin our preparations. We are also planning to play some international matches leading up to the championship in Spain.
"Our first U21 international game was played on 9 January 2015, against Switzerland, at home. It was a qualification match for the 2015 IHF Men's Junior World Championship and just four years later we are at it – it's been a dream run for us."
Muhaxheri and Ramadani's nominated squad for Spain includes four players who play their club handball outside of the country with left wing Rinor Avdulli playing in Switzerland for GC Amicitia Zurich, line players Adrian Halili playing in Germany for HSG Ostsee N/G and Blendi Dalladaku playing for HBC Nantes in France while right wing Albin Xhafolli plays for VfL Gummersbach in Germany. 
Right wing Drenit Tahirukaj, who plays his club handball in Kosovo for BESA Famgas, was the top-scorer in the Intercontinental Phase competition, scoring 31 times in four games and his captain Jon Muqolli went some way to summing up the emotions which his team will feel in Spain when they hear the Kosovan national anthem at a World Championship for the very first time.
"I don't have words to explain the feeling when I wear the shirt and hear the anthem," said the left back who scored 23 times in the Intercontinental Phase. "I feel very proud that I play for my country. In Kosovo it is very, very difficult to play because we don't have very good conditions, but I think we have very good talent and with hard work we can go far."

Key Players: Jon Muqolli (left back), Drenit Tahirukaj (right back), Albin Xhafolli (right wing)
Qualification for Spain 2019: 2019 IHF Men's Trophy - Intercontinental Phase – Winners 
History in tournament: 1977-2017: DNQ
Group at Spain 2019: Group C (Kosovo, Bahrain, Brazil, Hungary, Portugal, Croatia)