GER

Coach: Martin Heuberger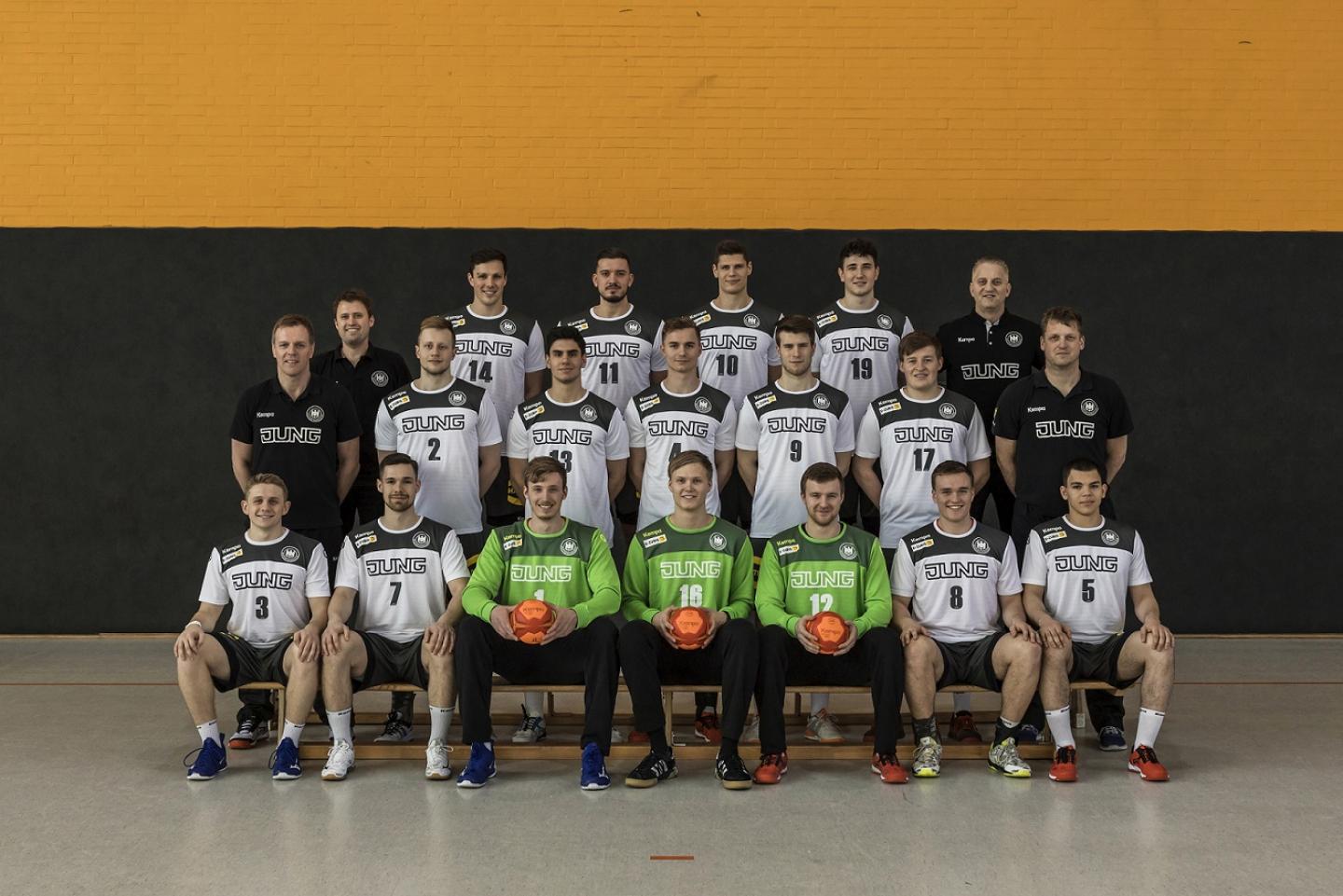 Germany
GER
Team Info
As the bronze medallists at the Men's U20 EHF EURO 2018, the last continental championship for this generation of players, Germany enter the 2019 IHF Men's Junior World Championship as one of the favourites – and the team do not shy away from the fact that their goal is to take the trophy. 
"It is our dream to become world champions. I guess we are a tough nut to crack for any opponent in the world, but we also know that we have to be on 100% right from the start. We are aiming high at Spain," says team captain Sebastian Heymann. 
Germany placed fourth at the most recent Junior World Championship, in Algeria in 2017. They have claimed the title twice, in 2009 and 2011, and taken the silver medal in 1983 and 2007. In 2015, Germany celebrated the bronze medal after an exciting extra-time clash against Egypt. Germany are therefore not only a favourite within this generation, but have a strong tradition in this championship.  
The team are led by 55-year-old Martin Heuberger, whose achievements include steering Germany to their two Junior World Championship titles, in 2009 and 2011, as well as to the silver medal in 2007. On a continental level, Heuberger claimed the Men's 20 EHF EURO trophies in 2004 and 2006 and the silver medal in 2008. 
Heuberger led the Germany U20/U21 squad from 2002 through till 2011, and was also assistant coach to Heiner Brand with the senior team. From 2011 to 2014 he took charge of the senior Germany squad, before returning to the U21 national side in December 2018. Spain 2019 will be Heuberger's first championship back at the helm of the junior team. 
"We know that we have a strong team and we want to go all the way, but we also know that every preliminary round match is already a top duel," says Heuberger regarding the preliminary group, which includes Denmark, Iceland, Norway, Argentina and Chile. 
"We definitely have been drawn into a tough and highly balanced group. All matches will be certain challenges for us. We have to be ready right from the start against Argentina. Facing three Scandinavian teams and two South American sides will mean that we have to change and adapt our tactics from day to day. Our first goal is to proceed to the eighth-final and to finish on the best possible position in our group to avoid teams such as Portugal or Croatia in the first knock-out stage."
Germany can rely on a deep squad with more than one strong option in every position. However, there are some stand-out individuals to keep an eye on, such as team captain Sebastian Heymann and goalkeeper Till Klimpke. Both Heymann and Klimpke made their debut on the senior Germany team in April 2019, contributing to the squad's perfect record in the EHF EURO 2020 qualification phase. They also won the bronze medal at the U18 EHF EURO in 2016, where Heymann was named All-star Team left back and Klimpke was selected as best goalkeeper. 
Heymann was part of the 2017 Junior World Championship line-up, which ranked fourth, despite being only 19 at the time. 
"The fact that Sebastian Heymann and Till Klimpke were part of the men's national team in the EURO qualification will boost their confidence and, in general, the strength of the team. We have a truly deep squad with two or three options on all positions this time, so it will be our approach to fight for the medals in Spain." 
Germany prepare for the World Championship by taking part in the Airport Trophy at the end of June, where they will meet France, Spain and Switzerland. Prior to the tournament, they are in camp for five days, before their final preparations in Germany. 

Key players: Sebastian Heymann (left back), Till Klimpke (goalkeeper) 
Qualification for Spain 2019: U20 EHF EURO 2018 – third place
History in tournament: 1977: 9th*/5th**, 1979: 8th*/11th**, 1981: 5th*/9th**, 1983: 6th*/2nd**, 1985: 5th*/4th**, 1987: 13th*/6th**, 1989: DNP*/4th**, 1991: 9th, 1993: DNQ, 1995: 11th, 1997: 7th, 1999: DNQ, 2001: 5th, 2003: 13th, 2005: 4th, 2007: 2nd, 2009: 1st, 2011: 1st, 2013: 11th, 2015: 3rd, 2017: 4th
*East Germany; **West Germany
Group at Spain 2019: Group D (Germany, Denmark, Iceland, Norway, Argentina, Chile)