Norway men's senior coach Christian Berge at Spain 2019: "It's important to see young players in my team"
27 Jul. 2019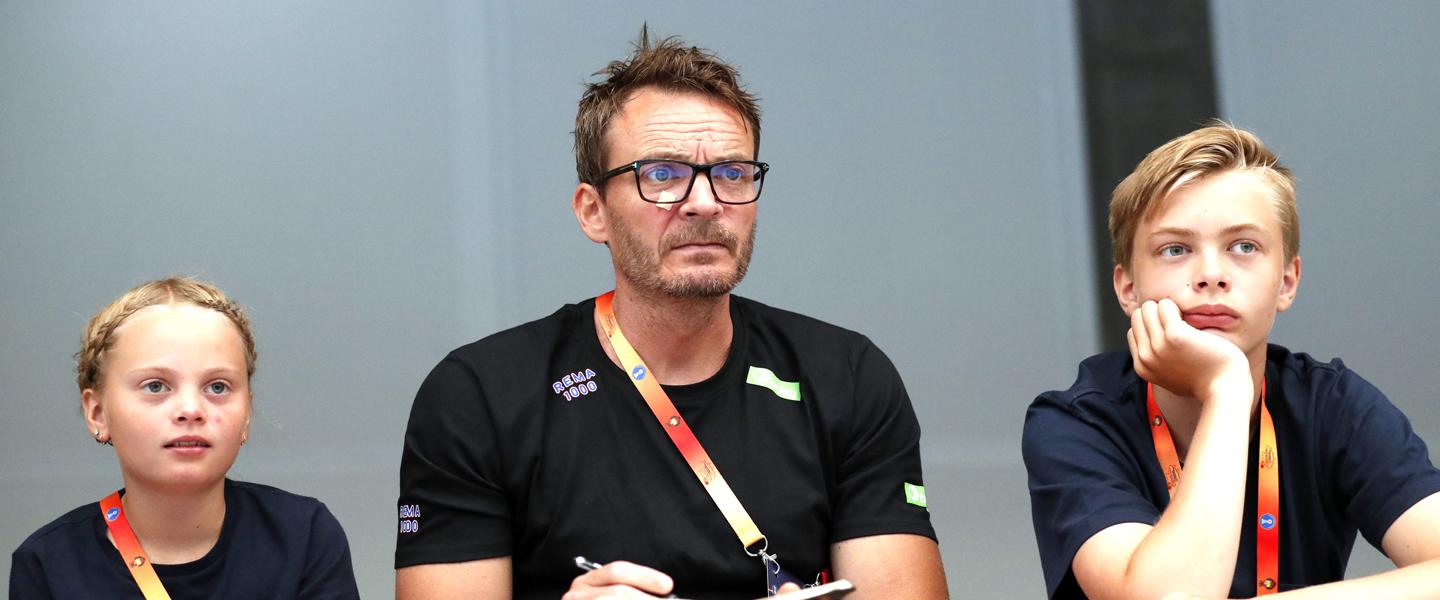 After overseeing a fourth place at the 2016 Men's EHF EURO in Poland, Norway senior men's coach Christian Berge took his side to the final of the 2017 IHF Men's World Championship in France but lost to the hosts.

A seventh place followed at the 2018 Men's EHF EURO in Croatia before another IHF world championship silver medal, at the 2019 edition, held in Germany/Denmark after Berge's side beat one host in the semi-final, Germany, but lost to the other one, Denmark in the final.

Berge, along with his young family, have been in Spain since the very start of the 2019 IHF Men's Junior World Championship with the coach deep in concentration during matches, making observations, noting things to down in his notebook which is always by his side, and providing words of encouragement to, and listening from, the Norwegian coaching staff and players who are set to play for 7/8 place on Sunday.

He spoke with IHF.info after Norway were defeated 40:34 by Denmark in their opening match of the 5-8 Placement Round.

IHF.info: After the Denmark loss you spent some time speaking to the coaching staff and players, what were your thoughts?

Christian Berge: Our defence was not good enough - we played very good in attack, but our defence was not near good enough.

IHF.info: For every game you have been watching you are always busy writing down notes, what are you writing and what are you looking for and why is it important to actually be here at Spain 2019 in person?

Christian Berge: As a Norway national team head coach we have a responsibility for five teams; the senior team, the recruits and the three younger teams. So it is very important for me to talk a lot with the players, to talk with the coaches; I want to see how they all are in different situations. It gives me a lot [of information] for the future.

IHF.info: Are you just covering games or are you looking at how it works off court too, like training for example?

Christian Berge: Yes, I also do some training here and we wanted to do something here, some tactical plays against Brazil for example; training and matches.

IHF.info: Simen Holand Petterson scored seven against Denmark in this match and you recently selected him for your two Men's EHF EURO Cup games in June, against Austria and Spain. You also selected 19-year-old Alexander Christoffersen Blonz back in January for Germany/Denmark 2019 and for recent EHF EURO Cup games too, how important is it for you to have young players in the senior squad to smooth the progression for them and to help others progress too?

Christian Berge: It's important to see that young players get their chance in the senior team, but we don't want it to go too fast, so every game in a championship like this is important for young players.

IHF.info: Spain 2019 is an Under 21 championship and the players are still developing. How do you balance them learning a winning mentality against continuing their learning?

Christian Berge: The most important thing in the younger age national teams is not mental or something like that, I just want to see something special. I want to see how they have a solution for the problems. Of course, we want to win games but it's not the most important.

Every player has tasks they get before the game and then we see how they make the solution.

IHF.info: In January, Norway will co-host the Men's EHF EURO. How important is it for you to have young players in your squad, how important is it to have these EHF EURO Cup games and how excited are you to be coaching in a home championship?

Christian Berge: The EHF EURO Cup has been very important. I like to have young players in my team, and I like to shape them in our way of playing. We are looking very much forward to playing the EURO in Trondheim, three matches there. I was born in Trondheim, so I am very much looking forward to it.

IHF.info: You will have to get a lot of tickets for your family and friends then?

Christian Berge: Yep! (laughs)

IHF.info: If Norway were to win their 7/8 placement match against Tunisia, they would equal their second-best ranking (7th in 1993) after a fourth-place finish in 1995. Do you see this as a progression of the male younger age category handball in Norway or does this history not make any difference?

Christian Berge: I don't think it matters much, not every player will be able to be a senior player but some of them have maybe the opportunity in maybe the short future, there are two or three players that can play for us maybe in one or two years.

IHF.info: Of course you are not here only watching Norway, who has impressed you ahead of the semi-finals?

Christian Berge: In my opinion, Portugal are the best team here and play the best handball. A surprise for me was maybe Egypt, they are running a lot. They remind me a bit of Norway in 2016 in Poland who ran all the time.

The development of handball is fun to watch now, this Denmark vs Norway game went very fast, so I am having a very good time here in Vigo.