Denmark's Vinther: "It's full focus ahead"
17 Jul. 2019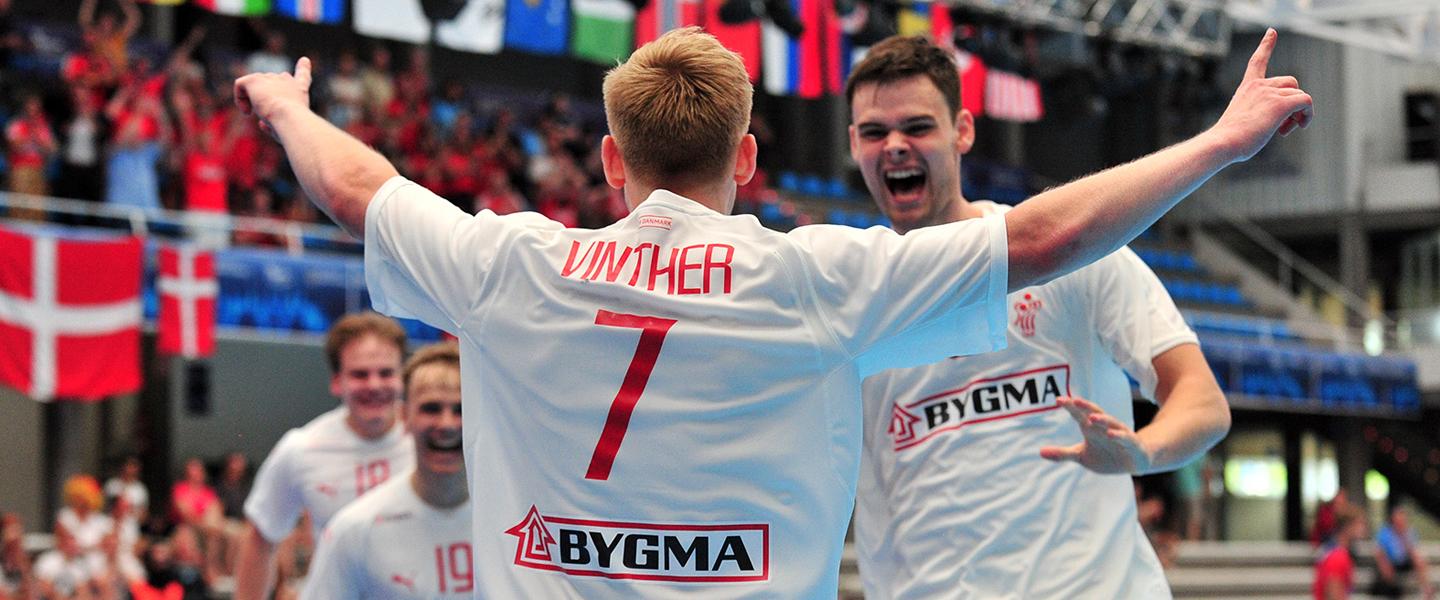 With under 10 seconds left of their opening match against Norway, Denmark eventually worked the ball over to their right wing Nikolai Vinther and he expertly cut in and spun the ball around the Norwegian goalkeeper to ensure a 32:31 win and spark jubilant scenes from the Danish squad.
It was the 11th strike of the game for Vinther, who was later named best player of the match, and his side needed all 11 of his goals in the end, despite having an eight-goal lead in the first half.
For the Aarhus Handbold player and his Danish squad, it provided the perfect start to the 2019 IHF Men's Junior World Championship in Spain – a competition a year ago they thought they would not be attending after a lowly 12th-placed finish at the Men's EHF EURO U20 qualification event.
However, in March it was confirmed that Denmark would appear in Spain as a substitute nation for the Africa continent and for Vinther, it means a chance to show the world what his side are capable of.
"We have a lot to prove to people," said Vinther to IHF.info about the second chance his side got of appearing at Spain 2019. "But I don't think it makes us play any differently. We are confident in our own ability and we are just trying to improve and show the world that what we did in the last European championship wasn't OK and that we're better than that - but we have to prove it.
"We all had the hope that this opportunity would come, and our mindset was that we would get the 'wildcard' so we just thought like that and prepared just like we would have if we had qualified directly."
To finally get out on the court for any player and play a competitive game is a relief after weeks of preparation and with Denmark seen as a potential challenger for at least a podium place – they are historically one of the most successful nations at this championship – Vinther is happy to get started but is keen to focus on what he and his team can control.
"It's the best feeling [to get out on court and play]," he said. "You work in the summer very hard to prepare your body for the games, that's why you do it. It's really nice to be on the court and do it, that's where the fun happens but we don't [actually feel the history].
"We are just trying to keep focus on our team and not really what the other teams in the Danish history have done, we just try to make the best out of what we can."
Even with a win in their opening game Vinther knows there is work to do, but in any competition there is not much time to think long about wins or losses as the next game is always around the corner with the Danes facing Germany later today.
"First of all, we are very happy that we won, that's the main goal," said Vinther about the performance and result against Norway. "It was a combination [of Norway playing well and Denmark letting them back into the game] and, for sure, we have some things we need to improve on as we can't be giving other teams chances like that because you will be punished sooner or later. 
"So, it's important for us to analyse the game, train and look what we can do against Germany. We were happy in the locker room and now we have to focus on Germany because we are not here to make the same mistakes again, we want to make a good result.
"It's full focus ahead."