Draw complete for 2019 IHF Men's Junior World Championship
21 May. 2019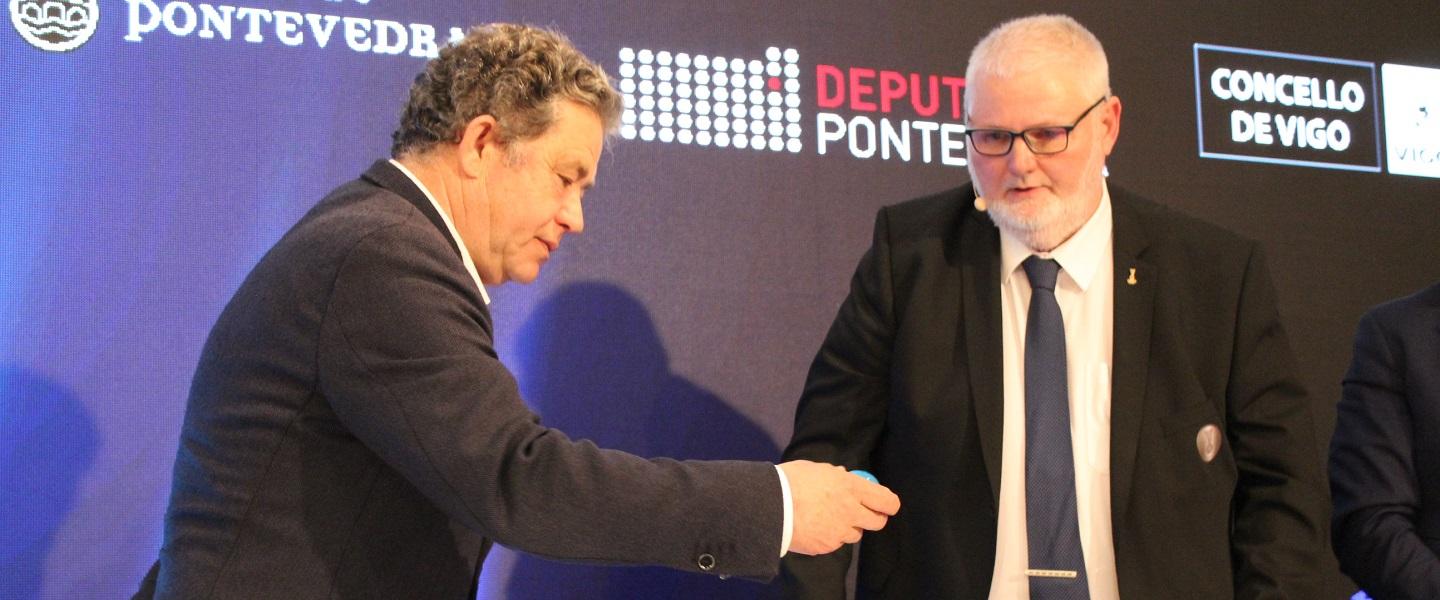 The preliminary group draw for the 22nd edition of the IHF Men's Junior (U21) World Championship was held earlier today at the Provincial Council of Pontevedra in Spain, one of the two host cities, alongside Vigo in the Galicia region of the European country.
The tournament is scheduled to throw-off on 16 July with the final set to take place on 28 July. The initial stage will see four preliminary groups of six teams each with the top four in each group going through to the eighth-finals, before progressing to the quarter-finals, semi-final and final.
As organisers, Spain could choose which preliminary round group they wanted to be in, while Serbia and Kosovo could not be in the same preliminary group.
Spain 2019: Preliminary Group Draw - Result
Group A: Slovenia, Spain, Serbia, Tunisia, Japan, USA
Group B: France, Egypt, Sweden, Nigeria, Korea, Australia
Group C: Portugal, Croatia, Hungary, Brazil, Bahrain, Kosovo
Group D: Germany, Iceland, Norway, Argentina, Denmark, Chile
Spain and Tunisia find themselves in the same preliminary group as the previous edition of the Junior World Championship – Algeria 2017 – while France, Egypt and Sweden in Group B and Germany, Norway and Chile in Group D are also preparing to meet each other again at the preliminary stage as was the case two years ago.
Spain 2019 marks the debut of two teams at this level. Firstly, Kosovo appear at their first-ever IHF World Championship at any level after they won the 2019 IHF Men's Trophy – Intercontinental Phase in Pristina, last month. Plus, it will also be the first IHF Men's Junior World Championship for Australia, who also played in Kosovo.
Bahrain return to the competition for just the second time after their solitary appearance back in 1995 and Nigeria for the third time after a break of 34 years, having appeared in 1981 and 1985 before.
The USA also return after a break – having appeared once before, back at the previous event in Spain, in 1989, while Spain and Denmark are appearing at their 21st Junior World Championship – a joint attendance record.
The draw event saw the official theme song 'Fight together' (by Broken Peach) performed in front of a number of political representatives who all made speeches thanking the various different stakeholders involved.
They were joined by Spain's senior men's coach Jordi Ribera, Spain's junior men's coach Isidoro Martinez, President of the Royal Spanish Handball Federation Francisco Vidal Blázquez and members of the junior Spanish team who all helped with the draw procedure itself, overseen by Commission of Organising and Competitions (COC) Chairman, Per Bertelsen.
A video message displayed saw Spain senior players Rodrigo Corrales, Ferran Sole Sala, Aitor Arino and others, former women's senior player and native Galician, Begoña Fernández and other Spanish sporting stars welcoming everyone to the event – and even legendary Sweden goalkeeper Mattias Andersson spoke in Spanish.
"It's a big event for our city and we hope everyone enjoys it and themselves," said Miguel Anxo, Mayor of Pontevedra, while President of the Pontevedra Region Carmela Silva added the event transcended sport. "The region of Pontevedra will write the golden memories of handball in their pages. Nowadays, society is demanding for us to invest in sport: it is the future. This investment means to invest in peace as sport shows every country can work together and achieve something together – there is no better option."
Video was also played from 1989 when Spain hosted their first IHF Men's Junior World Championship and won silver, behind the Soviet Union.
"All the different authorities have invited us to join and celebrate sport in this region which is an important handball region for us," said RFEBM President Blázquez to conclude the event.
"As world champions we have a responsibility of what it means to be champions and the generation from 30 years ago – some of whom are here as they are from the Galicia region – this was a generation that made us enjoy handball for many, many years.
"We hope people are able to come and enjoy the event which is taking place in a region with a handball tradition and we would like to say to all 24 teams who are coming here that from the day they arrive until the day they leave; this will be their home – it will be a great event."
You can find all the latest news on Spain 2019 on the official website spainhandball19.com and on the various social media channels using the hashtag #handtastic.
Photo: RFEBM