A fight for fifth as Denmark and Slovenia look to go out on a high
28 Jul. 2019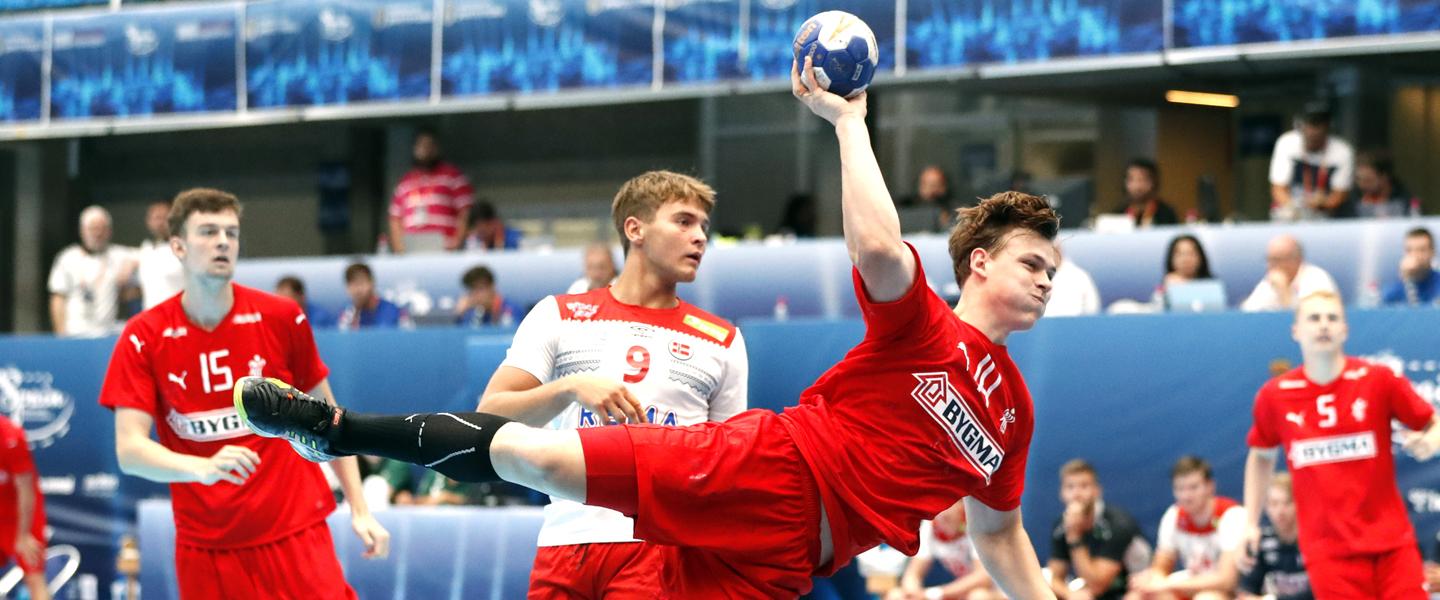 5/6 PLACEMENT MATCH
Denmark vs Slovenia
As Travesas Sports Hall, Vigo – 11:30 local time

"We look forward to playing for 5/6 place at a world championship with so many good teams," said Denmark coach Stefan Madsen to the Denmark Handball Federation website after he watched his side beat Norway for the second time at Spain 2019 yesterday, 40:34.

"But it will also be sad as it is the last time we play together – it's a good group of boys respect the sport and each other. They have to enjoy the game."

On the opposite side of the court, Slovenia's assistant coach Vanja Kralj is more to the point about the final match that the 2018 EURO U20 champions will play together. "In Slovenia, the public can be brutal sometimes," he said to IHF.info. "They always remember the last match, and everybody tends to remember the bad things and not the good things, so we want them to remember us as a good team, as fighters.

"But Denmark invented handball so we cannot go into this game lightly," he continued. "They are playing very well, very fast, OK, they have been missing some shots, but we know they are building a team and players for the future so if we don't go into it at 100% we know we will be destroyed.

"If they play at their pace and we cannot compete with that we will be destroyed so we must put our best game to play, goal by goal."

The Denmark vs Norway clash saw the Danes score 40 goals against their neighbours in a match which saw 74 strikes in total, something which Kralj puts down to the pressure being off in the 5-8 placement round, despite teams wanting to end on a positive note.

"Even in the senior team, Norway are playing as fast as they can so if you're shooting every six seconds that means there will be a lot of goal attacks and there will be a lot of goals scored," he explained. "And if there is not as much motivation then it can damage defences so both things together means the score is high.

"These last games everyone wants to score and there is not as much pressure on the result so you can play your game and play for fun. If these games were a final then the score would surely be lower."

Despite the disappointment of the European champions being pipped to a semi-final spot by Portugal, Kralj is still happy with the squad in Spain, no matter what the result against the Danes, and will be their second-highest ranking in the championship after bronze in 2003 and 2009.

"We really didn't talk about the record ranking because our hopes were bigger here in Spain," he said. "To finish fifth or sixth in the world is not a bad result for a country with less than two million people and we will try and do our best. We are proud of the guys right now and will be proud of the guys whatever happens against Denmark – they have done as much as they can here even if the game doesn't go as we want.

"They are a super team and even socially they get along, it is the second championship we've have had together and there have been no problems – no-one was arguing with anybody and that's our strength."

The 31:27 win for Slovenia against Tunisia yesterday was inspired as usual by Gregor Ocvirk who goes into the final matchday as joint top-scorer with Portugal's Diogo Silva on 70 goals.

Denmark's Emil Laerke saw red in his sides' victory over Norway and is realistically out of the running for the top-scorer ranking, lying in fifth with 50 goals.

Sasa Prapotnik's Slovenia side could only name 14 players for the second match running with line player Miha Kavcic (illness/dehydration) and centre back Miha Kotar (dead leg) both missing the Tunisia win.

They will have to be careful of Denmark's Mathias Gidsel who is in red-hot form at the moment, scoring nine against Norway yesterday.