"Everyone wants to beat the European champions", but can the host nation?
22 Jul. 2019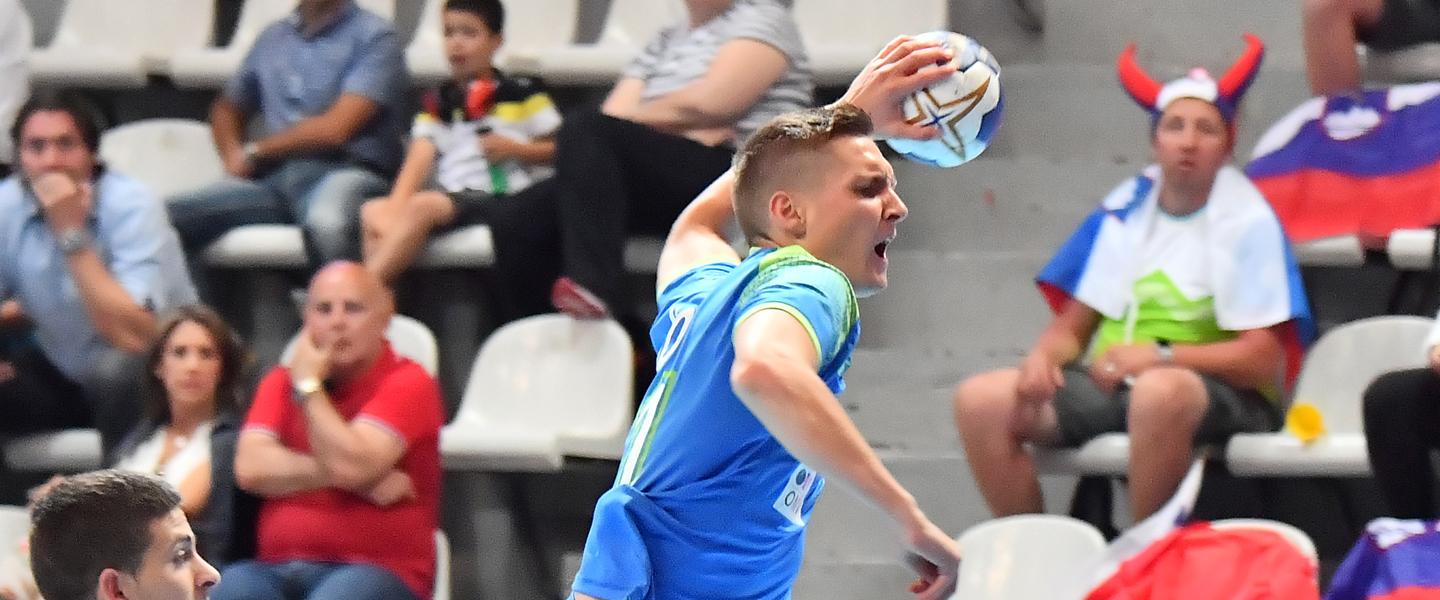 After victories against Tunisia (32:25), Japan (29:22), USA (43:16), and Serbia (30:28) last night, Slovenia set up a group-decider against Spain tonight. Slovenia currently top the table ahead of the hosts, who have also won four games in a row and have eight points, thanks to a better goal difference.

The eventual winners of group A will play the fourth-placed team in group B, which was Korea, going into the final day of the preliminary round.

In the other two matches, they are straight positional play-offs: the United States of America will play Japan for 5/6 place in the group, while Serbia take on Tunisia for third spot.

GROUP A
Feature match: Slovenia vs Spain
As Travesas Sports Hall, Vigo - 21:00 local time

Slovenia's captain Domen Novak agreed with IHF.info when asked after the Serbia win last night if it had been a perfect start for his nation and he was matter-of-fact with his reply. "Of course it is, but this is what we were expecting," he said about the four wins in a row. "I think that eight points is the most important thing for us. Everything in Spain is perfect for us for now, we don't have anything bad to say."

Read the IHF.info Spain 2019 feature on Slovenia with their captain Domen Novak
After winning the 2018 M20 EURO in front of their home fans in Slovenia, Novak is aware that, as European champions, his team have a target on their back from their rivals wanting to beat the continents' best, with Serbia a perfect example of that last night.
Serbia had led Slovenia throughout large parts of the 60 minutes, but their opponents did just enough before the end of the first half - and at the end of the game - to keep in front as Novak's side set up a group-title decider against Spain with the 21-year-old relishing the chance to savour a host nation atmosphere again.
"We are hoping that the hall will be full," said the Dobova player. "This is normal for us because last year in Celje we were playing in a full hall [at the EURO] and as people can hear in the arena here in Spain, they are here with us too.
"Even when we are really down [in a game] there are still with us and we can rely on them in every moment of the game – it's really important to us as I think all the teams want to beat the European champions, but we don't feel anything special or pressure because of this.
"In fact, as European champions we have some experience from the finals and so on, and we are self-confident enough to turn games around - we are expecting a hard and tough game (against Spain) but we will try to win of course."
Despite the intensity and heat of battle there have been numerous moments of fair play and sportsmanship on show at Spain 2019 so far with Novak himself displaying some. 
Following Slovenia's late go-ahead goal just before half-time and despite all the emotion that came with it, and before returning to his bench to accompany his team to the locker room at half-time, Novak went over to Serbia's Srdan Mijatovic and offered a handshake with the two opposing players then laughing and embracing together before returning to their respective teams. Earlier in the half Novak had scored a quite fantastic goal after cutting in from the right wing and eventually scoring from a back-to-front position with Mijatovic defending.
"It was nothing special," said a humble Novak, who scored six against Serbia to take his Spain 2019 total to 13 strikes. "I just wanted to apologise to him about some foul in the game. During the match there are some things which happen but after the match we are all friends."

Spain have won four in a row too and have the best defence of all 24 teams at the competition, having conceded just 81 times (averaging 20.25 per game). Key players for the host nation have been Pol Valera Rovira and Manadou Diocou Soumare amongst others and their ingenuity and skill could cause problems for Slovenia.

Japan or USA off the mark at last, interesting battle for third

Japan will be feeling the worst of the two teams without any points yet in their clash against the USA, having come close to getting something from their matches against Tunisia and Serbia, but America are coming off an impressive first half performance against Tunisia which saw them leading.

Serbia take on Tunisia in the other match of the day which will provide entertainment for those watching with both teams desperate to end the group stage with three wins.

Group A - As Travesas Sports Hall, Vigo: Monday 22 July
All times local

16:30 JPN vs USA
18:30 SRB vs TUN
21:00 SLO vs ESP