France reach half century of goals against Australia, into eighth-finals
19 Jul. 2019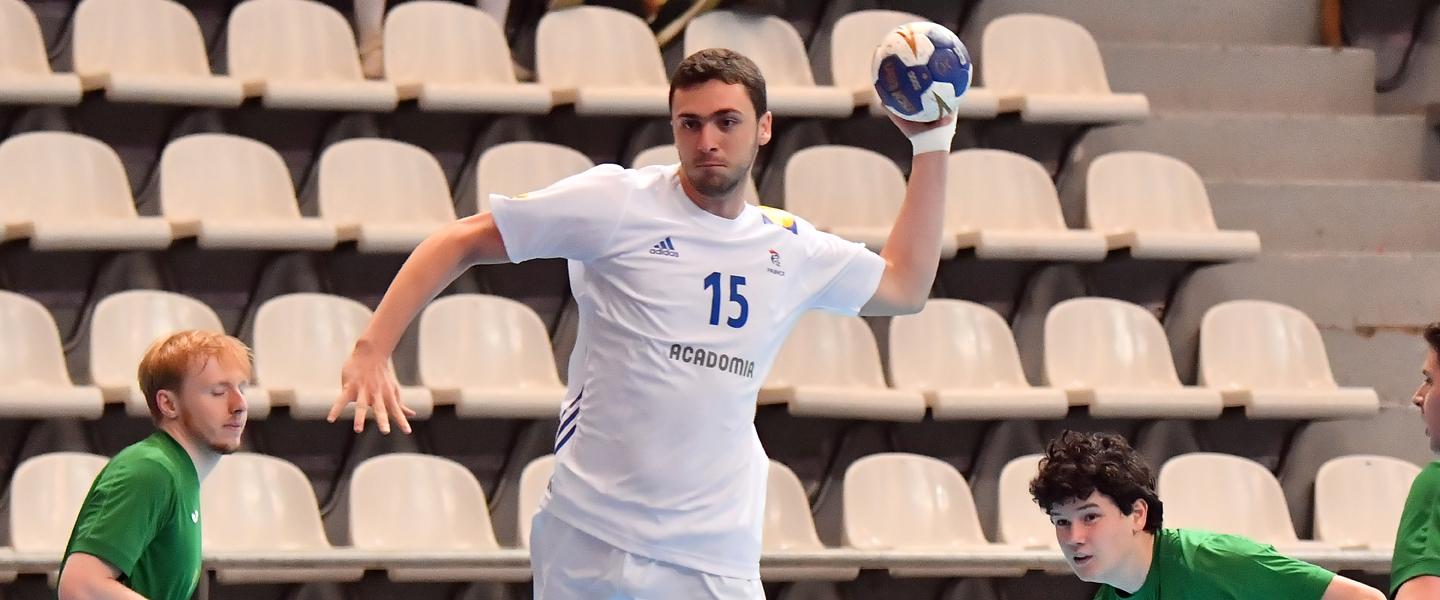 IHF Men's Youth World Championship title-holders France made light work of Australia, ensuring it was three wins against three different continental teams in their matches at Spain 2019 so far.

GROUP B
France vs Australia 50:11 (26:7)
Unfortunately for Australia, the four goals the Oceania side scored in the opening 11 minutes of this game was their sum total of strikes in the second half as the junior world championship debutants took on the current generation (1998-born) world champions France.
Even though there was such a gulf in experience, French coach Johann Delattre took the opportunity to start with a strong side including Gael Tribillon, Kyllian Villeminot and Edouard Kempf. First choice goalkeeper Valentin Kieffer was rested for the whole match with Gauthier Ivah coming in, but he got off to a shaky start as Australia opened the scoring through Jake Ljungberg and then went ahead again through Liam McCourt.
It was not until Jonathan Mapu scored in the ninth minute that clear daylight was put between the two teams (6:3) although Henrik Georges in the Australian goal did his best to delay the onslaught.
His third save, in the 10th minute, saw him block a Nori Benhalima fast break resulting in the young shot-stopper jumping up and down in ecstasy and then, moments later, again, from a French fast break he denied Mapu, resulting in an Australian attack, two-minute defensive suspension for Tribillon, fourth goal for Australia and wild celebrations from the bench and families and friends in the stands (6:4 – 11th minute).
However, that was all France would allow their opponents as they restricted the Australians to just three more goals in the half, punctuated by 17 unanswered goals which included five fast break strikes from Australian misplaced passes, the first four of which were sunk home by Noah Gaudin, who ended as the best player of the match with eight goals.
France were ruthless in their pursuit, resting only Kieffer and Benjamin Richert for the whole match and the other 14 players all scoring including a lovely in-flight strike from Clement Damiani, set up by the effervescent Gaudin.
And Delattre's side played until the very last moment of the last second with Damiani's shot crossing the Australian goal line as the end-of-match buzzer sounded
"The team is happy, and we did great offensively with 50 goals," said Gaudin to SpainHandball19.com. "We have done a great job and now we are focused on the next game against Sweden, a different and very tough opponent."
"In the personal section I found it very well, stopping important balls in the first few minutes, when we were matched on the scoreboard," said Georges. "France are one of the favourites for the gold and we should be proud to be here competing against them, despite the result."
Best Player of the Match: Noah Gaudin (FRA)