Heymann: "These are the matches we train for every day"
19 Jul. 2019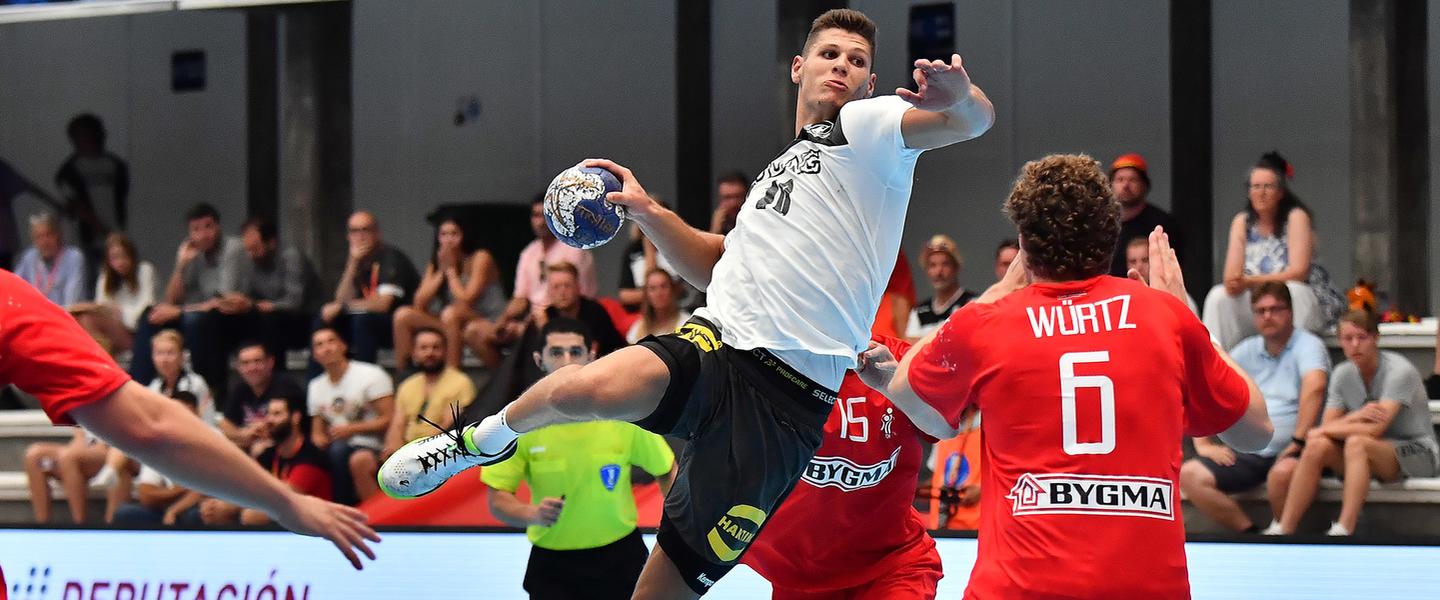 He is one of the most promising young talents for Germany, and, considering his nations position at the top of world handball, one of the most interesting prospects for the future globally: left back and team captain Sebastian Heymann has naturally impressed so far at the 2019 IHF Men's Junior World Championship. 
With 12 goals in two matches, including eight in Germany's memorable game versus Denmark in round two, Heymann is the second top scorer for his side so far at Spain 2019. With his powerful shot, he will clearly be an important weapon as their campaign proceeds. 
Heymann made his debut with the Germany senior national team in April 2019 against Switzerland. He also played the EHF EURO 2020 qualifiers versus Israel and Kosovo, which formed part of Germany's perfect run of six victories in six matches on the path to the European championship next January. 
At young-age championships, he won the bronze medal at the U18 EHF EURO 2016 and ranked fourth at the 2017 Men's Junior World Championship, playing up one age group from his own. At the U18 EURO, Heymann was selected as the All-star Team left back. 
Having played for Bundesliga side Frisch Auf Göppingen since 2016, Heymann also already counts one international club title to his name – the EHF Cup, in 2016/17. He reached the semi-finals in the same competition in the 2017/18 season as well. 
ihf.info spoke with Heymann following their defeat to Denmark after a thrilling game in round two, which left Germany on two points in Group D. They will aim to climb to four when they meet Chile in round three on Friday 19 July in Pontevedra. 
ihf.info: What do you think was the key to Denmark's victory today? 
Sebastian Heymann: "I think our mistakes in the first minutes of the second half, so the Danish players could go very fast to our goal and make easy shots. That was the reason why they won and were in front by five."
ihf.info: It was a really challenging, physical and emotional match. Is this when handball is at its best for you? 
Sebastian Heymann: "These are the matches we train for every day. We have to have fun in every second and enjoy the game. If we have fun, it's easier to win."
ihf.info: Germany were third at the EURO last year, where Denmark ranked 12th. What do you think it says about top-level handball, that they could beat you today? 
Sebastian Heymann: "The space is not very far between each team. You have to play your best every match and then you can win. If you miss some percent, you can see every team can win against every other team. "
ihf.info: Your next opponents will be Chile, followed by Norway then Iceland. What do you think about these matches?
Sebastian Heymann: "We have to look game for game. Our next match is Chile. We have to play like yesterday [win against Argentina] and today, the first 30 minutes. Then I think we have a good chance to win. If we win that, it's in our hands to play the other games very strong and to give our best. Then I think we have a good position." 
ihf.info: This year you made your debut in the Germany senior team. Can you tell us about the transition from the junior team to the senior side?
Sebastian Heymann: "You're the youngest player and it's a little bit difficult. Here I'm captain; I'm one of the important players. There I'm just the youngest and behind the stars of Germany. Sometimes it's good to be on both sides. For me it's good to learn – here to have a lot of game time and there to learn from the best."