Laerke and Bonde star as Denmark overcome Germany
17 Jul. 2019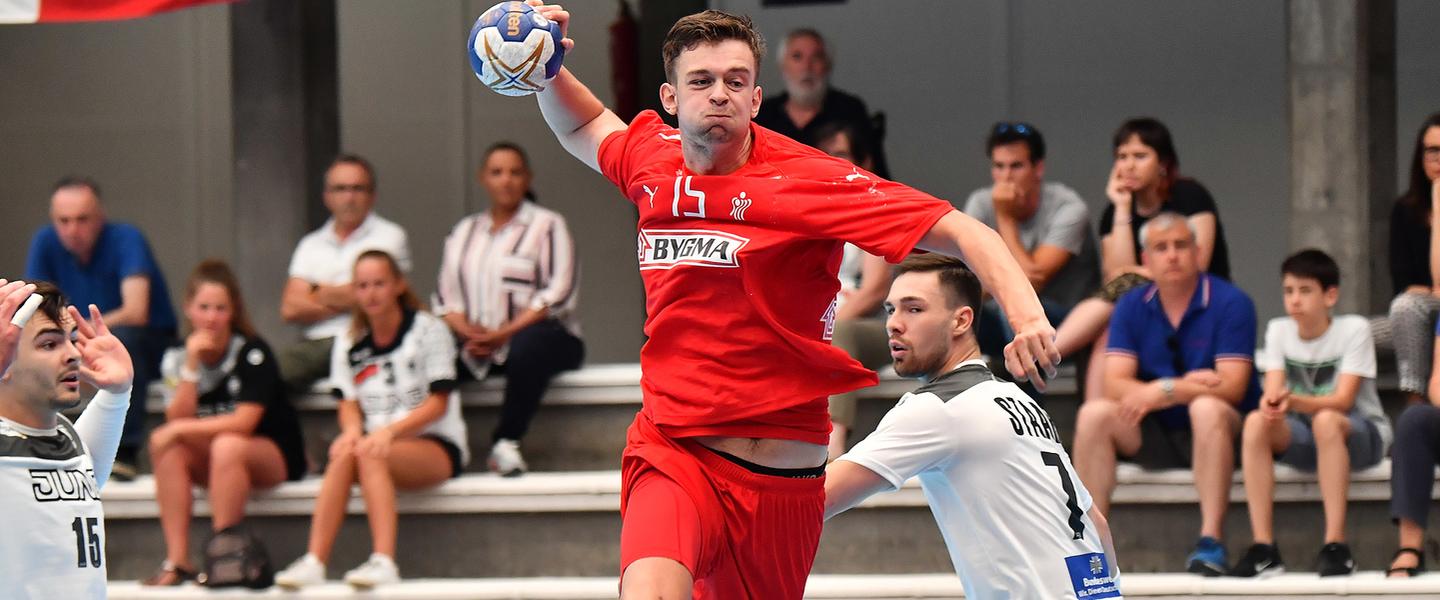 It was a high-quality contest between Germany and Denmark when round two continued for Group D at the 2019 IHF Men's Junior World Championship. Denmark ultimately recorded a clear win, but they had to fight their hardest to do it. 
The victory was Denmark's second at Spain 2019, following their nail-biting one-goal win over Norway in round one, while it was Germany's first loss. Germany therefore stayed on two points, while Denmark moved up to four alongside Iceland.  
GROUP D
Denmark vs Germany 30:25 (15:15)
Following a completely level opening half, it was Denmark coach Stefan Madsen who found the right words at the break and inspired his side to a stronger second period that earned them the victory. The match was very physical, and though they finished with a commanding score line in their favour, Denmark had to resort to their full power and could never stray too far from their starting line-up. 
The first 15 minutes could be classified as the Sebastian Heymann versus Emil Laerke show, as the two left backs were the only ones who scored more than one goal in that period. At the end of the first quarter, 6:8, Heymann had scored three goals from three shots for Germany, while Laerke had already reached that tally after 10 minutes. 
While Heymann went on to finish with eight goals overall and was clearly a powerful weapon for his team, Laerke – defending against Heymann on the right side – did a good job of containing his German counterpart in attack. On the other hand, Germany's defence could not stop Laerke, and the Danish back scored a huge 11 goals. 
While Denmark stuck with their reliable 6-0 throughout the game, Germany's defensive system changed constantly. In goal, Denmark's Christoffer Bonde clearly won the keeping contest, making 17 saves at an incredible rate of 56%. In what was a highly charged, emotional game, no less than three players received red cards. 
    
After the half-time break, Denmark returned completely dominant. It took Germany nine minutes to score their first goal of the second 30 period, courtesy of an unstoppable outside shot from Heymann, but that period did significant damage to the U20 EHF EURO 2018 bronze medallists' chances. By the time Heymann's shot hit the net, Denmark had pulled ahead by four goals. 
Germany tried everything to decrease the deficit, but Denmark only inched further in front. With one quarter of the match remaining, the Scandinavian side were leading 23:18. Bonde's performance was an important factor for Denmark, but Germany also had their share of shots that missed the goal. Although Germany pushed all the way to the buzzer, the second half simply belonged to Denmark, and when they held a 28:22 lead in the 56th minute the two points were decided. 
Player of the match: Christoffer Bonde, Denmark