Second day for Group D with highlight all-European clash 
17 Jul. 2019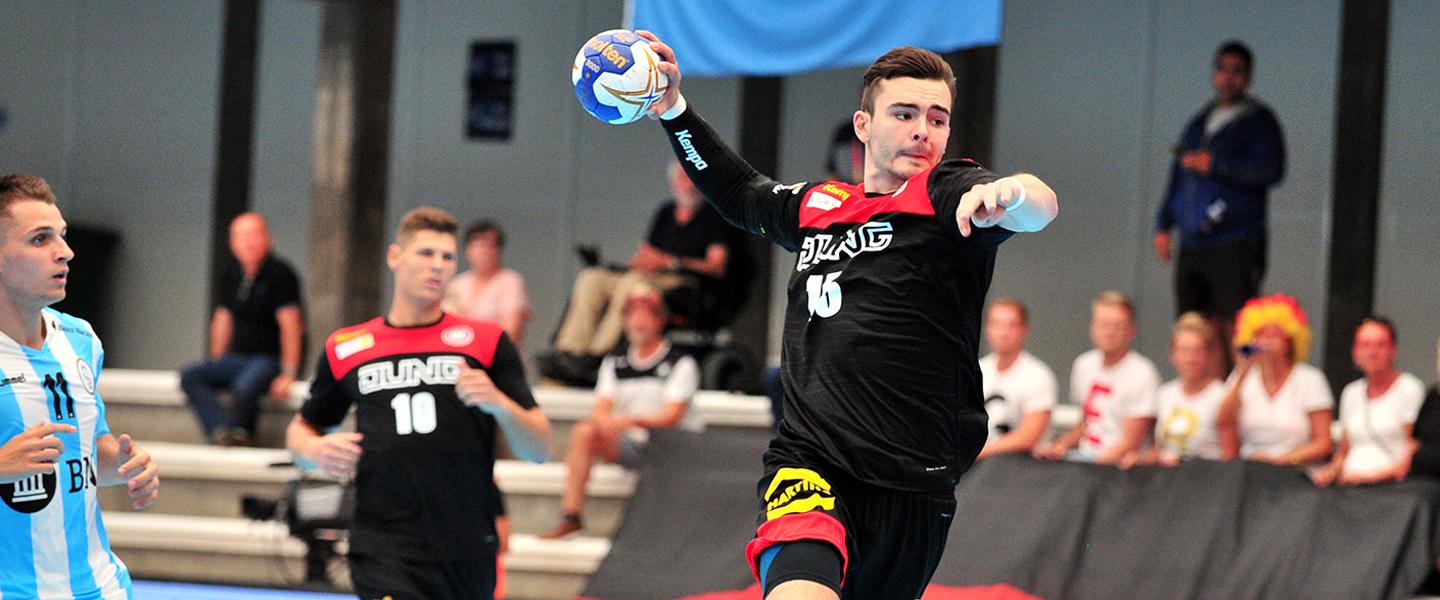 Both Germany and Denmark opened their Spain 2019 campaigns with wins yesterday but in very different circumstances and they meet later this evening in the standout match.
Two other games fill the diary for today in Group D with Iceland playing Argentina and Chile taking on Norway.
GROUP D
Feature match: Denmark vs Germany
Pavillon Municipal de Deportes de Pontevedra – 18:00 local time
Both these European teams have a realistic chance of at least making the final weekend at Spain 2019, but they had very different starts to their IHF Men's Junior World Championship campaigns with Germany taking a 43:25 (17:15) win against Argentina and Denmark surviving a late Norwegian comeback to squeeze past their neighbours 32:31 (20:14).
On paper, it appears to suggest a German win as these two teams were separated by eight teams at the Men's 20 EHF EURO last year with Germany taking bronze and Denmark 12th spot. That final position for Denmark meant they had to rely on a late place at Spain 2019 as one of the substitute nations and this has given the team extra motivation says Nikolai Vinther, who scored the Danes winning goal yesterday.
"We have a lot to prove to people," said Vinther to IHF.info about Denmark's passage to Spain. "But I don't think it makes us play any differently.
"We are confident in our own ability and are just trying to improve and show the world that what we did in the last European Championship last year wasn't ok and we're better than that, but we have to prove that."
In some ways that opener against their neighbours was the perfect start for the Danes with two points secured but with the team coming close to losing. This was not a problem for Germany however as 43 goals ensured a comfortable victory in the end against Argentina, particularly with an easier second half where they outscored their opponents 26:10.
"In the second half we improved our one-on-one situations," said coach Martin Heuberger to spainhandball19.com. "We scored many goals and that was key."
Norway hope to get off the mark, can Argentina recover ahead of Iceland clash?
Despite losing heavily against Germany and suffering a crucial injury resulting in a player replacement on the first day of competition, Argentina will look to restart and reset against Iceland in the first clash of Group D today at 16:00hrs (local time). 
"There is much to improve," said Argentina coach Fernando Capurro after the opening day loss. "We had a memorable first half, but the second half was one to forget. However, if we stay on the line we have in our preparation we have options."
Argentina will hope to get past the impressive Viktor Hallgrimsson in the Iceland goal, who was awarded the best player accolade for his work between the sticks in their win against Chile.
In the last game of the day, Chile face Norway who mounted an impressive comeback against Denmark but fell just short at the final hurdle.
Group D – Pavillon Municipal de Deportes de Pontevedra: Wednesday 17 July
All times local
16:00    ARG v ISL
18:00    DEN vs GER
20:00    CHI vs NOR